Taidepiste event series
Uniarts Helsinki's event series explores social phenomena through art experiences and multidisciplinary discussions which are open to the public.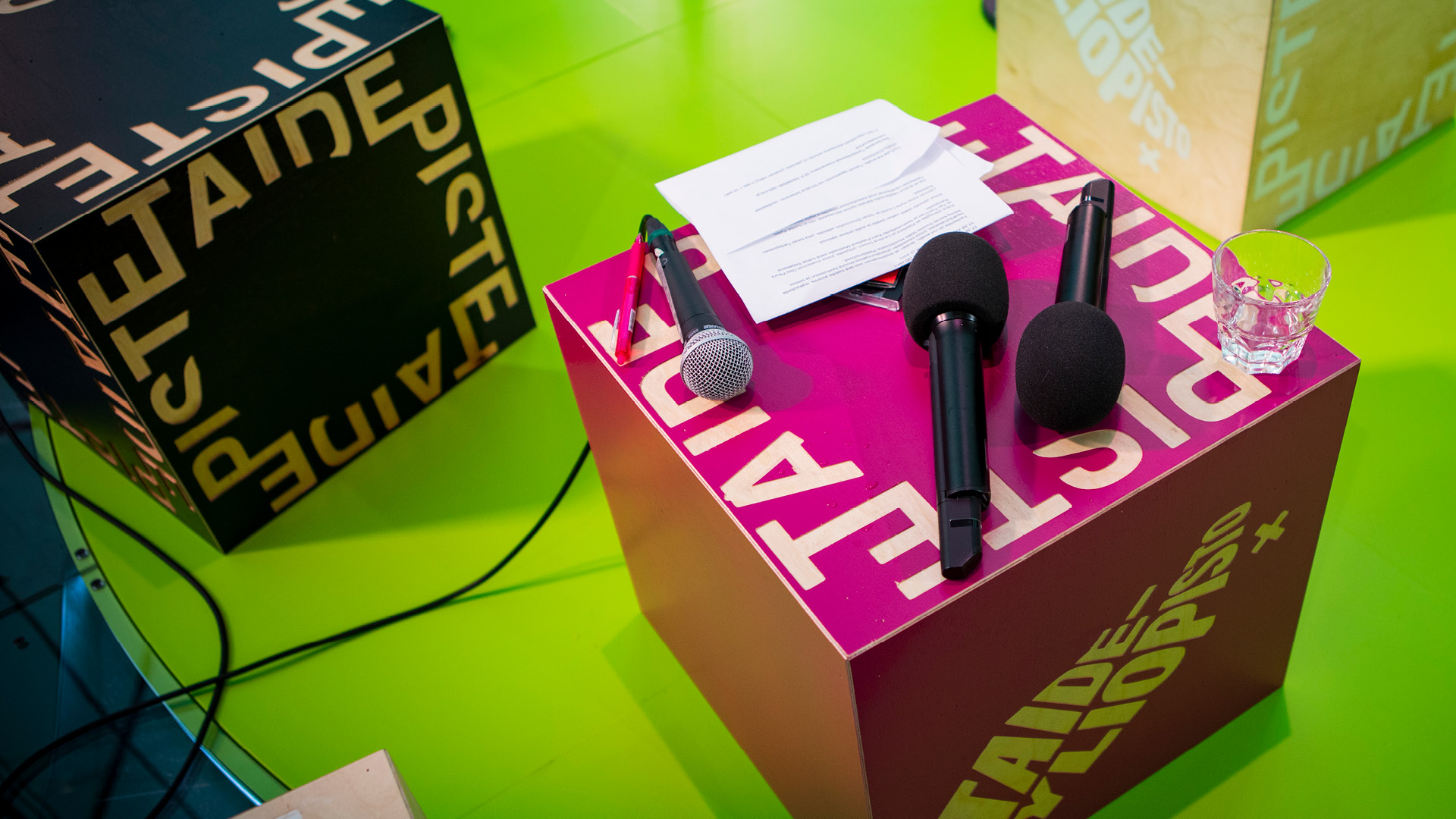 What is Taidepiste?
Taidepiste is Uniarts Helsinki's new event series, which explores social phenomena through multidisciplinary discussions and art experiences that are free and open to the public. Taidepiste is organised once a month in the Main Foyer of the Helsinki Music Centre and on the Uniarts Youtube channel.
Taidepiste is a platform for equality-driven, warm and respectful discussions, where compassion increases honesty and honesty increases compassion. In each event, a new group of artists and experts from various fields take the floor. Audience members, too, are welcome to participate in the discussion on equal footing. Taidepiste aims to give people with different kinds of professional backgrounds the chance to discuss topical and meaningful phenomena.
Art helps us perceive alternative worlds, and it makes it easier for us to put our focus on even the more difficult subjects. That is why all events will also include music, fine arts, theatre, dance, poetry or performance art, offering a unique perspective on the evening's theme.
Taidepiste is supported by the Louise and Göran Ehrnrooth Foundation.
---
Upcoming events
Taidepiste is on a summer break until September 2021. We will update the website for more information about the autumn programme later in the summer.
---
Previous events
7 June 2021: Room to grow – the impact of hobbies for young people
10 May 2021: Is over-sensitivity ruining art?
1 Mar 2021: Classical music and diversity – is everyone welcome?
28 Jan 2021: Taidepiste x Music and philosophy: Music genres and society
14 Dec 2020: Why bother? The benefits of a slow approach and extra effort
16 Nov 2020: Soldiership and taboos of violence
19 Oct 2020: Power relations among children
28 Sept 2020: Role models and opportunities
3 Sept 2020: Radical songs. How does music fuel revolutionary dreams?
Contact information for Taidepiste series
Coordinator, Y/Yhteiset_vi, University of the Arts Helsinki
+358504759645
maija.gronqvist@uniarts.fi