Develop your arts-based business idea in our pre-incubator programme
Our new 12-week Uniarts Hub pre-incubator programme will help you get started in setting up a business and becoming an entrepreneur in the creative or arts industries. The application period to the next spring's programme is 1.12.-23.1.2023.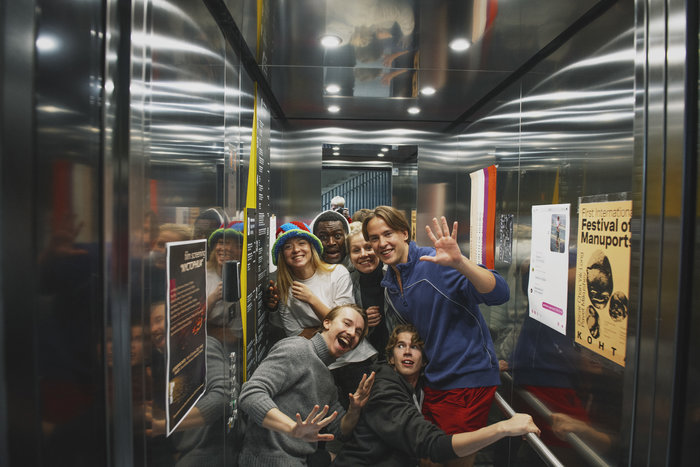 About the Uniarts Hub pre-incubator programme
Are you a creative or arts professional, producer or intermediary, who is planning to set up a business? Or are you part of an artistic team contemplating on the same thing? Do you already have some ideas for your business plan, want some information about starting and running a company or do you just want a clear info package on entrepreneurship in arts as an option?
If you answered yes to any of the previous questions, our pre-incubator programme could be just the right environment for you for making future plans and preparing to establish a company.
The programme, which begins twice a year in the beginning of the semester, will give you a comprehensive understanding on entrepreneurship in artistic and creative businesses. You will get to know experts in creative industries and the arts, and build a community of peers and colleagues within the participating group. We have recruited a good list of experienced professionals from business and creative sectors as lecturers, workshop instructors and mentors.
The programme will take around 12 weeks and consist of on-site and online lectures and workshops, networking events as well as tailored mentoring for the particular needs of each participating person or team.
Programme content
Uniarts Helsinki's first pre-incubator programme covers the following themes:
Business planning and establishing a company
Entrepreneurial identity of an artist
Managing a business
Customer experience and branding
Product/service development
Copyright issues
Everyday routines of managing a business
Funding opportunities
Sales and marketing
Pitching skills
Foresight: how to plan your future
Weekly programme:
Weekly workshop lectures at one of Uniarts campuses.
Weekly online lectures (can be watched afterwards as recordings)
2-3 mentor meetings during the programme. Participants will be assigned their personal mentor in the beginning of the programme, and working methods are set by the mentor and participant together.
Weekly homework.
The programme is in English and in hybrid format as described above. At the end of the programme, participants will pitch their ideas to experts and an audience in a live event. This event will be produced together with other university incubators in the Helsinki region.
During the programme, we will have discussions with the participants on what future steps they could take with their business idea after the pre-incubator and what options they have in the Helsinki region. The pre-incubator programme is part of the Campus Incubators Programme, which is funded by the City of Helsinki. In addition to Uniarts Helsinki, the programme partners include Aalto University, Arcada, Haaga-Helia, Hanken, the University of Helsinki and Metropolia. Some of these schools provide business incubator services for already up-and-running businesses.
Application for the programme
Book a meeting and find out more
Project Manager, Avoimen kampuksen palvelut, Open Campus
+358505271895
kati.uusi-rauva@uniarts.fi
Participants in Hub #1, 2022
Jussi Puukka is a music educator and Sibelius Academy alumni who aims to bring arts and artists to working life via his arts based Cadenza concept. Cadenza gathers together a pool of artists who go to organizations and help the work communities in strategical development.
Pekko Vasantola is a visual artist working on a freelancer collective. The collective combines artistic thinking with the newest technology to create unique commissioned art experiences for their customers, e.g. science centers and museums.
Annika Sillander has an international background as a dance professional, and for the past 10 years has been working as the manager of the Regional Dance Centre of Ostrobothnia. She is building her consulting company, Sillander Creatives, that focuses on project management and production services for freelancers and collectives in the cultural field.
Jason Hu is a classical pianist who is creating a new platform through which music is consumed. With the application of Virtual reality, the XR music platform offers a whole new way of experiencing music.
Chen Qu and Jeremy Wong are both Classical pianists and music educators from the Sibelius Academy. Chen holds a masters degree and Jeremy is currently a doctoral researcher in the MuTri Doctoral School. They are founding Bravuuri, a children's music school specialized in customized instrumental learning and creative educational solutions.
Hikari Nishida is a french-japanese visual artist whose 'Temporary bookshelf' concept is a new way of selling and distributing art books in Finland. The company creates temporary bookshops, curates and distributes art book collections and organizes events.
Vilja Autiokyrö is a screenwriter and director whose theatre concept 'Notski' brings easily accessible and affordable micro theatre plays for mini audiences to a bar environment in Helsinki.
Onyedikachi Ben is a music technology student creating a new, affordable and accessible music licensing platform for music creators and users using blockchain technology and NFTs.
Sandra Marins is a fine arts student at KuvA and co-founder of Wasa Graffitilandia, a unique street art project that brings art to unusual locations making it more approachable.
Dominik Schlienger-Tuomi is a doctoral student at Sibelius Academy who is creating a carbon neutral stage technology for concert and festival productions.
Devina Boughton (they/them) is a freelance trumpet player/vocalist, composer/arranger and pedagogue. Having graduated from Berklee College of Music and then studied at Sibelius Academy, they have a wide breadth of knowledge and want to offer accessible musical services in Finnish and English as a self-employed entrepreneur.
Come to Demo Day!
Launched this autumn, the Uniarts Hub pre-incubator programme will culminate in a live event at the Theatre Academy's Tori on 16 November at 13:00-17:00.