Live concerts are back
This autumn, music enthusiasts get to choose from a versatile mix of concerts at Uniarts Helsinki's Sibelius Academy, ranging from electronic to classical music.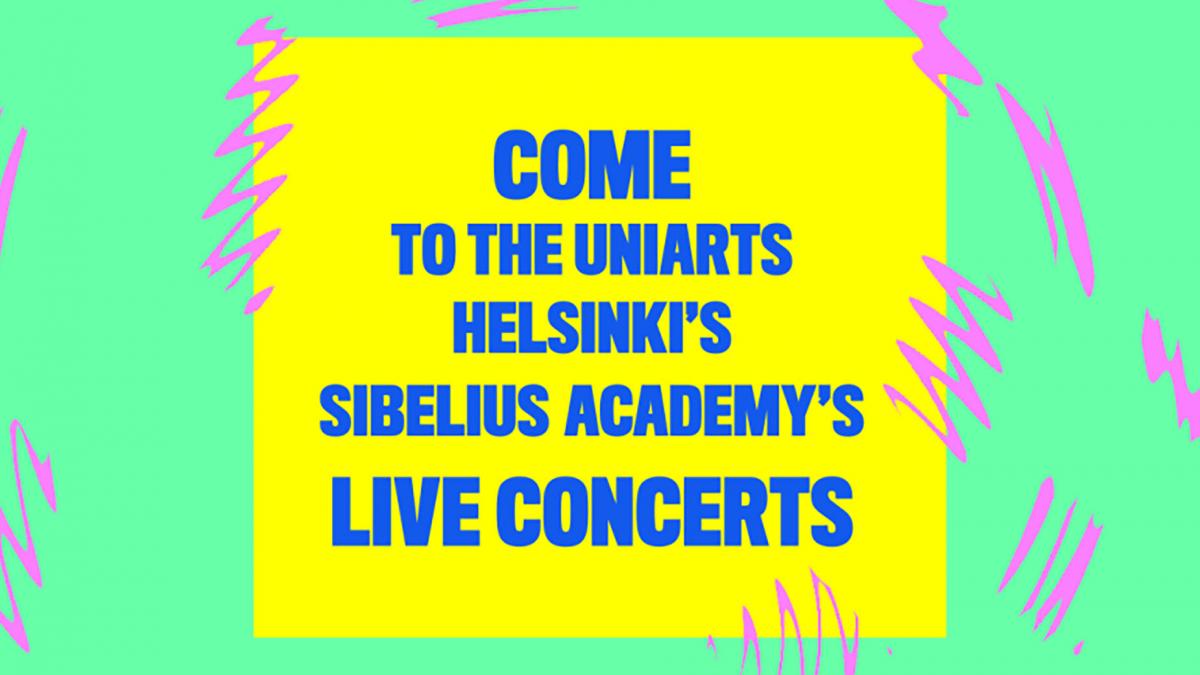 Event highlights this autumn include operas Così fan tutte and Albert Herring, world-renowned harpist Emmanuel Ceysson's first-ever performance at the Helsinki Music Centre, and the final concert of the LEAD! project led by conductor Jukka-Pekka Saraste. Most of the concerts will take place at the Helsinki Music Centre or in the Sibelius Academy's historic R Building.
Our priority is to ensure everyone a safe concert experience, and we make sure that people are seated within a safe distance to each other. This is why there aren't as many tickets available to the concerts as usually.
Time for opera!
This autumn, the academy will present two opera productions. The first one will be a classic comic opera, Così fan tutte, with performances on 8 and 9 September. In November, it's time for Albert Herring, Benjamin Britten's comic opera in three acts. Through these operas, the audience will be transported to a world of tangled relationships, spectacular costumes and dramatic emotions.
During their studies, the Sibelius Academy's opera students perform in four full-scale productions as well as in one dramatised concert together with a pianist. The Opera Department's popular productions are created in cooperation with Finnish and international opera and performing arts professionals.
Learn more about the performances and buy your tickets
Let's Lead
LEAD! The Orchestra Project is an international project, led by conductor Jukka-Pekka Saraste, where young orchestra musicians get to develop their leadership and communication skills under the mentorship of music professionals. The project is a collaboration between the Swiss Haute école de musique Genève, Singaporean Yong Siew Toh Conservatory of Music and the Sibelius Academy, and it will culminate in a concert by the Let's Lead symphony orchestra on 2 November at the Helsinki Music Centre.
World-class harp music
Our visiting teacher, world-renowned harpist Emmanuel Ceysson will give his first concert at the Helsinki Music Centre on 29 November. Ceysson discards all the clichés associated with his instrument and mesmerises his audience with energetic music that showcases the harp's range in all its glory.
In September 2020, Ceysson will begin his stint as a harpist for the Los Angeles Philharmonic. Before his contract in Los Angeles, he was the principal harpist of the Metropolitan Opera Orchestra in New York. Emmanuel Ceysson's teaching visit and concert are part of the international visitor programme launched by the Sibelius Academy.
Students of Uniarts Helsinki's Sibelius Academy perform in over 700 concerts every year. Concerts hosted by the internationally esteemed academy form an integral part of studies and showcase the talents of up-and-coming artists, offering unforgettable arts experiences.
Today, the Sibelius Academy is a creative and international community of about 1,500 students and 500 teachers and experts. It is one of the largest music academies in Europe, and it has ranked among the top performing arts universities in the world.
Welcome to our concerts – and get ready to feel the power of art.