Fine arts, bachelor and master
We train visual artists who learn their own strengths and expression methods and prepare them for a world where artists take on multi-faceted roles and profiles.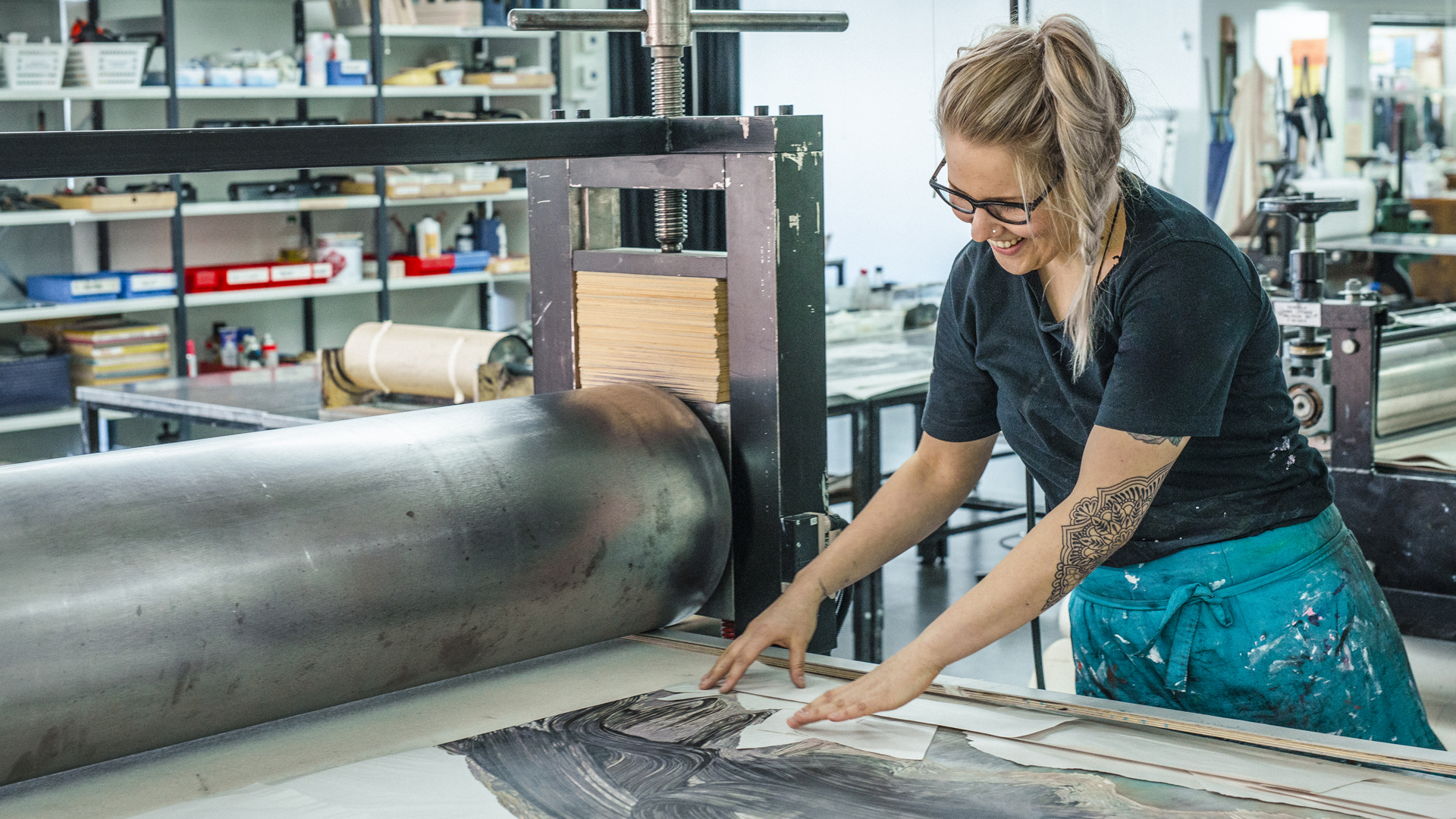 Why study here?
The student's personal aspirations, freedom of choice and individual guidance are integral to studies in fine arts. Our teachers are distinguished visual artists and experts from Finland and abroad. You will be provided a work space and an excellent opportunity to exhibit your art in public, thanks to the Academy's active exhibition activities.
About the studies
You will acquire skills and knowledge that will enable you to work independently as a visual artist and understand your own work as a part of the context of contemporary art and society, where artists may adopt multi-faceted roles and profiles.
Studies focus on artistic activities and theoretical studies. The Academy of Fine Arts focuses on independent art, giving the students the flexibility to pursue their personal aspirations when selecting courses and planning their curriculum. Individual guidance and independent artistic work are integral to the studies, but group instruction, workshops, field trips and different kinds of projects are also important and increase the sense of community within the academy.
Public exhibition of one's own art in exhibitions, public space and other various contexts is an essential part of the studies. Students familiarise themselves with exhibition activities and practices at the Academy of Fine Arts galleries, which improves their ability to take part in exhibition productions of various sizes.
The subject areas of the degree programme in fine arts are:
sculpture
painting
printmaking
time and space arts.
The subject area of time and space arts allows you to specialise in moving image, photography, or site and situation specific art. Bachelor's students choose their subject area after being admitted to the university, during their first of year studies. Master's students choose their subject area upon application to the studies.
New curriculum to be launched
Our curriculum is currently being updated. Teaching according to the new curriculum will start in autumn 2024. Please keep this in mind when browsing the current curriculum.
Subject area of sculpture
The subject area of Sculpture investigates the use of three-dimensional space in artistic work. The instruction is based both on hands-on work and on the traditions of sculpture. The studies focus on the command of various approaches in contemporary sculpture, an in-depth understanding of the techniques available, and their utilisation in the student's own artistic practice.
The studies in sculpture also focus on questions related to gallery and museum spaces as well as art in the public sphere. The main emphasis of the studies is on the student's independent artistic work, which is supervised and supported through discussions, critique sessions and seminar work. Independent artistic work will promote the student's self-expression and conceptual thinking and improve their creative problem-solving skills.
Thematic lectures, projects and workshops organised by artists both in Finland and abroad support joint studies in sculpture, where all the students of the Academy become acquainted with the materials, techniques and working practices of sculpture.
Subject area of painting
The subject area of painting explores the multi-faceted expressions and meanings that are formed in various contexts in the field of painting. The instruction aims at extending the students' views on what painting could be, what it might mean and the ways in which it relates and interacts with other forms of expression and fields. In other words, there is no single idea of what constitutes contemporary painting; it is constantly changing and adapting to time and place, societal interpretations and the theories and cultures of different artistic fields.
Giving room for students' independent artistic work and strengthening their personal form of expression are priorities, while also making time for reflections on art theory.
Aspects of instruction include analysing the language(s) of painting, reviewing the materiality and extended field of painting, and comparing the characteristics of painting with other forms of expression. In addition, there is highly specialised instruction in material studies, which focuses on the use of different materials and their impact in the context of the painting and outside of it, as well.
Subject area of printmaking
The subject area of printmaking provides the students with comprehensive knowledge of printmaking and its various forms of expression, methods, materials and theoretical foundations. Students of printmaking use modern equipment throughout their studies, and the instruction pays close attention to the developments in the field of printmaking and changes in society.
Students of printmaking learn to contextualise printed art within the artistic tradition, its re-interpretation and relevance as part of contemporary art. The process of making art is conceived both as a stance and a way of thinking which takes into account the duality inherent in printed art: on the one hand, there is the printing process with copying and printing; on the other hand, the visual expression in printmaking can be realised in various ways. Traditionally, marks produced by a matrix have been printed on paper, but in modern printmaking the result can be something completely different: a spatial assemblage, a film, a three-dimensional work or a zine (a publication with a limited circulation). Printmaking is grounded in the possibility of conveying a message, which means that the medium used in the artistic process can equally well be a printing press or a digital file.
Studies in printmaking largely consist of independent artistic work. The student is supported by the teaching staff and the student community in the form of studio visits, seminars and methodological workshops. Collaborative projects are also an important part of the studies. The subject area offers intensive courses on various themes; these courses can include guest lectures by visiting artists, or they can be entirely supervised by a visiting teacher. The goal of teaching is to support the student's personal vision so that their free expression reigns over the materials and the media, challenging them to search for personal solutions and ways of making art.
Subject area of time and space arts
The subject area of time and space arts provides instruction in site and situation-specific art, moving image and photography. The teaching focuses on various aspects of artistic work, including the conceptual, pictorial, spatial and bodily dimensions of art.
The teaching in time and space arts is dialogical in nature, and it consists of seminars, courses, lectures and studio visits. The student can either focus on a single field within time and space arts or piece together a personalised study plan by selecting different courses from time and space arts and/or other subject areas. The goal of the studies is to improve the student's perceptive skills and critical thinking, and to let them develop their independent artistic practice. The students are encouraged to look for a personal approach to art and to experiment with different ways of expression. Artists working within time and space arts use various media in their art: they can use their own bodies, for example, or the work may consist of a performance. Moving image, photographs, sound art and digital technologies are also frequently used in time and space arts.
The teaching is based on the conceptualisation of art as a process or an event. With a focus on research and experimentation, the instruction given in the subject area helps the students contextualise their artistic practice within the tradition of contemporary art.
Joint studies in fine arts
Joint studies are composed of instruction in joint art studies, writing, art history, art theory and art philosophy, thematic theoretical studies, art exhibition studies, drawing and perception, and the studies in the 'As an artist in society' study module. Joint studies also organise the instruction in the autumn term of the first study year in the Introduction to independent artistic activities and the subject areas study module.
The objective of the instruction is to provide the student with the tools for understanding the various fields and working methods in contemporary art and to critically compare the phenomena related to information, research, and art. A command of the history and theory of contemporary art is a prerequisite for being able to examine not only current art trends but also the contemporary world in a broad, independent and critical manner.
Particular attention will also be paid to written expression and understanding the ways in which the world of art operates, which are both essential skills to professional artists.
Teachers
Our teaching staff is composed of distinguished artists and experts from various fields working in the international art sector. The visiting teaching staff, both from Finland and abroad, hosts thematic workshops and special courses and acts as thesis supervisors, examiners and experts. You will also be appointed a tutoring teacher who will follow your academic progress.
Our Visiting Professor -programme has hosted for example David Batchelor, Monster Chetwynd, Omer Fast, Melissa Gordon, Özgü Gündeslioglu, IC-98, James Nisbet, Alex Olson, Josephine Pryde, Ruth Pelzer-Montada, Ciara Phillips, Mira Schor, Katarina Pirak Sikku, Alexandria Smith, Nina Wakeford, Emily Wardill, and Ahmet Ögüt.
Other visitors from the past few years include Rachael Allen, Nisrine Boukhari, Elmgreen & Dragset, Okwui Enwesor, Nomaduma Rosa Masilela, Martha Rosler, Amalia Ulman, and Ho Rui An.
Applying
The Academy of Fine Arts admits new students to the 5.5-year studies leading to Bachelor and Master of Fine Arts degrees in the spring.
We will publish the applications instructions for the next application period in November 2023.
You can apply to this education in first joint application to higher education in Finland.
The next application period starts on the 3rd of January 2024 at 8 am UTC+2 and ends on the 17th of January 2024 at 3 pm UTC+2.
Our University is one of the most sought-after places to study in Finland. Browse the applicant statistics from previous years.
Studies leading to a bachelor and master of fine arts degree (3.5 + 2 years)
An eligible student for 5.5-year studies leading to bachelor and master of fine arts degrees is an applicant who demonstrates ability in orientation towards the fine arts and suitability for studies in fine arts, who is suitable for higher education, and who is able to prove their proficiency in Finnish, Swedish or English in accordance with the instructions defined by the Academy.
The application process has two phases, and the last phase is a week-long admission course.
Doctoral studies
Doctoral studies in fine arts provide students with the competence and the opportunity to conduct independent and creative artistic research. Artistic research is a field of multi-disciplinary research that focuses on the artist and art.
Graduates of the programme are artist-researchers who develop and renew arts, as well as the making, research and teaching of arts. They engage in a diverse and critical dialogue with the different actors in society. As experts in their field, they create art and produce information, knowledge, and insights based on art-related practices that can be applied in the arts and also in other sectors of society.
Doctoral training develops the artist-researchers' ability to apply their skills as artists, researchers, teachers, and experts in their field.
Target degree and length of study
---
Master of Fine Arts (MFA)
5,5 years
Unit
---
Academy of Fine Arts
Application languages
---
English, Finnish, Swedish Read more about our language skill requirements
Tuition fee
---
Annual tuition fee € 5,000 for students studying in English and come from outside the EU and EEA countries.
Application period
---
Next possible time to apply is in January 2024. Studies begin in August 2024.
Supervising teacher
---
Andy Best
professor, sculpture
Salla Tykkä
professor, time and space arts
Päivi Takala
lecturer, painting
Annu Vertanen
professor, printmaking
Ask about applying
---