Fine Arts degree student: The best thing is that my journey as a professional artist is supported and realised
Read an interview with Elle Nish.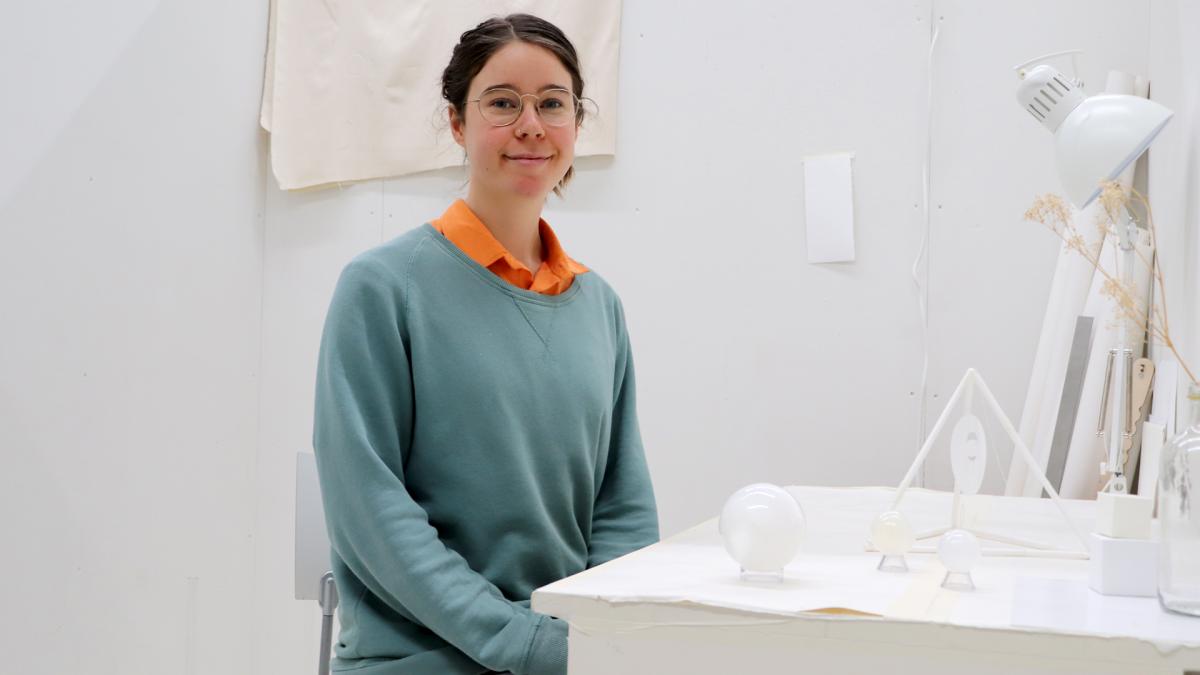 Who are you and how did you end up studying at Uniarts Helsinki?
My name is Elle and I am originally from Australia. I left Australia three and a half years ago and am yet to return. I studied a Bachelor of Science with a major in Biology at the Australian National University. Studying physiology, microbiology, immunology, botany and invertebrate zoology was extremely interesting.
However, when I travelled west through New Zealand, South America and Costa Rica, I had a secret dream of studying art in Europe. When I lived in Amsterdam for a year, I studied at Gerrit Rietveld Academie to help make my portfolio. Uniarts Helsinki was the only place I applied to. It is an amazing dream come true that I study printmaking here now.
What did you think about the admissions process?
The admission process was really cool and helped me develop my professional artistry. My projects coalesced into a defined form within my portfolio. With names, meaning and descriptions. My portfolio and letter of admission were strong with time and effort. During that time I got to create my studio concept, Studio Mokii. You can view my art on my Instagram page. I still find it hard to conceptualise how only a small percentage of applications are accepted here!
How did you prepare for the interview?
I spoke to myself out loud the answers to questions I thought I would be asked. I set up my Zoom camera to have a good lighting and background with some of my art. I picked my outfit, and planned my hair and makeup. I had learnt the Finnish phrase 'mulla on juuret Suomessa, kahvia ja pullaa,' which I said in the interview. I also meditated and grounded myself in calm.
What did you think about preparing for the advance assignments?
The beginning of the pandemic coincided with the admission time. In a way I was fortunate because I had much more time to focus on my art. So, every day I kept myself healthy, and gave all of my time to projects and ideas. Looking back to this admission time it is a very special memory.
What has it been like to study here, and what has your experience of Helsinki been?
It has been wonderfully amazing. It is a huge privilege to have access to so much equipment, knowledge, teachers, opportunities and space. I am extremely thankful. There is always so much awesome art happening thatI wish to see more of. I love my studio.
What do you think are the two best things that describe Uniarts Helsinki?
Access to knowledge and equipment.
What are the most memorable projects you have been involved with?
Last summer I made a solo exhibition at the old university space. The exhibition was titled Collecting Shadows in Glass Jars. It was beautiful with objects and compositions. I explored shadows, objects and the colour white. You can watch a video of the exhibition on Youtube.
The opening exhibition for the new university building will occur this winter. I am doing a project titled Geology. A constant drip of water dissolves mineral spheres. The water is then captured and allowed to evaporate; leaving the mineral to recrystallise. Thus, geological processes that have shaped the surface of the earth for 3.8 billion years are captured.
What is your typical day like at university?
My morning routine is essential. I arrive at my studio, which is white and tidy, at about 9. Usually I will have class, work on my independent artistic practice or study the Finnish language. My main materials are paper, ideas, words, questions, glass, 3D prints, salt, flour, sugar and water. I have been directing my interests towards science. The lunch is really good at Uniarts Helsinki's Theatre Academy. Normally my day ends at 5pm or 6pm. My studio floor is covered in paper, so I sweep every day.
What's been the best about studying at Uniarts Helsinki?
The best thing is that my journey as a professional artist is supported, developed and realised.
What tip would you give to other students considering applying to Uniarts Helsinki – especially overseas students?
Drink two to three litres of water every day and sleep eight to ten hours every night, especially when you are busy!