Project manager for ecological sustainability supports the university in achieving its sustainability goals
The "Working at Uniarts Helsinki" series presents employees who enable the growth of students and help them become highly skilled and broadminded artists and changemakers, thanks to their work in different roles within the university.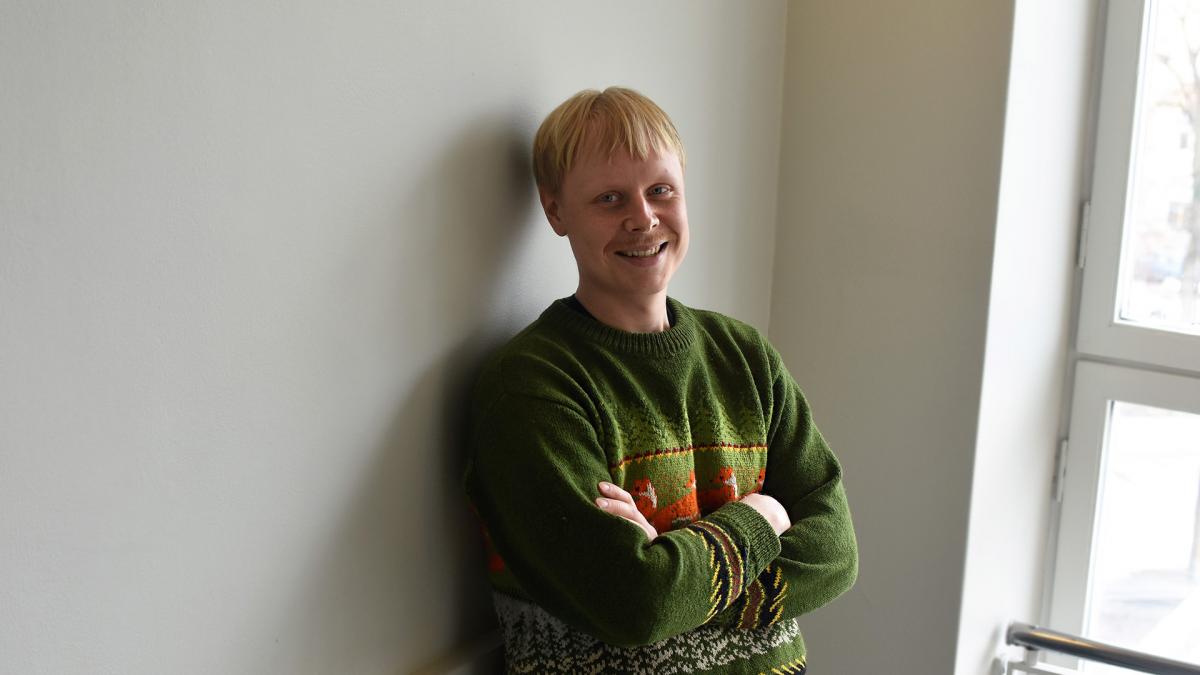 Teemu Sorsa, project manager for Uniarts Helsinki's strategic ecological sustainability project, is motivated by versatile job duties and opportunities to challenge his personal professional expertise.
Who are you and what do you do at Uniarts Helsinki?
I'm Teemu Sorsa and I work as the project manager for Uniarts Helsinki's strategic project focusing on ecological sustainability.
I support the community of Uniarts Helsinki in its journey of achieving the goals that have been set for ecological sustainability in Uniarts Helsinki's strategy. The purpose of my job is to strengthen the structures, processes, culture and competence pool of the university so that even more environmentally sustainable activities are possible at Uniarts Helsinki.
How would you describe your typical work day?
What I do during a work day varies a lot and no day is the same as the other. Recently, I have developed our campus waste management together with Uniarts Helsinki's facilities team and the cleaning company we use, worked on sustainability instructions for procurement with the university's procurement manager, discussed carbon footprint calculations with the financial team, and visited the course Ecologically sustainable stage offered by the Theatre Academy, to mention a few examples of my tasks.
So in practice, my work involves interacting with the university community and stakeholders in various ways and planning, analysing and implementing things.
How did you end up working for us?
I applied to Uniarts Helsinki because I was involved in Uniarts Helsinki's strategy process previously when I worked for the think tank Demos Helsinki. I found the themes of art and higher education interesting both from a professional and personal perspective.
I started at Uniarts Helsinki in September 2019 as a planning officer for the Theatre Academy management. I originally applied for another position in executive support, but I was ultimately hired as a planning officer. I applied for my current job because this position of project manager combines my competence and interests particularly well. I studied sociology, and in my studies, I focused on examining the social aspect of environmental crises, so the development work to promote environmental themes feels like a natural fit.
What is the best part of your job?
The best part of being a project manager is the diverse and challenging questions that I get to solve together with a skilled community. I also like the fact that I have a suitable amount of freedom as well as responsibility that comes with it so that I can work in my job in the way that I find the best within the framework that has been set by my supervisor and the steering group for ecological sustainability and by Uniarts Helsinki's strategy.
What is the best aspect of working at Uniarts Helsinki?
The best aspect of working at Uniarts Helsinki is the unique combination of creative thinking, strong expertise, nice colleagues and values that I am happy to endorse. I find it a privilege to get to work with professionals in the arts sector to promote important issues.
Which Uniarts Helsinki performance or exhibition did you visit most recently?
Most recently, I visited Project Room to check out the exhibition by Academy of Fine Arts students Lauri Lähteenmäki and Verneri Salonen, which touched on ecological themes. Lähteenmäki's photography art dealt with bog landscapes and the history of human-transformed bogs, which was a thematically good match with the rumbles and accelerations of Salonen's installation.
About Uniarts Helsinki
Uniarts Helsinki is an open meeting place for the arts – an ambitious university community for bold reformers and experts in tradition. We cultivate a unique environment that helps artists grow and strengthens the power of art as a driver of change. Uniarts Helsinki is among the leading performing arts universities in the world, and it is comprised of the Academy of Fine Arts, Sibelius Academy and Theatre Academy. We have about 2,000 students and about 700 full-time equivalent employees.
#workingatuniartshelsinki #weareuniartshelsinki