Music technology, bachelor and master
Grow into a music technology specialist in an international environment in the leading degree programme in its field.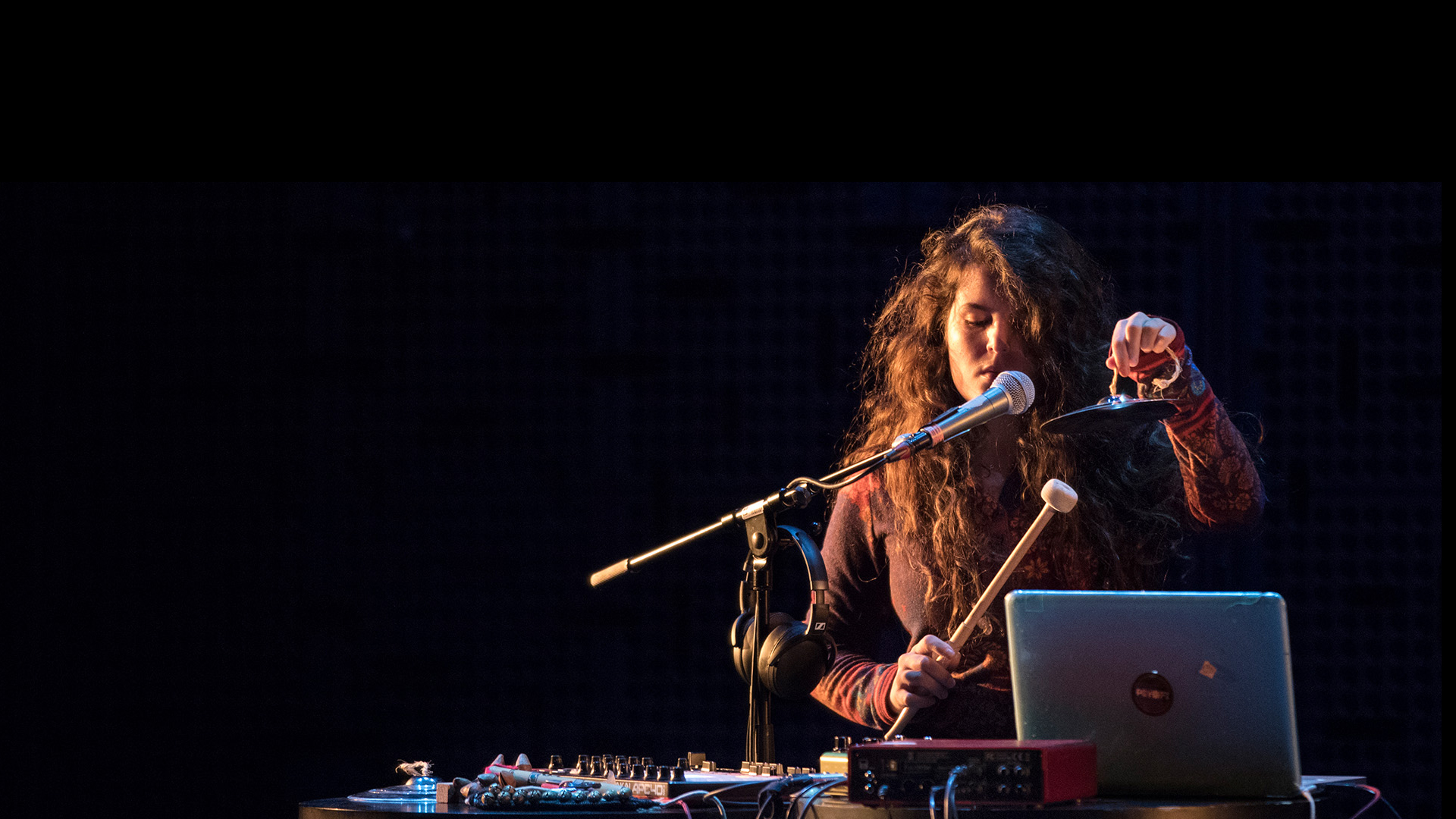 Why study here?
Our department is one of the internationally leading communities for education and research in music creation with technology. We approach education and research in our field from various angles – imagination, inclusion and diversity, and eco-social awareness.
Content and objective of the programme
Music technology studies are divided into three profile paths that guide the students towards becoming experts in the field, prepared to embark in artistic research.
Recording arts
The recording arts profile provides students the knowledge and skillset to work as advanced music producer and sound engineer at the cutting-edge of the field. Once graduated one is able to work independently in diverse professional tasks in recording arts and music production. Students have the possibility to study both popular and classical music production.
The curriculum consists of popular and classical music recording, editing, and mixing techniques, production skills, and live sound reinforcement, in awareness of eco-social transition that our society is undergoing. Students will acquire expert knowledge of audio technologies in both software and hardware forms: audio processors, recording tools, synthesisers, and computers. They also study music history, theory, analytical listening, and instrumental skills.
Film and game music producer
The film and game music producer study profile prepares a student to work in music production for film, game, and other visual media. The role of the film and game music producer is a versatile combination of various skills, both technical and artistic: music design, sound design, mixing, composing and arranging, especially for virtual instruments, in addition to understanding of both interactive and non-interactive forms of storytelling.
Students entering this study profile are expected to have a background in computer-based music production as they go on to broaden their skills. These include among others advanced virtual instrument use, understanding of game music and game audio technologies, cinematic narration, and the cooperation between film composer and director.
Creative electronic music practices
The creative electronic music practices profile is aimed at musicians whose curiosity and talent lead them to push aesthetic boundaries when composing, performing, and creating music and sound works, in which technological means (in the broadest possible sense) are at the core. These musicians explore the studio, the stage, and all kinds of electroacoustic devices as a tool for creation, research, and expression.
The students will develop their skills in the fields of electroacoustic music, live electronics, experimental electronics, sonic arts, sound installations, generative music. They will learn to work as composers, performers, improvisers, and creators.
Versatile career opportunities
During your first three years, you will study the tools needed in music technology and apply them creatively in different kinds of music contexts. As a master's student, you will complete advanced studies and specialise in order to work, for example, in the following positions: sound engineer, producer, venue amplification professional, developer of music technology instruments and applications, composer of film, game or electroacoustic music, or as a sound artist.
To secure versatile career opportunities, you are encouraged to take an active role in building your personal study path. Gaining experience through international studies and traineeships is an important part of your education. You can also choose courses organised by the two other Uniarts Helsinki academies and complete joint studies that are available to all students.
The Sound Art & Sonic Arts study module (SAMA), held in English, examines the possibilities of sound and sonic arts from the perspectives of various artistic disciplines. Read more about the study module in Sound Art and Sonic Arts (SAMA).
New curriculum to be launched
Our curriculum is currently being updated. Teaching according to the new curriculum will start in autumn 2024. Please keep this in mind when browsing the current curriculum.
Artistic activities
The annual MuTeFest festival, organised by our department, is your chance to experiment and be creative together with fellow students.
During your studies, you will take part in the recording of Sibelius Academy concerts and the creation of contemporary music concerts, multimedia music performances and electroacoustic concerts. The artistic activities are always linked to education and research.
The MuTeFest event is an excellent way to learn more about the artistic activities of the degree programme.
Teachers
Our teachers are some of the best experts in their respective fields. In addition to the permanent teaching staff, the programme welcomes top international professionals as guests on a regular basis. Visiting teachers in the programme have included:
Robin Minard
Ludger Hennig
Leigh Landy
Jim Anderson
Robert Normandeau
Wayne Siegel
Roland Cahen
Marko Timlin
Derek Holzer
John Richards
Francesco Giomi
John Young
David Griesinger
Manuel Rocha Iturbide
Bob Katz
Andrey Smirnov
Natasha Barrett
Dinah Bird
Rodolphe Alexis
Ka Ho Cheung
Dorit Chrysler
Josep Comajuncosas
Simon Emmerson
Charles Dye
Shinji Kanki
Michihito Mizutani
Henrik Möller
Jean-Philippe Renoult
Denis Smalley
Jean-Claude Risset
Jukka Ylitalo.
Applying
The Department of Music Technology admits new students every other year. The aspects that are reviewed in the entrance examination include the following: applicants' background in music and the arts, motivation to study at our department, possible prior experience in the field, as well as artistic interests.
Uniarts Helsinki is one of the most sought-after places to study in Finland. Browse the admissions statistics from previous years.
Doctoral studies
You can complete a doctoral degree at Uniarts Helsinki as a third-cycle degree. After graduating with a master's degree, you can apply for research-oriented doctoral studies, arts-oriented doctoral studies or applied doctoral studies in music technology.
Current and recent research projects:
Aquatrio
Sound & Motion Research Group
Research Group in Interdisciplinary Improvisation
Äänirunko /Structure Bone Sounds
Intersubjectivity in Music, The Perspective of Technological Mediation
Doctoral research:
Kronos : reimagining musical signal processing
Electroacoustic music performance and improvisation: a pedagogical toolkit
Acoustic Localisation Techniques for Interactive and Locative Audio Applications
Narrative in Acousmatic Music
Case-Specific Electroacustic Systems
Urban Sonic Acupuncture: Aural Strategies for the City Space
Human voice and instrumental voice: an investigation of voicelikeness
Modulating musical space time
Sacred technologies: an autoethnographic exploration of a musician's relationship with electronic technology
Embodied Algorithms: Formalising Embodied Habits to Explore and Develop Improvisation Languages
Increasing immersion with binaural spatial music in 3-dimensional virtual spaces for VR applications
Developing and utilizing real-time notation in music with improvisation
Facilities
Music technology students have access to six well-equipped studios at the Helsinki Music Centre. They are available to Sibelius Academy students, and the music technology programme is the most frequent user of the facilities. The studios are also rented out when possible. The Department of Music Technology also organises classes and concerts in the halls of the Helsinki Music Centre.
Video: International visiting experts
Student views
"First it was kind of intimidating to see the freedom that you have as a music technology student, but once I adopted a new mindset, I gained a lot from my studies. You get to acquire versatile skills for a versatile professional life!"
Markus Pajakkala, Music Director @ Yousician, freelance musician, composer, producer e.g. for Utopianisti, Ellips, Waltteri Torikka, Kingston Wall & VHB, Stam1na, Laura Moisio
Target degree and length of study
---
Master of Music (MMus)
5,5 years
Unit
---
Sibelius Academy
Application languages
---
English, Finnish, Swedish Read more about the language skill requirements
Tuition fee
---
Annual tuition fee €5,000 for students studying in English and come from outside the EU and EEA countries. Read more about tuition fees
Application period
---
Next possible time to apply will be announced later.
Ask about applying
---