Large Recording Room
The recording room, a vocal booth and a glass-walled recording booth are located in Musiikkitalo. Together they cover more than 100 m2.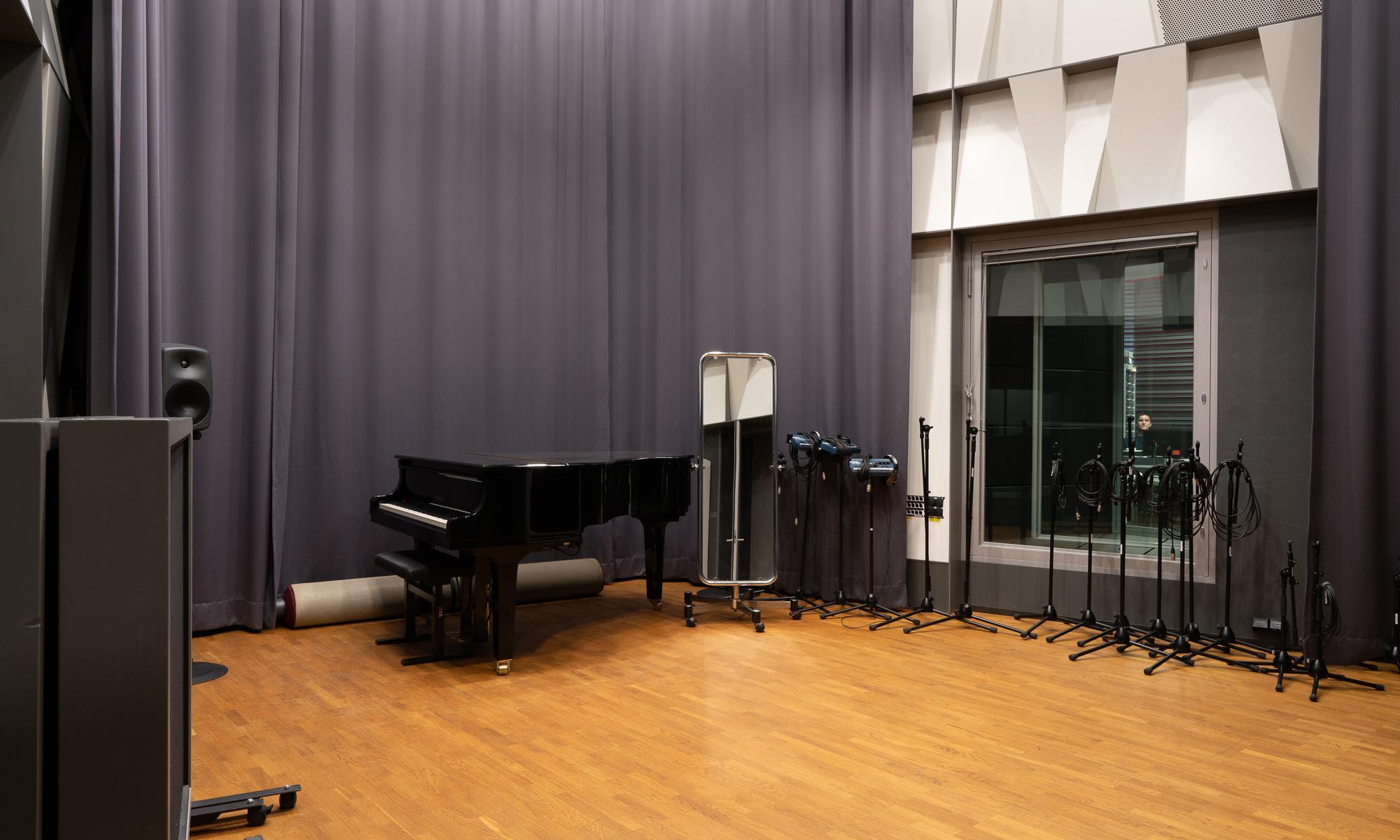 Introduction
The Large Recording Room is equipped with 32 channels of Grace Design microphone preamplifiers. The microphone preamplifiers can be remotely controlled from the studio block control rooms. For musician listening, there are 6 pieces of Aviom A16II Ethernet-based headphone amplifiers. Within the recording room, there is a small vocal booth and a larger, glass-walled recording booth that can be used, for example, for drum recordings. The equipment also includes a midi-controllable Yamaha Disklavier grand piano.
The room is meant for the use of Uniarts Helsinki students. The room is not rented to people outside of the Uniarts Helsinki community.
Size
107 m²
Equipment
4 pcs. Grace Design M802 8-channel microphone preamp
6 pcs. Aviom A16II headphone monitor mixer
6 pcs. Sennheiser HD25-II headphones
6 pcs. Sennheiser HD518 headphones
4 pcs. Shure SM57
2 pcs. Neumann KM184
2 pcs. Neumann TLM103
1 pc. AKG D112
2 pc. AKG C414B-ULS
3 pcs. Sennheiser MD421
1 pc. Microtech MV692+UM70
1 pc. Sanken CMS-2
2 pcs. Radial J48 active DI
16 pcs. König & Meyer 210/9 microphone stand
8 pcs. König & Meyer 259 low microphone stand
4 pcs. König & Meyer 21021 overhead stand
3 pcs. 21430 heavy duty overhead stand
5 pcs. Dynaudio BM15A speaker
Presonus Central Station
Vox AC30 guitar amplifier
Marshall 5210 guitar amplifier
Ampeg SVT-7 bass amplifier + PN410HLF cabinet
Orange Tiny Terror guitar head amp
Engl E112 Pro cabinet
Axetrak guitar amp isolation cabinet
BenQ W6500 projector
Motorized screen
Yamaha Disklavier grand piano (DC7M4)
All floors are accessible by wheelchair via lifts, and accessible toilets are located on all floors. Find out more about the building's accessibility on the Helsinki Music Centre website.