Sibelius Academy's Global Spring festival celebrates cultural diversity, our music students' unique identities and connection to the surrounding society
Sibelius Academy's fourth Global Spring festival at the University of the Arts Helsinki celebrates cultural diversity, intercultural dialogue, collaboration, and global citizenship. The fourth festival in its series is organised at Musiikkitalo from 10 to 19 May 2023. This year's programme also includes a joint production by Global Music students and Porttiteatteri, which is a community theatre company that embraces performers with a criminal background. The collaboratively created performance premieres at Kalliosali on 18 May 2023.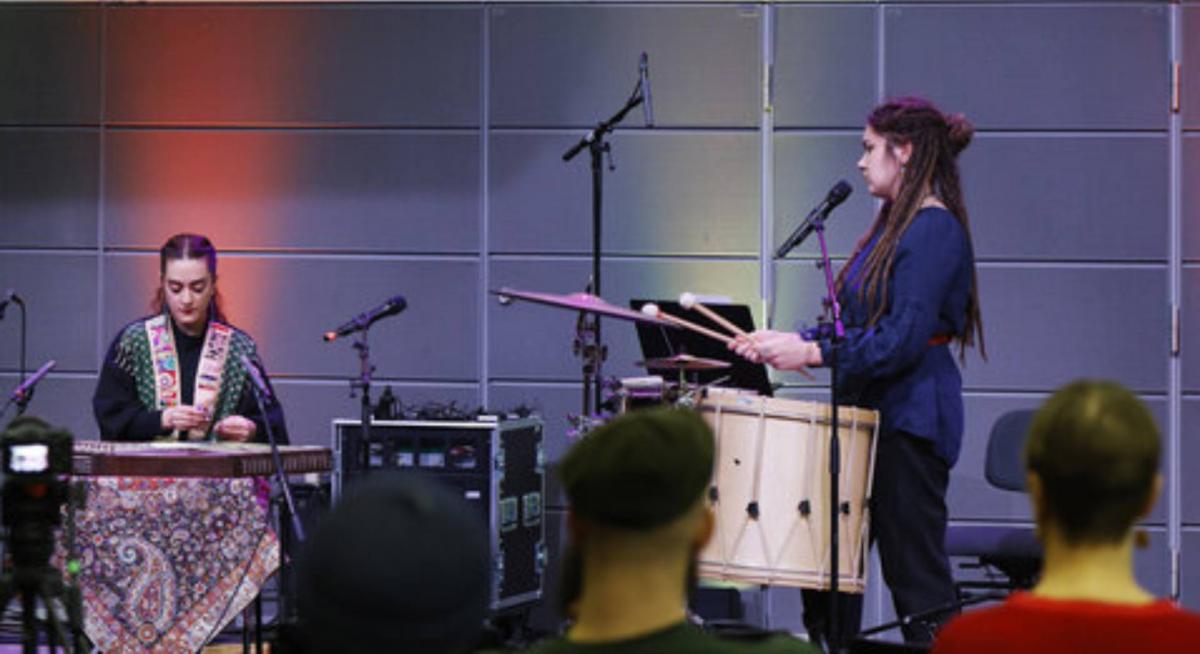 Sibelius Academy's Global Music department is one of its kind in the Finnish music education field. The education brings together artists from diverse musical and cultural backgrounds, with currently more than 25 different cultures represented. Students, teachers, alumni, and visiting professionals participate in two main festivals organized by the department each year, including Global Spring in May and Global Fest in December.
''At the core of Global Music studies are the unique personal and artistic identities of the artists, which are often pluralistic and not bound by stereotypical ideas of culture and identity. The studies nurture the unique identity of each student and promote the creation of new music and art through intercultural collaboration and community engagement", says the director of the festival, Professor Nathan Riki Thomson.
The 2023 Global Spring fest takes place from 10-19 May 2023 at the Helsinki Music Centre and Kalliosali.
This year, the festival features artists from 30 different countries. The festival includes new music born from ensemble courses, students' community projects, and bachelor's and master's concerts. The audience will be immersed in experiences from site specific performances in the forest, to music of the Arabic world, to Mozambican grooves, to stories of marginalized voices, and experimental improvisation, to name just a few.
Porttiteatteri's "Failed Storybook" opens up stories from closed worlds
Global Music students have joined forces again with Helsinki-based community theatre Porttiteatteri. Porttiteatteri's goal is to remove the stigma of people in prison or with a criminal background and bring documentary stories to the stage that are written and performed by them.
"It's a big question in general, whose stories are told on stage and who gets to perform. You mostly see and hear trimmed and thriving people there. It's interesting to get the focus somewhere else – on different kinds of bodies and stories," says composer, musician and sound designer Sanna Salmenkallio.
The idea of the performance started with the colourful tattoos and other marks of the skin among the group members. This gave rise to the name of the show, Failed Storybook. Through tattoos we can see worlds and stories that are rarely heard.
"I keep away from the idea of directly telling something to the audience. We let the bodies, skins and music speak, and each viewer can mirror these stories in their own worlds and listen to what the performance specifically tells them," Salmenkallio sums up.
According to Salmenkallio, it is important for those in prison to be treated equally with civilians and to be seen in a respectful way. It has been touching for the students to be part of a confidential community as they are. Porttiteatteri enables encounters because of its non-hierarchical way of working.
"The students have had a strong experience working with documentary stories and the people behind them. During the rehearsals, an Iranian santur player and a performer from a prison may look each other in the eyes and connect on many levels. This makes our working process extremely sensitive, respectful, emotional, difficult, and beautiful. You can't fake it," Salmenkallio says.
The first project between Global Music students and Porttiteatteri took place during the pandemic. The result was a radio play, Shutterspeed, which can be listened to for free on SoundCloud.
A festival that nurtures community and togetherness
The festivals organised by the Sibelius Academy's Global Music department include ​​Global Spring in May and Global Fest in December each year.
"Our festivals have attracted new audiences year by year and drawn people who do not normally visit Musiikkitalo. The Global festivals also enhance discussion about the value of cultural diversity and difference in our society, and foster a sense of community and togetherness, which is especially needed in these times of societal and environmental crises we are living through," sums up Thomson.