Arts Management, Society and Creative Entrepreneurship (master's programme)
We provide new perspectives and approaches for the evolving field of arts and culture.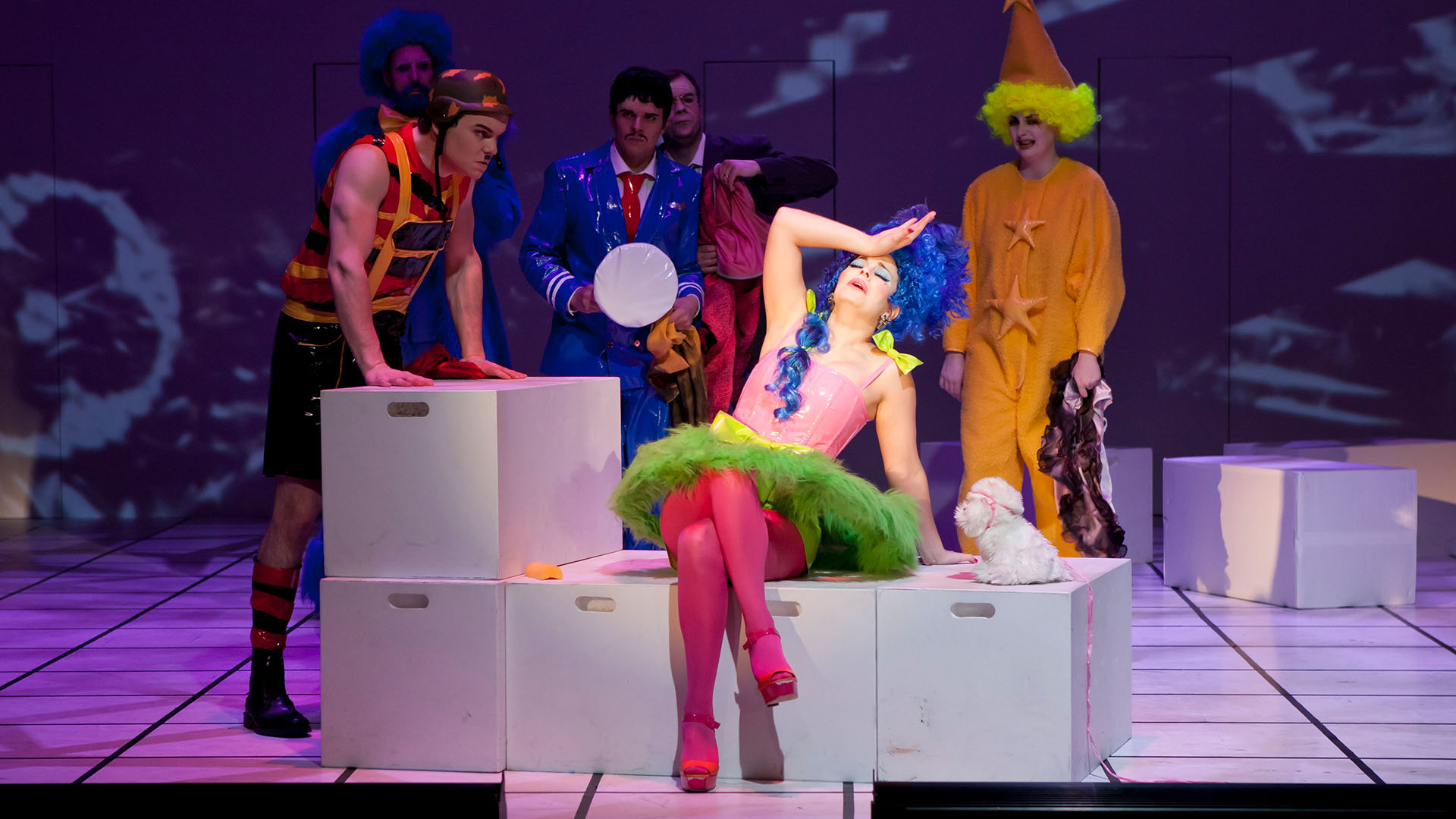 Why choose us?
You will be part of the unique Finnish education system, gaining new perspectives on and approaches to the evolving field of arts and culture from the Master's Programme in Arts Management, Society and Creative Entrepreneurship. You will have the chance to experience the care and wellbeing we provide our students. You will study in exceptional facilities and, at the same time, be part of the digital world.
Our programme is international and taught in English. You will have the chance to meet and learn from world-class experts and academics from all over the world, developing your social capital with colleagues and professionals from the field in Finland and internationally. After graduation, you will have diverse work opportunities in leading positions in the public, private and third sectors. You will also be well prepared to work as an entrepreneur in the creative sector.
Content and structure
Studies in Arts Management, Society and Creative Entrepreneurship include major courses in arts and society, cultural policy, strategic management and leadership, creative and cultural entrepreneurship as well as arts management research and methodologies. Students will also be given the opportunity for personal professional development.
Optional courses provide students with diverse opportunities to learn more about current issues in arts management, festival and event management, curating, production and co-creation, cultural heritage, popular culture, cultural project management and the music business. Students can also earn credits by participating in professional projects and work placements.
Our students also have the opportunity to take courses from other departments within the Sibelius Academy, other Uniarts faculties, and different universities.
An integral part of the study programme is a field trip that we organise to visit leading international arts organisations. It is usually a 7–10-day visit to a location chosen by the students, where they have the opportunity to meet, speak and share ideas with top-level arts managers and professionals.
The Master's Programme in Arts Management, Society and Creative Entrepreneurship provides students with a comprehensive understanding of the field of arts and culture with critical perspectives and relevant theoretical concepts. Moreover, students will be equipped with the practical skills and knowledge needed for a career in arts management.
After graduating, students may work in leading positions in the field of arts and culture. Our alumni work as producers and managers in arts organisations, audience engagement, research facilities and cultural planning and policy, to name just a few. Many graduates also work as entrepreneurs.
Lecturers
The department head is responsible for the programme and the teaching staff are responsible for the supervision of master's theses and dissertations. The programme is regularly visited by domestic and international top-level lecturers and experts in their respective fields. These guest lecturers serve as vital links to working life and help students to begin to network during their studies. Below is a list of just some of the experts who have taught with us:
Franco Bianchini (Professor, University of Hull, UK)
Lidia Varbanova (Expert from Canada)
Arjo Klamer (Professor, Rotterdam University, Holland)
Chris Keulemans (Art Director, Amsterdam, Holland)
Timo Cantell (Head of Research Department, City of Helsinki, Finland)
Sakarias Sokka (Cupore, Finland)
Corina Suteu (Former Minister of Culture, Romania)
Rachel Roberts (Eastman School of Music, USA)
Aleksandr Brkic (Lecturer, Goldsmiths, University of London, UK)
Daniel Knapp (Stagecraft Entertainment, Germany)
Francois Colbert (HÈC Montréal, Canada)
Maria Hirvi-Ijäs (Cupore, Finland)
Dennis Rich (Columbia College, Chicago, USA)
Eero Tolppanen (Elements Music, Finland)
Rodney Trapp (Harlem Dance Theatre, USA)
Hannu Ojala (Aalto University, Finland)
Kevin Kleinmann (Sorbonne University, France)
Llúis Bonet (University of Barcelona, Spain)
Arts Management 25th anniversary week in 2022
In 2022, our Department celebrates its 25th anniversary. Stay tuned for our anniversary celebration programme.
Applying
The Master's Programme in Arts Management, Society and Creative Entrepreneurship admits approximately 15 new students every two years.
Bachelor's degree holders who have some work experience in arts management can apply. The programme demands an adequate knowledge of the English language, which must be demonstrated by the successful completion of one of the common language tests.
The application process includes two stages. In the first phase, applicants are asked to submit their CV and a covering letter explaining why they wish to join the programme. A limited number of applicants are invited to the second phase, which consists of an entrance exam and a personal interview.
Apply through the Open University path
You can apply to the Master's Programme in Arts Management, Society and Creative Entrepreneurship by first completing a minimum of 20 credits of Arts Management studies at the Uniarts Helsinki Open University.
Doctoral studies
A master's degree in Arts Management, Society and Creative Entrepreneurship qualifies students for doctoral studies, which focus on thorough empirical and interdisciplinary research in current arts management and leadership topics.
Programme background
The international and interdisciplinary Arts Management degree programme was established in 1997 and continues to evolve, with the latest renewal due to take place in August 2021.
In 1991, Osmo Palonen, the founder of the Arts Management master's programme at the Sibelius Academy, started offering shorter courses on different topics for Finnish arts professionals. The visionary thinking of Palonen, alongside the brave decisions of the academy's management, have got us to where we are today – we will soon be celebrating the 25th anniversary of the Arts Management department.
During this time, many people have put a lot of effort and energy into keeping the programme relevant and important, and we are very grateful to the former and current heads of department: Osmo Palonen, Tuomas Auvinen, Samu Forsblom, Timo Cantell, Patrick Furu, Tanja Johansson and Violeta Simjanovska.
When it was founded, the ideology behind the Arts Management master's programme was to produce arts management professionals who would bring artists, audience and society together in a meaningful way that enriches people's lives.
In the meantime, the world has changed tremendously; the programme has always tried to address these changes and adapt to the current needs of arts professionals.
Today, we have a programme that reflects and engages with current issues in the arts management field, but also contributes to relevant academic knowledge and research. The renewed programme that starts in 2021 will focus in particular on the relationship between the arts and society, emphasising the importance of creative entrepreneurship. In addition, the programme addresses issues such as art, ecology and social justice as well as sustainability in arts and digitalisation.
Get to know our everyday life
You can apply to
---
Degree Programme in Arts Management, Society, and Creative Entrepreneurship
Extent: 120 ECTS cr
Duration: 2 years full-time
Target degree
---
Master of Arts
Unit
---
Sibelius Academy
Languages
---
English Read more about language skill requirements
Tuition fee
---
Annual tuition fee €5,000 for students from outside the EU and EEA countries. Read more about tuition fees
Application period
---
Next possible time to apply is in January 2022. Studies begin in August 2022.
Persons in charge
---
Violeta Simjanovska
Lecturer, Head of Department