Arts Management student: Sharing ideas with colleagues helps concretise my dreams
Read an interview with Ranieri Scoccia.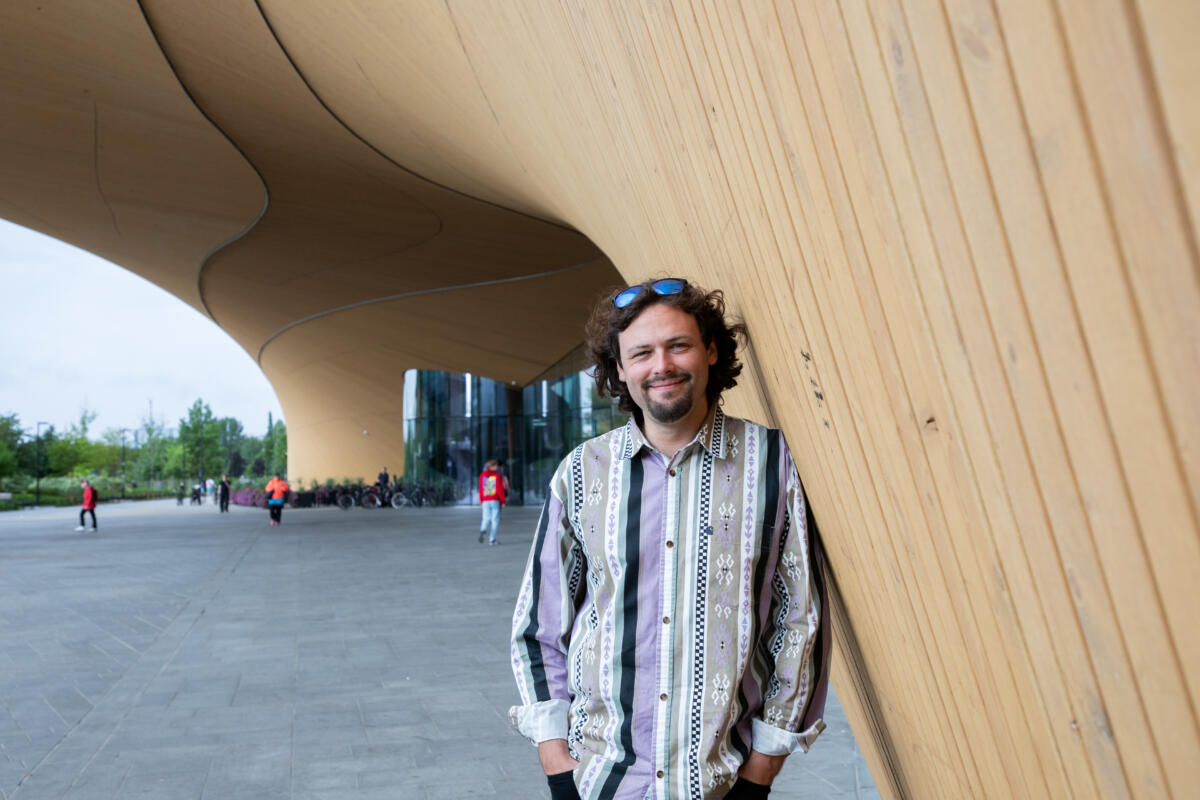 What made you choose to study at the Sibelius Academy of Uniarts Helsinki?
I first came to Helsinki as a drummer in an Erasmus exchange programme from Italy to study at the Metropolia University of Applied Sciences in 2017. I liked the city and decided to stay. I worked as a musician, festival organiser and produced my own music. During COVID-19, the world of artists changed, and I started questioning what the careers of independent artists would be like in a few years.
This questioning motivated me to apply to the Arts Management master's programme at the Sibelius Academy. I didn't get in in the first round, so I began open university studies at Uniarts Helsinki. I took courses in creative entrepreneurship, social justice and arts in the political and administrative context. They opened my view on cultural frameworks and policies, which motivated me to apply again. This time I got in and I am now halfway in my studies.
What kind of learning environment is the Arts management, society and creative entrepreneurship master's programme for you?
It's quite unique based on my experience in the field. The professors stimulate us to discuss and debate as much as possible in the classroom. They establish a safe space for our group of roughly 12 people from many different cultures. Everyone can freely express their identity without critique or preconcepts. Ultimately, most of our knowledge is generated in the exchanges between professors and students.
What has been the best thing about it?
To be part of a community of people who share the same goal and vision of arts and culture. We are a good group with a positive energy, and I never feel any kind of competition career-wise. We also help each other outside school, so it's a valuable social and professional network in Helsinki and other areas. You find job opportunities and new connections for future collaborations.
What is expected of students?
I've learned that many things come from being curious. We're expected to do research and be open to different ideas and ways of looking at the same topic – lateral thinking. We're also motivated to share our knowledge as much as possible, put our own ideas on the table for open discussion.
What kinds of skills are emphasised?
Re-thinking – culture is a dynamic field. Being able to look broadly, to have a general vision of the environment and see connections between the different fields. Professional boundaries are becoming more and more fluid, artists being managers, too.
Digitalisation is a recurrent topic in almost every course; how digitalisation affects the art field. Culture is consumed in a digital way, which creates totally different meanings. It's still a new thing, and being able to understand and implement new technologies in the art field is necessary.
How would you describe the interaction between students and teachers in your programme?
They create a safe space for critical thinking in the classroom. Feedback is always given with respect, so students are motivated to do better. They also connect us with the real world. Some teachers engage us in the working field, to have professional experiences during our studies, like producing events and conducting research.
Can you describe the different influences that you've had to enrich your professional profile and future options?
Arts management studies don't give you one option but confidence for various options, an awareness of what is out there. For instance, I never thought I would be interested in cultural policy but now I'm participating in a conference of this field.
For a while, I've had the idea of creating an artistic residence. Now I have a theoretical framework and practical ways of doing it. So, this course on cultural policy organically drove me to what I would like to do without putting pressure on me. Being able to share my ideas with my colleagues helps me concretise my dreams.
Let me give you another example: last week had a class on project management where we had to apply for funding from the European Union. EU funding is a powerful tool, and not many people know how to use it, so this is very useful information for us.
In our course called Personal development we focus on ourselves, our objectives and dreams. We also share our personal struggles and realities that we encounter. We are supportive to each other and feel less alone, which helps the entire group to work as one.
Have you been able to benefit from cross-academy study opportunities at Uniarts Helsinki?
Definitely. As a musician, I've used opportunities for personal practice in the Global Music and Music Technology departments. I might have a course in cultural policy in the morning and then a singing lesson in the afternoon.
This has enabled me to keep my second nature, or my alter ego, trained and develop my creativity. The idea of safe space also applies to the other departments. It's fundamental to being an artist.
What has surprised you during your studies?
The group of friends that I have. It goes farther than arts management. The student environment is very good and healthy. There's lots of creativity and willingness to share. This is fundamental in a university that trains artists, yet it's not always the reality. I can really be and develop myself here, enriched by a network of friends.
What's your experience of studying in Helsinki?
It's a life-size city and it's more sustainable to live here than anywhere else in Europe. Contact with nature is present everywhere. It's not stressful; the quality of life is very good.
It's also a multicultural city that offers many spaces for get-togethers with colleagues, events, performances and jam sessions. It's easy to move around with bikes, cars and public transportation.
It would be good to learn the language. When I speak Finnish with my friends, I learn more about the Finnish culture.
You can also do so many hobbies. The library system is amazing. It's not only books, it's an urban workshop with a vast array of spaces with expensive technology for free use – for graphic design, music recording… you name it.
What kind of future plans do you have at the moment?
In the immediate future I'm working on my thesis and planning an Erasmus exchange in Germany.
In the near future, I have this dream to manage artistic residencies in my hometown in Italy. It would be nice to link them with the artistic and academic community in Helsinki. In general, I would like to bring Finnish education and culture to Italy, facilitating distance learning between universities.
I also want to grow artistically. Last spring, our band Nooa, a Finnish-Italian duo released and produced an album of pop music with a narrative line.
What kind of advice would you give to students who are considering applying to the Sibelius Academy?
Trust in your own skills and write your dreams on paper. That has helped me to figure it out. Trying is always better than not trying. Open university helped me to establish an initial relationship with this university and then try and succeed the second time. The first time is not always the best time. Competition can be daunting but you should always try. Be brave and try your best.