Arts Management student: I see my future in creating impactful cultural events and artistic projects internationally
Read an interview with Hamidreza Keshvarpajuh.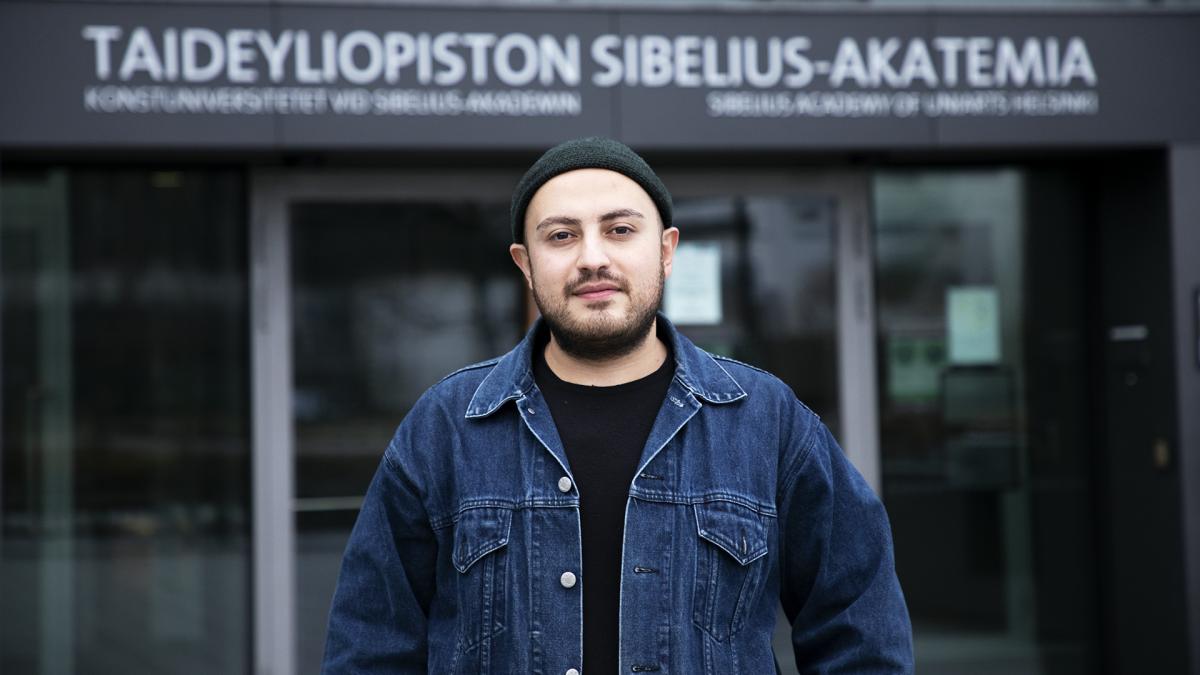 Who are you and why did you choose to study Arts Management, Society and Creative Entrepreneurship at the Sibelius Academy of Uniarts Helsinki?
My name is Hamid, I'm a freelance artist, musician and event producer from Iran. I was searching for an interdisciplinary course for my master's study to develop my expertise in the fields of arts and culture artistically and professionally. I found this program at the Sibelius Academy with a diverse and extensive curriculum, which was a perfect match for my goals and career. So, I decided to apply to this biannual opportunity and take my chance on it.
What did you think about the admissions process, can you describe it for us?
I'd heard about the Sibelius Academy, its prestigious reputation and competitive admissions process. The description of the admissions procedure on the website was clear and accurate. Due to the pandemic, the whole process was implemented in an online setting, which was a great opportunity for me as an international student to prepare myself without any hardships.
What is it like to study here, and what is your experience of Helsinki so far?
From my point of view, Finland has a unique education system and studying is one of the best things that you can do here. There are lots of facilities provided for students, including a foundation for student housing, proper discounts on transportation, sport, food, etc.
As for Helsinki, I have found it a diverse community with a great number of international students. Indeed, it's easy to navigate your daily life here as people are helpful and most of them speak English.
What is your typical day like at the university?
During the week, lectures start in the morning and last until noon, and after lunch there is free time for group work and studying. I enjoy studying in the library a lot and meeting my classmates and friends in the campus premises. And of course, as Uniarts students, you always have a chance to be involved in a project or an artistic activity during the day.
What's been the best thing about studying at the Sibelius Academy?
Studying at the Sibelius Academy has given me many opportunities. I've been studying in a great group of classmates and teachers and learned from them day by day. In addition, especially this Arts Management program is notably connected with other academies and institutions, which connects you to an astonishing group of people and institutions outside the university.
And what has been most challenging?
As an international student, adapting to a new environment and culture has been the most challenging part for me. Indeed, there are always group works and assignments which need proper time management and team spirit to be done. But of course tackling these challenges is part of a program to prepare yourself for future arts management careers and tasks.
What skills and strengths are you developing for working life?
As an event producer, developing communication skills, teamwork, leadership, and broadening my knowledge about arts and culture are essential for my career and I've been using most of my time to evolve these capabilities.
What kind of future plans do you have at the moment?
Actually, I have established a cultural foundation and a community of artists in Iran. I would love to develop this foundation and create impactful cultural events and artistic projects internationally and facilitate intercultural exchanges between my country and overseas.
What tip would you give to other students who are considering Sibelius Academy – especially overseas students?
Being awarded an opportunity to study at the Sibelius Academy is something remarkable, especially if you plan to work in the field of arts and culture. This academy provides you an access to broad knowledge, facilities and networks of superb artists and experts.
From my point of view, apart from your skills and knowledge, motivation is the key for entering this academy. It is definitely worth doing your utmost best to become a member of this wonderful community. 
Read more student interviews