Global Music student: A safe place to explore my musical identity
Read an interview with Global Music student Nemat Battah at the Sibelius Academy of the University of the Arts Helsinki.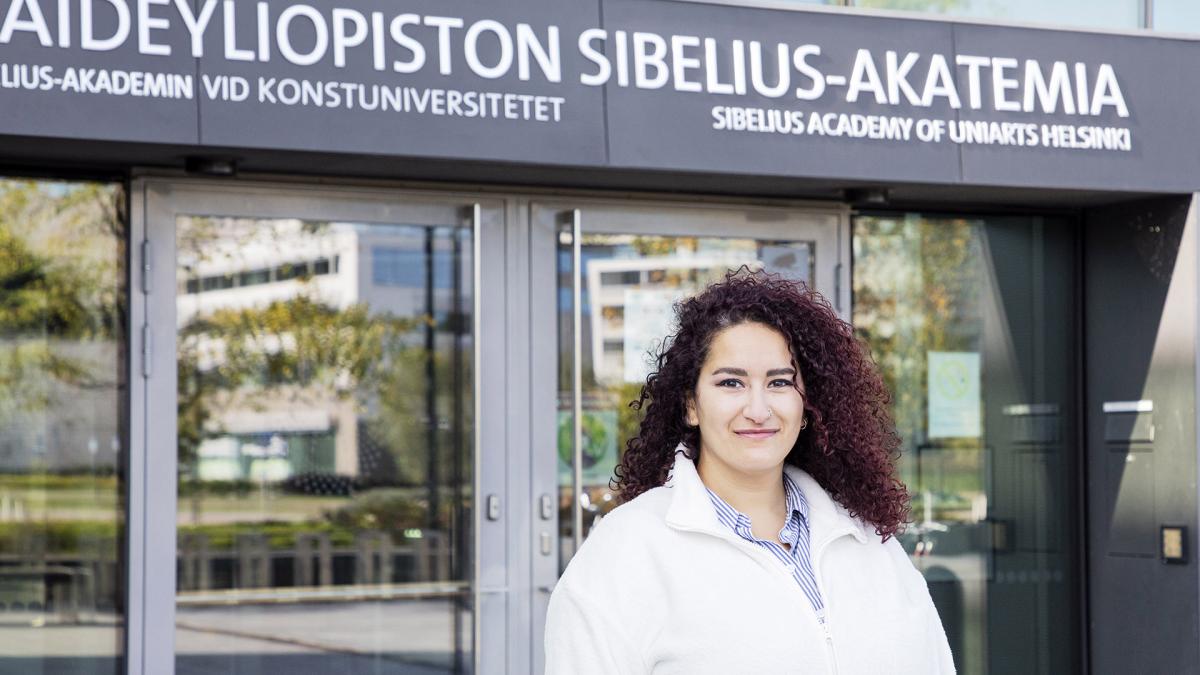 Watch Nemat's video interview
Why is the Global Music Department important and meaningful for you?
The most important thing for me is that it's really safe to explore my musical identity here – go to places with my voice and my playing that I would never dare to do on my own if I didn't have this safe and supportive environment.
What is it like to be a student here?
First of all, it's a great building. I remember the first time I walked in to Musiikkitalo [the Helsinki Music Centre] in 2016, and the first thing I saw was this huge horn ornament and I just stood there and took in the glory of the building.
It feels like a big family. Although we have so many nationalities, so many different cultural backgrounds, it feels like we all have the same way of supporting each other. There's a thread of thinking that we all share.
From the academic aspect, I really like that we have so many options and courses to choose from, also from other departments. So, there's a lot of freedom and choices.
Of course you can easily get distracted from your goal but what is brilliant is that we have guidance, someone to walk next to us and help us find our track again.
I once came upon this metaphor with my singing teacher that teachers in this department, even if they are in the driving seat, we are not in the back, we are next to them. It's like a trainer's car, so we both have the same functions, which is why I really like the way of teaching in this department.
Also, an individual study plan is created for each one of us that is tailored for our needs and there's a checking every year about that. I think it's a brilliant well-rounded program and we get a lot of great benefits here.
What do you gain from being in an intercultural environment?
The first thing that comes to mind is respecting differences, you really learn to do that. There are so many cultural and personal differences that you might agree or disagree with, but the most important thing is that there is mutual respect.
You learn to adapt to other people's skills, ways of playing music and creating because we all have different musical backgrounds. Some people studied classical, some studied jazz, some people didn't go to formal music schools.
I learned to play with others without compromising too much but also building this understanding and compassion towards others' ways of working.
Do you feel that engaging in intercultural dialogue and collaboration has any wider impacts on the world around us?
Yes, absolutely. I believe in leading by example, and I know that one of the core aspects in this program is community engagement. By going outside the school environment and working with different communities, whether it is performing or teaching or making some collaboration, we show the way we work. And that's a good way to deliver the message that it is possible to play with people who have different musical identities and cultural backgrounds.
The Global Music department has so much potential to contribute to the dialogue about diversity, compassion and understanding other cultures. We can move the values of our beautiful, small school community to the outside community instead of keeping it in this safe bubble of the music world. Changing things takes courage and is uncomfortable, but it is very rewarding when we see the impact.
What is your motivation for being a musician?
I love performing and it's a great way to express my emotions and things I want to say that I might not dare to say in a spoken form.
I have always loved teaching music in formal and informal situations. I have been teaching different age groups since 2013 and worked with the refugee community in Jordan, where I was doing my Bachelor's degree. So, I have always been engaged in pedagogy and community work.
There's no better feeling than when you get good feedback, not necessarily spoken feedback. When you teach something, a musical thing, and you get feedback that they're enjoying this or they're learning something that they like, I think that is really rewarding.
When I think about where I stand in life now and my musical path, I really want to raise awareness to issues that might be a little problematic to speak about in normal situations.
The project I'm working with right now is about families who are navigating war trauma. I'm not taking the political aspect of the topic, I'm taking the healing aspect – how families navigate these really difficult feelings and heal from them and how to do that with music.
Read more interviews with Global Music students