Global Music student: I put my art, my music and my values in action
Read an interview with Global Music student Vasileios Katopodis at the Sibelius Academy of the University of the Arts Helsinki.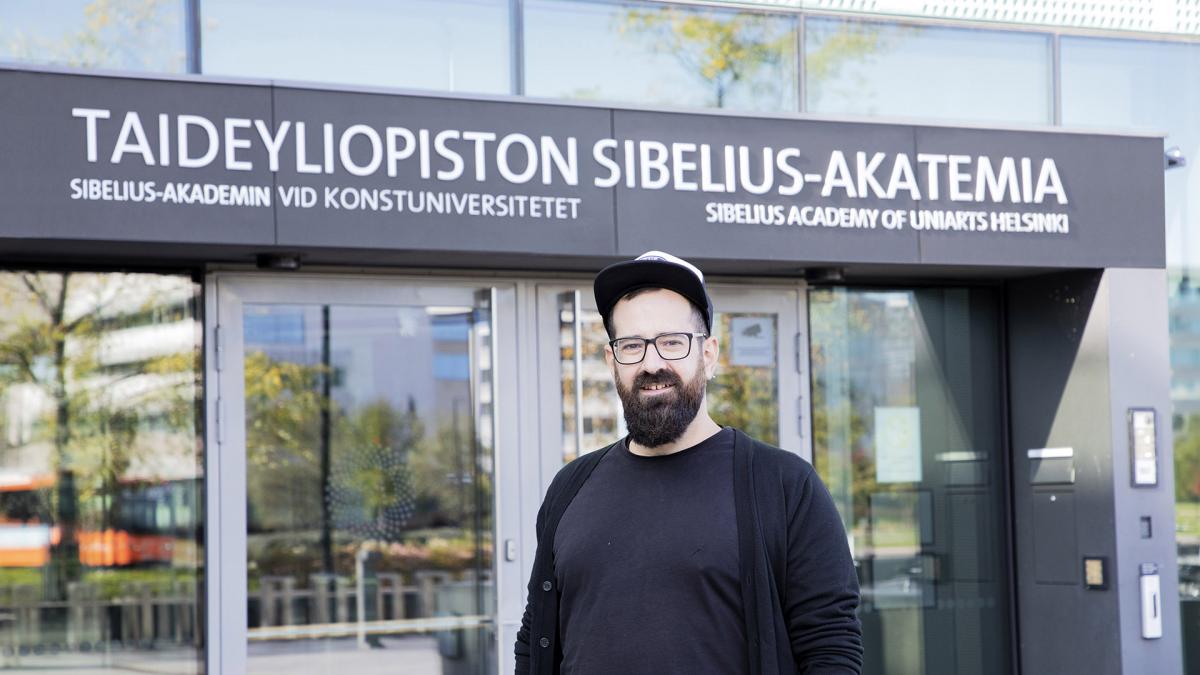 Watch Vasileios' video interview
Why is the Global Music Department important and meaningful for you?
I started doing music here that I have loved since I was a kid but never had the opportunity to do it.
Why I'm doing this? Because music is an essential part of my life and many people's lives but we don't always have the courage to do things that are thought to be different than a stereotypical job or what seems to feel like your life.
So, I knocked on the door through the auditions and once I was in, it was an incredible experience to be in a group of very different people, teachers and students, and to be able to voice my own artistic and musical views. It made a difference for my everyday life, even outside the studies.
I am encouraged to study not only outwards. By outwards I mean the different cultures we are approaching musically or getting to know rhythmic traditions around the world.
I have also been encouraged to look inwards, to understand where I come from and what is important for me when it comes to music. This environment empowers you to express freely what music is for you.
I have been very lucky and blessed to have fellow students and teachers to talk openly about big questions regarding music and art and what they represent. The sense of community and the understanding and openness regarding important issues are critical in this program.
What is your personal experience in studying in the department?
I have always struggled with what it is like being in a university environment and what studies mean. I still had these questions even when I was done with my previous studies. So, I engaged in this journey again and started having answers to these questions.
I think this process is giving me the freedom to express myself without censoring all what is wrong and expressing only what is right. It brings down a lot of barriers and stereotypes.
What I gained most out of this department is putting my art, my music and my values in action. I put my hands on them and really tasted the fruits of living a life along with my set of values.
I am seeing that this happens with a lot of people because it is nourished in the environment. And suddenly, somehow you don't feel like the only strange fruit in town. It's really moving to be with people who have a similar experience and the freedom to express.
What do you gain from being in an intercultural environment?
I learned how to stop, breathe, listen, understand – and then answer instead of giving this pre-thought answer.
A lot of people are just thinking what they will answer while you're talking. And this is something that doesn't happen here. You learn how to actually have a conversation whether it is musical or an everyday conversation.
The most amazing part is, year after year, without even understanding how much you change, you learn and understand issues outside your own comfort zone.
One of the most important aspects of working in an intercultural environment is that you learn how to build bridges. To build them from scratch takes something but it's a skill you can learn. And I'm trying to learn that and make a small difference for myself but also for what comes out from my musical and artistic work as well.
Do you feel that engaging in intercultural dialogue and collaboration has any wider impacts on the world around us?
Albert Einstein once said that if you judge a fish from its ability to climb a tree, it will spend its whole life thinking it's stupid. Here we're doing the exact opposite.
It is incredible to gain knowledge and practice in an intercultural environment that pushes forward and encourages diversity and to be your own self and tries not to judge everybody in the same standard and measure.
It tries to give you the general knowledge but also lean above the individual and cultivate each one separately.
And once you put different pieces of the same puzzle together, you understand a bit better what happens in the world, and the sky is the limit from there.
Whatever work is done, it is important not to stay within four walls. The purpose of music is to express what happens around you, at this specific moment.
We are in the privileged position of working with parts of the society that are not as privileged. Having the possibility to help, bring these people closer to art and express themselves through art – that is the goal. It's really the purpose, why we do things.
Interviews with other Global Music students