Acting in Swedish, bachelor and master
Acquire acting expertise that you can apply in diverse professional contexts.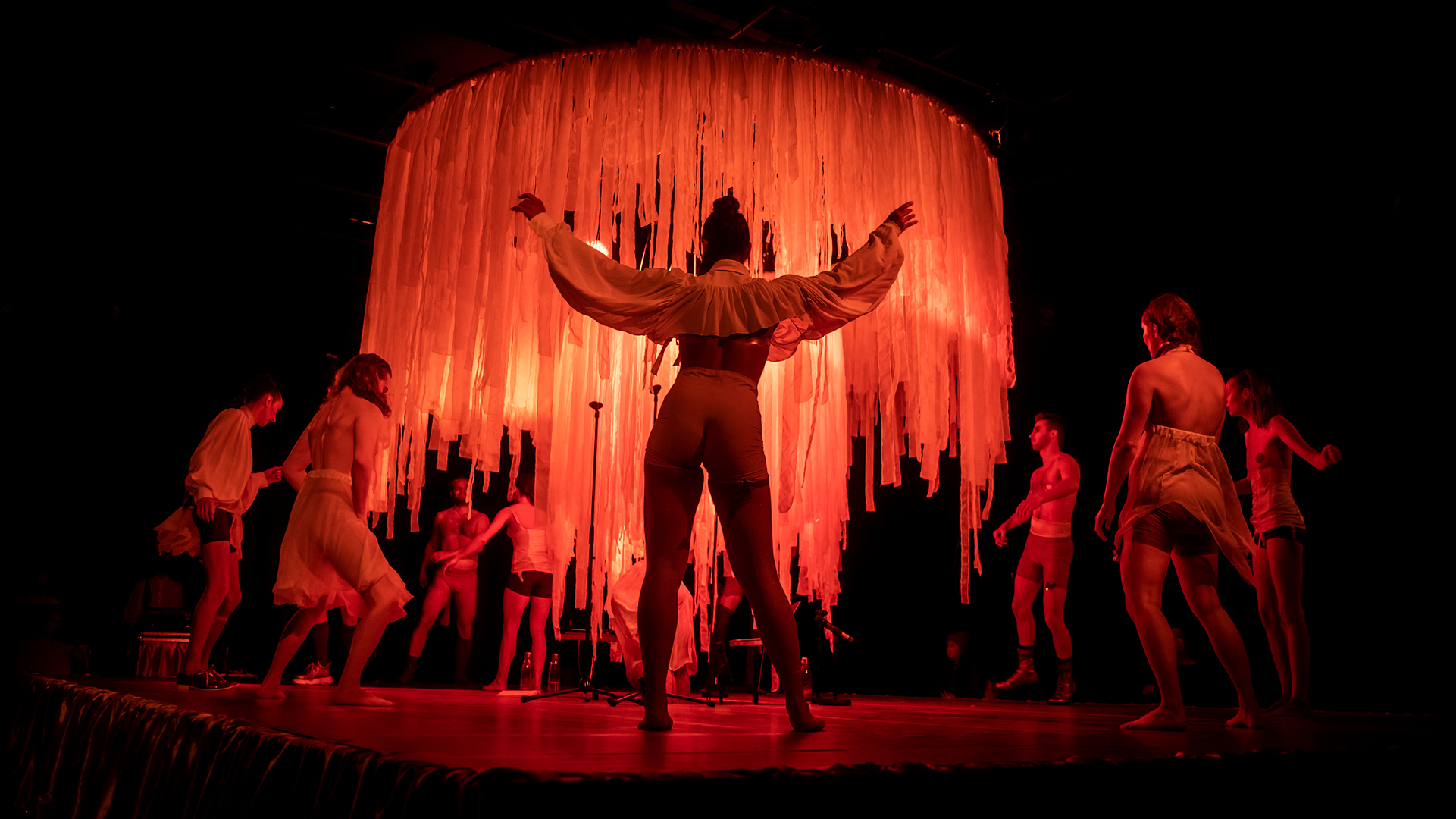 Why study here?
Our degree programme is Finland's only Swedish-language university-level programme in performing arts. We support our students' discovery of independent artist identities. At the same time, we influence and inspire the entire Swedish-speaking theatre field in Finland. The programme collaborates with other degree programmes of the Theatre Academy and with other academies of Uniarts Helsinki. We are also an active participant in local, Nordic and international networks.
About the studies
Our graduates are experts in both the theory and practice of performing arts. The degree programme is linked to artistic research and the modern multidisciplinary field of performing arts. Our goal is to produce perceptive and cooperative actors who have the skills to utilise the traditions and contribute to the future of acting. Our graduates are able to make Swedish-speaking theatre relevant in our society.
We base our pedagogical philosophy on play, curiosity and joy. The basic principle is that the learning process of each individual is dynamic and that it takes place in interaction with others. Each student combines the programme's disciplines in a unique way in their studies. Students and teachers acknowledge the power relations that exist between them when they interact. Our philosophy is that knowledge does not precede the pedagogical process – it is the result of the process.
The degree programme has the responsibility to develop and inspire the field of Swedish-language performing arts in Finland, which means that its duties go beyond the training of actors. The degree programme thus actively engages in Nordic and international exchange and collaboration. For example, all students have the chance to go on an exchange or complete a traineeship abroad as part of their studies.
Bachelor's and master's studies
The studies are full-time and follow an established curriculum and schedule. Most of the bachelor-level courses are mandatory, while master's studies give the student more freedom of choice. Students go to classes mostly with a group from their own year, but some courses are organised together with groups from other years and degree programmes. Instruction usually takes place in groups, but there are also one-to-one lessons.
The degree programme can be completed in five years, but the academy also offers a separate admissions process to two-year master's studies. The aim of the three-year bachelor's studies is for the student to acquire the basic skills needed in acting. During the two-year master's studies, the students develop and deepen their identity as artists and broaden their understanding of theatre.
The programme consists of the following modules: acting (major subject); movement, sound and music; context; core studies; elective studies; advanced studies; and a thesis project. The primary language of the degree and instruction is Swedish, but some of the courses are taught in English. Elective courses are also offered in Finnish.
New curriculum to be launched
Our curriculum is currently being updated. Teaching according to the new curriculum will start in autumn 2024. Please keep this in mind when browsing the current curriculum.
Teachers
Our teachers are experienced experts in their respective fields. In addition to our permanent staff, we also have Finnish and international teachers, artists and other professionals visiting the programme on a regular basis.
Applying
The degree programme admits new students every two or three years.
Uniarts Helsinki is one of the most sought-after places of study in Finland. Browse the admissions statistics from previous years.
Doctoral studies
A master's degree gives the eligibility to apply for doctoral studies in theatre. At Uniarts Helsinki, doctoral studies in theatre are offered by the Performing Arts Research Centre (Tutke).

Target degree and length of study
---
Master in Arts (Theatre and Drama)
5 years
Unit
---
Theatre Academy
Application languages
---
Swedish Read more about language skill requirements
Tuition fee
---
Annual tuition fee €5,000 for students studying in English and who come from outside the EU and EEA countries.
Read more about tuition fees
Application period
---
Next possible time to apply is in January 2023. Studies begin in August 2023.
Supervising teacher
---
Professor, Utbildningsprogrammet i skådespelarkonst, Theatre Academy

+358469219098

aune.kallinen@uniarts.fi
Ask about applying
---
Max Catalogue: Students and alumni