Yet to come
Artwork on Kuninkaansaari island.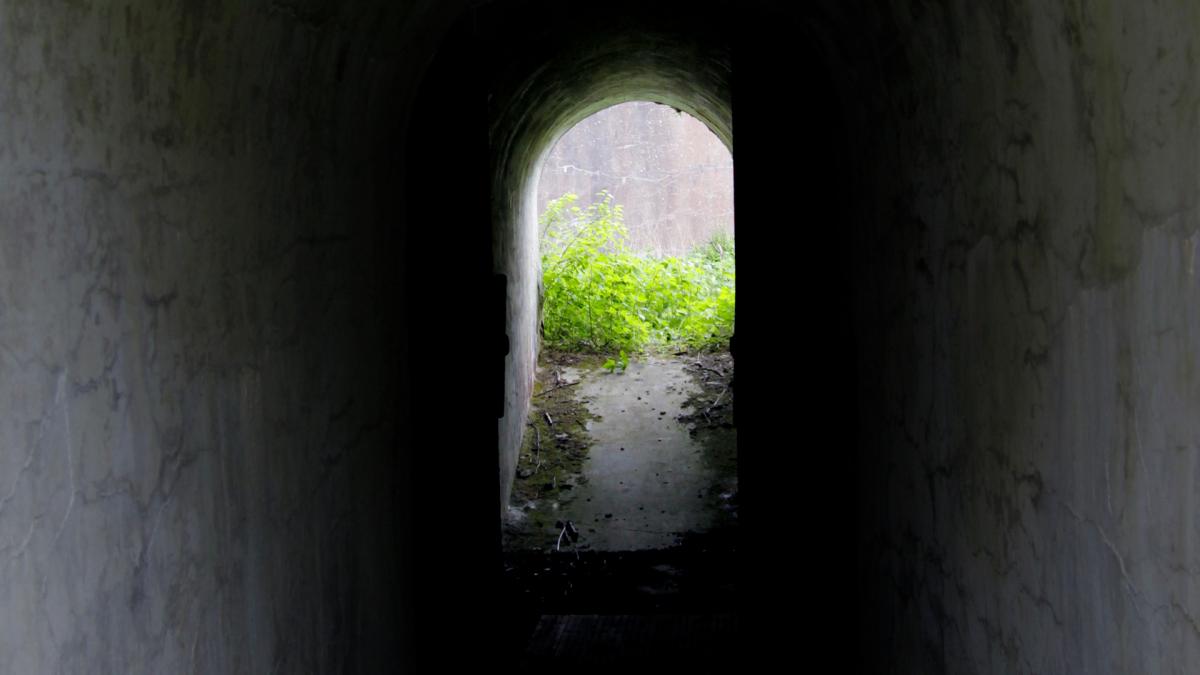 After I experienced my very first winter in Finland, I realised how beautiful sunlight could be. I remember embracing the first rays of the sunlight streaming through our curtains in late January This year, I made sure to appreciate every single day of spring.
I chose this pathway, as it represents best what I consider "passing through". By emigrating from Malaysia to Finland I have passed through a door and stepped into another reality. This "passing through" was not without pain and difficulty. On the other end of the tunnel, however, I found something worth waiting for.
"After a long winter, the sun pierces through our door curtain. It illuminates the patterns of the fabric, paints the refrigerator bright red then passes through the room and disappears – a soft invite to pull the curtain aside. Soon a pale face emerges at the window, carefully curious about the scenery outside."
Working group
Artist: Eddie Choo Wen Yi
Artist Assistant/Translator: Kastehelmi Kollmann
Construction Support: Lauri Myllylahti
Curator: Chih Tung Lin
Artist Bio
Eddie Choo Wen Yi was born in Selangor, Malaysia. Her parents worked as farmers cultivating starfruit, coconut and rambutan. She finished her education of 3 years at Dasein Academy of Arts in Kuala Lumpur, Malaysia, with a Diploma in Fine Arts. As the wish for a deeper understanding of her own artistic work arose, she traveled to Singapore and Abu Dhabi to work in cement carving at theme parks as a means to finance her studies in Fine Arts abroad. In 2018, She received her B.F.A from the Taipei National University of the Arts. She currently lives in Helsinki, Finland. Her works have been evolving under questions of belonging and purpose, the experience of being an individual in the midst of different social groups and an ever-changing cityscape.
Artwork
Title: Yet to Come
Medium: Self-made batik door curtain
Year 2020
Artist: Eddie Choo Wen Yi
Curator Bio
Chih Tung Lin is currently studying at Praxis Exhibition Studies program, University of the Arts Helsinki. With previous training in the field of Psychology in Lin's home country, Taiwan, she sees art within humanity, between layers of internal and socio-relationships. Her praxis consists of outsider observations as well as insider analysis and constantly switching perspectives.
Curatorial Statement
The similar background I shared with the artist, Eddie Choo Wen Yi opened the ongoing conversation among us. Of the pattern on migration, of our relationship with the coastline, of our experiences in rooting to a familiar land, then a stranger land and another, of our mutual interest in searching, anchoring and creating a temporal or permanent home in a foreign environment, and of our openness on bringing more voices to the story of the migrant, the passerby.
Eddie has long been dealing with related topics before arriving in Finland and has never stopped wondering about the various narratives applied to the identity. Passing through as a complex mechanism, can embed actions as observing, receiving, processing, pondering, understanding, coping, negotiating, withdrawing, rejecting, accepting, settling and leaving. By passing through, the destination thus awaits on the other side of the passage. Bright or dim.
As passersby together, I invited Eddie to elaborate the notion of arrival on the island. Perceiving the surrounding elements of Kuninkaansaari from the foreign eye, sampling the breeze, capturing the light and leaving traces that will either vanish or perhaps sit in after the visit, the artist has brought an intimate narration to the place, awaiting experiences to land.
The work is part of the Island of Relations exhibition and Uniarts Helsinki's Saari 2020 (Island 2020) programme on Kuninkaansaari island.
See Saari 2020 programme's locations on interactive map.
Changes may apply.