Arts-based methods decrease social anxiety
Singing in a choir and improvisation exercises helped decrease Finnish university students' performance anxiety, a study conducted by University of the Arts Helsinki discovered.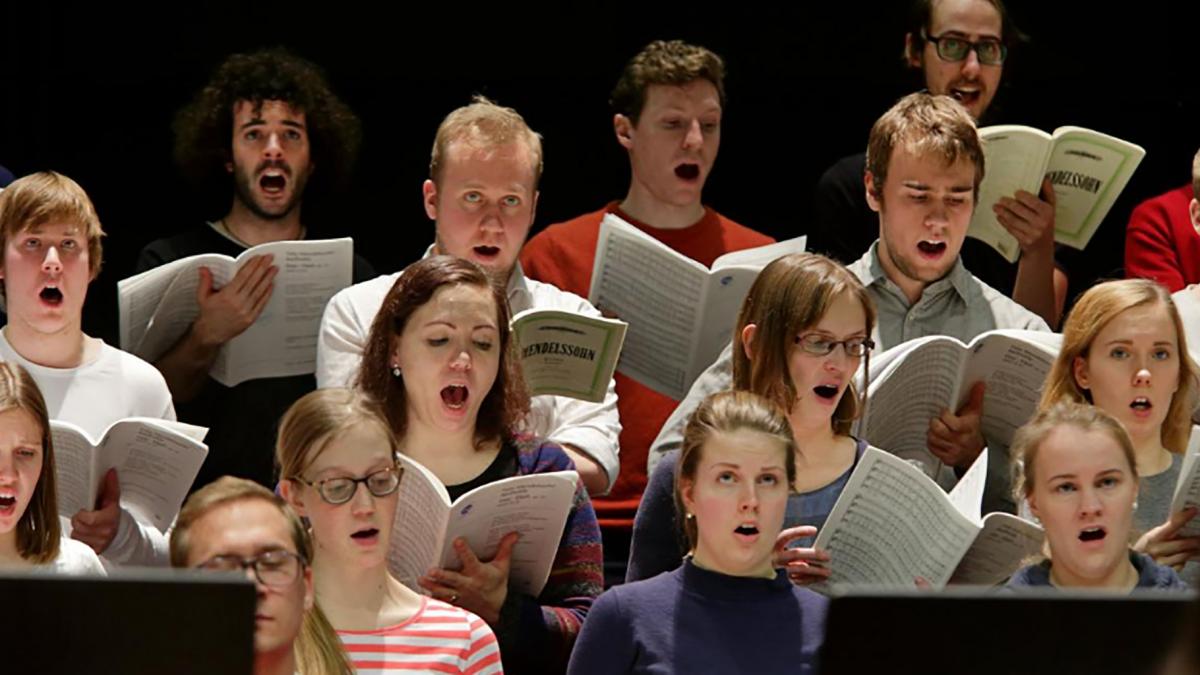 For many people, social anxiety may cause intense stress and prevent them from living a normal life. It is possible to alleviate intense fear of social situations and performing with the help of arts-based methods, notes The University of the Arts Helsinki's doctoral researcher Eeva Siljamäki.
Siljamäki was involved in developing arts-based interventions for university students who suffer from anxiety in social situations and performance contexts.
"Many participants sought help because they experience anxiety over going to a lecture or meeting up with an instructor. When we feel nervous, the significance of the interaction is overemphasised in our minds and we start to be afraid of making mistakes and being labelled as different," Siljamäki says.
First-ever positive experiences of working within a group
Siljamäki led a choir course for a group of 14 students together with a psychologist and a physiotherapist representing the Finnish Student Health Services for the duration of one academic year. The participants had the chance to practise interacting and providing support for each other and creating an accepting atmosphere that embraced mistakes with the help of playful activities, improvisation, singing and conversations.
Siljamäki's research focus has been on improvisation and the concept of safe space.
"A central idea in free improvisation is that all kinds of voices, sounds and ways of doing are allowed and that everyone is encouraged to express themselves in new ways," Siljamäki continues.
In the research interviews, the participants said that they were able to step out of their comfort zone and make mistakes in an accepting, non-judgemental atmosphere – unlike in an academic context.
"Some of them had their first-ever positive experiences of working within a group. Our research team drew the conclusion that creating a safe environment that is accepting of mistakes is possible with the help of non-judgemental interaction, leading to less anxiety and to a stronger sense of togetherness. This kind of interaction also makes it easier to deal with people who are different from yourself."
Choir activities made a real difference
The six-month-long art intervention research is part of Eeva Siljamäki's dissertation at The University of the Arts Helsinki's Sibelius Academy.
In her doctoral research, Siljamäki studies the participants' experiences in two choirs that both prioritised the quality of social interaction over musical quality, although the choirs did also perform to the public. Both of the choirs fostered an accepting learning atmosphere that embraced mistakes.
The members of the choirs were adults from various backgrounds with musical skills ranging from beginner to professional. In the choir that was aimed at university students suffering from social anxiety, Siljamäki's role was acting as a music pedagogue. In the other choir, which specialised in performing improvised music, she was involved as an equal member alongside the rest of the group.
Both choirs managed to establish a new culture of interaction that was different from the participants' previous experiences and had an actual impact on their lives. The study highlights the importance of improvisation as part of learning and education.