French organist and pedagogue Christophe Mantoux: All pedagogy aims to make students autonomous
"In the word "pedagogy" there is the notion of accompaniment, not that of direction," says world renowned French organist Christophe Mantoux. Mantoux leads a masterclass and lectures on French organ music of the 17th and 20th centuries in Kotka and Hamina during the region's annual organ festival 21-28 November 2021.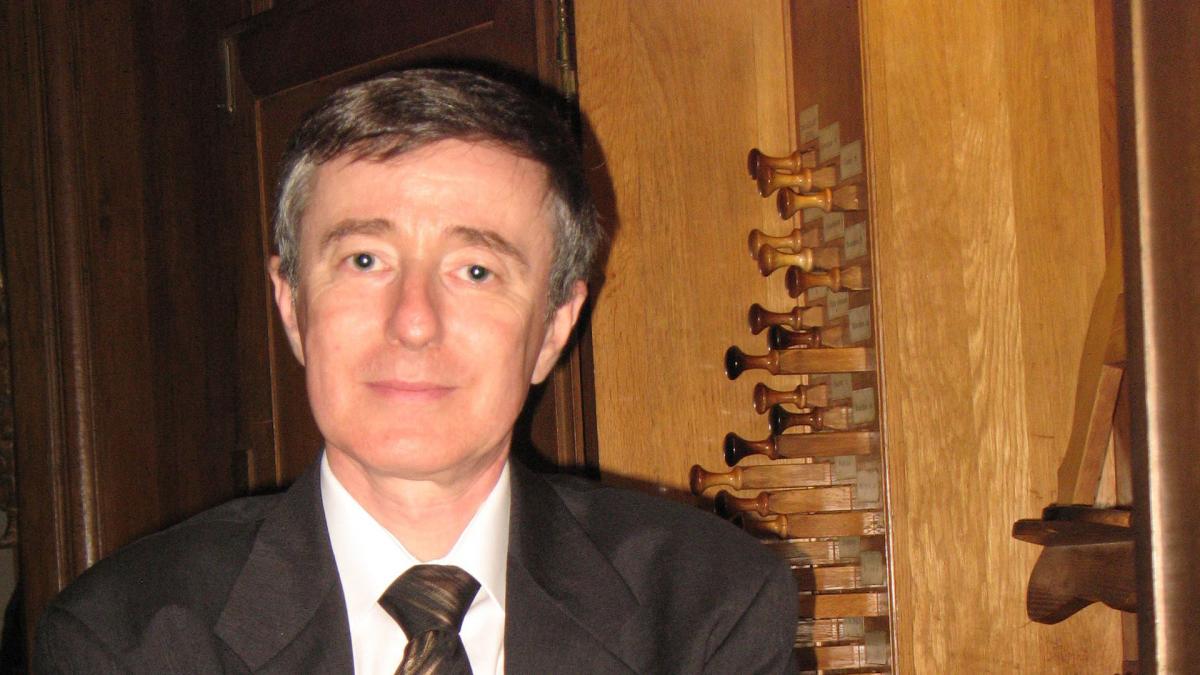 What motivates and inspires you to teach young church musicians studying at the Sibelius Academy of Uniarts Helsinki?
Teaching has always been a fantastic opportunity for me to learn about myself because I have had to answer students' questions, try to understand why music is as it is, know more about the repertoire and instruments – organ music and organs are particularly vast topics.
In addition, I love to share knowledge, opinions and questions with people.
Last but not least, organ students of the Sibelius Academy are among those of the very best level in Europe. I don't say this by chance: I have received several students of this prestigious institution in my class for some years already, and they are all amazingly brilliant by their artistic level and by their knowledge.
What keywords would you use to describe your teaching pedagogy?
It is a bit dangerous to answer this question without being pretentious; perhaps the students are in a better position…
All pedagogy aims to make students autonomous. I try to make a clear distinction in what I say, between objective and subjective things – my personal ideas. I also try to teach doubt, to say: "don't believe, go and check for yourself – with the sources, with the instruments –, and make your own opinion".
What helped you find your own voice and place in the music world as a young musician?
As a young musician, I won the Chartres International Competition [for young organists] at the age of 23. This allowed me to get to know various instruments and meet colleagues in different countries at a very early stage. I was able to see that there are schools that are extremely different from one another, and quite valid, based on extremely solid cultures.
At the beginning it was a shock, a very important questioning of what had been formulated to me until then. But a musician's training is obviously not complete at 23! It is probably never finished, fortunately!
I therefore absorbed this multicultural dimension of our instrument very early on, as well as the notion that knowledge of, and contact with, the organs that have given rise to our repertoire is one of the absolutely indispensable foundations of our art. I am convinced that this has shaped my personality.
If your question concerns my professional integration after my studies, I must admit that it was long and difficult, and that France is a country where the professions of organist are rare.
For historical reasons, the profession of liturgical organist does not allow for a sufficiently high salary, so it is necessary to accumulate other activities. The examples are innumerable and sometimes very far from the organ and even from music! Another solid path is teaching, but the positions are rare and the candidates numerous.
How do you see your role in supporting students' individual artistic identities?
This question is central, and the source of constant renewal of teaching – and therefore of interest to the teacher.
Generally speaking, it is astonishing that we expect all children to be able to read at such and such an age, to understand percentages at such and such an age, when everyone admits, for example, that a child starts to walk "between 10 and 18 months". Ideally, there should be individual teaching for all at all levels, which seems impossible – and would pose other problems in terms of socialisation.
When it comes to artistic education, this is even more obvious. This education addresses extremely diverse facets of the person at the same time – to their physical, intellectual, sensory, emotional capacities… From this observation, how could one imagine a standard education? Only "tailor-made" teaching can work.
Of course, the teaching experience will modify this adaptation as the career progresses, but it remains a renewed experience each time.
To answer your question: a student's artistic identity must be preserved, even though we will sometimes say things that contradict their interpretation, for example. These things must therefore be substantiated, argued.
We should also never forget that what we say can touch intimate things in the student, sometimes when we are not even aware of it. Sometimes a student's artistic personality is essentially a sensitivity, which needs to be channelled through reflection. The latter must not destroy the initial instinct – which is in any case the basis of everything, even reflection.
In the word "pedagogy" there is the notion of accompaniment, not that of direction. Sometimes we are on the borderline between the two, so we must be careful.
The subject of your masterclass is French organ music of the 17th and 20th centuries. What is the most important thing you would like your students to remember from this masterclass?
It is very difficult to answer! Everyone will come with their own personality and knowledge, myself included. How can I predict what will come of it?
But I can at least answer for the small conference I will give about César Franck's second Choral: the objective is to show the interest of associating analysis with interpretation.
Christophe Mantoux
French organist Christophe Mantoux is Professor of Organ at the Pôle Supérieur and the Conservatoire Régional de Paris where he teaches students from all over Europe, the United States, South America, South Korea, and Japan. He has previously worked as Professor of Organ at the Conservatoire National de Région of Strasbourg. He also holds the post of Titular Organist at the famous Church of Saint-Séverin in Paris where he has served since 1995.
In 1984, Mr. Mantoux won the prestigious Grand Prix d'Interprétation (First Prize in Interpretation) at the Chartres International Organ Competition (Grand Prix de Chartres). Following that success, he served as Titular Organist of the Chartres Cathedral from 1986 to 1992, and he remains a member of the Artistic Committee of the Chartres International Organ Competition.
His international career as a concert organist has taken him to more than twenty-five countries and to play some of the most prestigious instruments around the world.
Besides his active concert and teaching career, Mr. Mantoux is regularly invited to residencies, give masterclasses and workshops as well as to serve as adjudicator for many prestigious international organ competitions. He is also a member of the National Commission for Historical Organs of France.