Directing a play always requires ethical grounds
In a recent publication titled Looking for Direction: Rethinking Theatre Directing Practices and Pedagogies in the 21st Century by Uniarts Helsinki's Theatre Academy, 17 directors write about the concepts and ethics of directing, teaching practices in directing and how the role of directing has changed over the years.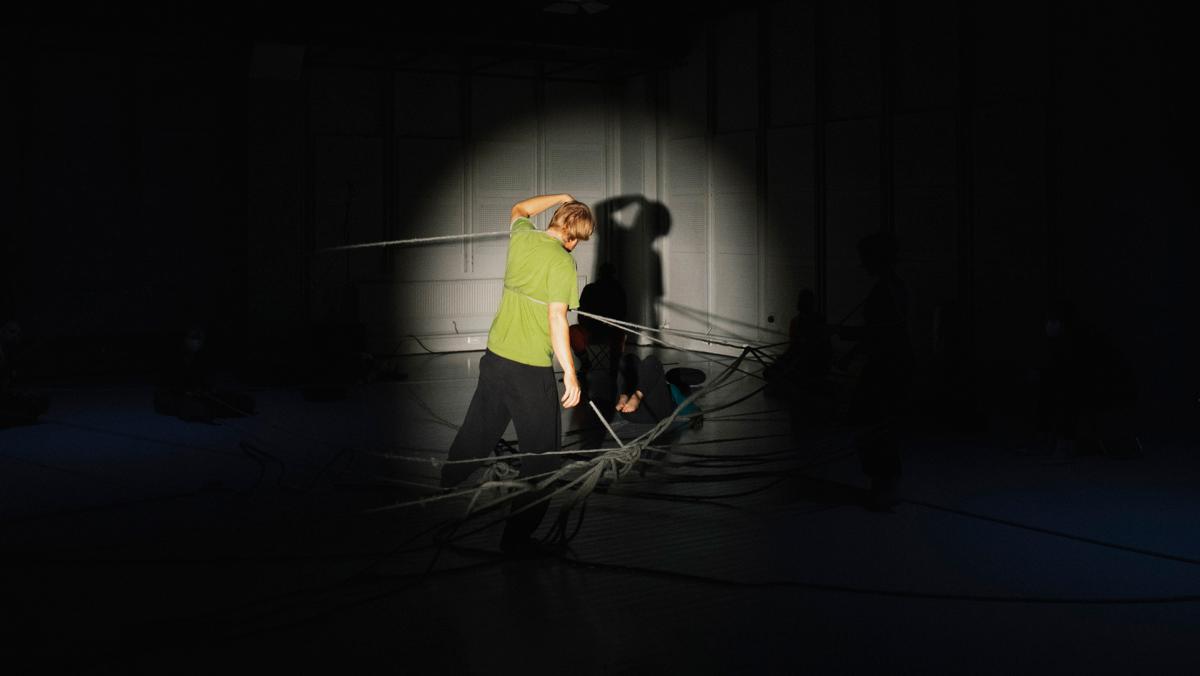 When Saana Lavaste began in the position of professor of directing at Uniarts Helsinki's Theatre Academy in 2016, she came to the realisation that the concepts used in directing had been borrowed from other fields.
"Often, people talked about directing using concepts that are integral to the methodology of acting or to dramaturgy," she says.
Looking for Direction: Rethinking Theatre Directing Practices and Pedagogies in the 21st Century (2022), which is edited by Lavaste, aims to fill some of this gap. The publication is the result of a collaboration within an international theatre school network.
The articles of the book delve into the essence of directing. Theatre directing has not been written about to the same extent as acting or film directing. The articles of the publication reflect on topics such as the body processes of a director, emotions, intuition, decolonial directing, pedagogy of directing over the years, and sound- and space-sensitive directing. The book opens up a discussion on directing, and the featured articles are in a close dialogue with each other.
Lavaste's article in the book focuses on the pedagogy of directing, and she applies the concepts of ikebana, the Japanese art of flower arrangement, on directing. Lavaste noticed a lot of similarities between ikebana and directing. Both of these art forms place emphasis on the ability to make something alive and natural as well as on spatiality and the direction of the viewer's gaze.
"Directing is often considered to revolve around personalities. People refer to the Turkka style of directing, for example, or use adjectives that describe the director's personality when talking about directing. People might call one director nice and some other director strict. I wanted to contribute to the field of directing by introducing concepts that aren't so charged."
In her article, Lavaste talks about the observations that she made in a workshop that she organised for directing students together with ikebana master Riitta Salastie.
"There's so much pressure involved when studying the arts. In ikebana workshops, students were able to let go of the pressure of succeeding. This same state of mind and distancing carried over to the scenes that we worked on after the ikebana class," Lavaste notes.
Fighting the misuse of power through leadership studies
In recent years, the #metoo movement has generated a lot of debate in the theatre scene, as well, revealing cases of misuse of power and inappropriate treatment. How has the directing programme at the Theatre Academy reacted to the public debate on inappropriate treatment?
"Most importantly, we've incorporated leadership studies to the curriculum. Good leadership skills include the ability to receive feedback, apply it for self-development and to give constructive feedback to others."
Lavaste says that leadership should be judged separately from the artist's personality. When directing students are provided separate feedback from teachers on their leadership skills and their artistic work, they will gain better understanding on what areas of their work they need to develop further. The director is no longer a guru that dictates instructions from the top down.
"Many actors have said that a good director is someone who has the courage to admit when they don't know something. Building a culture of trust already over the course of studies might be the most important individual measure that can weed out inappropriate behaviour from a community. I believe that fostering an interactive atmosphere in the field leads to self-reflection and development," Lavaste sums up.
Cooperation with international schools opens up new perspectives and expands the field of directing. Teachers from different schools can learn about pedagogical tools from each other.
"When we bring people together from different worlds, that's usually when the best ideas are born.
Freelance director and directing teacher Mika Leskinen agrees with this statement.
"International cooperation adds even more colours to the kaleidoscope. It's interesting to hear colleagues reflect on directing from various perspectives," Leskinen says.
Harnessing subject-matter thinking as the director's compass
Theatre directors give a meaning and a direction to the process of a performance and take care of the big picture. According to Leskinen, something that helps a director in this process is subject-matter thinking, which he wrote about in his article in the book.
"Essentially, subject-matter thinking means tracing back the heart and the core of the play and then trying to make it evident in both individual scenes as well as in the overall performance. The director can start looking for the core of the play by answering these three questions: What phenomenon of reality am I depicting? What is my own relation to this phenomenon? What is the atmosphere of the performance?"
It is important that the director finds reading the play inspirational. They need to find their own personal connection to the play so that directing it becomes meaningful. Subject-matter thinking can act as a compass that the director uses to mediate their thoughts to the working group. When directing actors, one thing that is essential is communication. Directors must be responsive to any surprising elements that actors may bring to the process in rehearsals.
"When the director comes to rehearsal, they must be well-prepared and aware of the direction that they want to pursue for the performance. The work of a director involves careful listening and being sensitive to what the actors are creating, as well as making choices. There's no theatre without the actor, which is something worth keeping in mind at all times."
Leskinen notes that the play that is being directed should always be ethically justified.
"The director should ask themselves what added value does the performance bring to the world that we're living in at the moment," Leskinen says.
The decolonial directing approach dismantles power structures
Brazilian theatre director Rodolfo García Vázquez also talks about the ethical grounds of theatre. His article focuses on the decolonial directing approach, which urges the director to become aware of their own privileged positions and let go of their prejudices.
Vázquez is one of the founders of a school called SP Escola de Teatro in São Paulo, Brazil, where he teaches directing. He has worked on theatre projects with various minority groups, such as trans actors, prostitutes and refugees. Vázquez's theatre company Os Satyros has brought theatre performances to the streets and slums – to audiences that have never stepped a foot in a theatre hall.
In a Zoom interview, Vázquez described how working with non-normative performers and audiences has opened up his eyes to the fact that he cannot understand the experiences of minorities and the world that they live in through his personal outsider's point of view.
"My own privileged position has, at times, made me blind to the social reality that we live in."
Making a connection to audiences and performers in places like slums is not easy. In his article on the decolonial theatre practice, Vázquez highlights the importance of building an organic connection between the theatre group and the local audience. Vázquez has often recruited actors that represent the minority whose reality the performance aims to depict. In order to reach out to trans audiences, for example, it is essential that the actors in the play identify themselves under this umbrella term. Cisgender directors cannot understand the battles that trans people are forced to go through in a world dominated by rigid gender norms.
"If you want to connect with non-normative theatre audiences, you must get past your own prejudices that often emerge through fears. A fruitful dialogue with a variety of people is only possible when you understand how repressive the traditions of institutional European theatre are. I've learned a lot about myself by working with socially marginalised minorities."
Ethical issues to the forefront
When teaching directing to students, Vázquez finds that the most important thing is to reflect on ethical questions.
"It's important to teach students about the ethics of directing, because directors need to be careful about not misusing their power and position."
According to Saana Lavaste, teaching directing essentially means teaching students how to verbalise and observe phenomena. Context is a concept that plays an increasingly bigger role in teaching.
"No work is detached from its surrounding society. Reproducing a classic as a classic has become virtually impossible, because each adaptation takes a stance on the world views portrayed by the classics. It requires a lot of sensitivity to accommodate the tradition of European theatre to the time that we live in."
At the Theatre Academy, actors, dramaturges and directors study together for the first six months. Understanding the different elements of theatre is a valuable skill as a director.
"We have wanted to maintain a certain ideology of ensemble theatre in our teaching, helping each generation build a common language within their ensemble."
Text: Susanna Bono
The publication has been produced by the Alexandria Nova network, which aims to develop directing and directing programmes. Besides Uniarts Helsinki's Theatre Academy in Finland, the international network has partner schools in Denmark, Norway, Lithuania, Sweden, Germany, Iceland and Brazil.