A trailblazer and role model for over 40 years – British Sonia Boyce gives a voice to silenced stories
Which voices carry more weight than others? Whose art goes on the walls of our museums and galleries, and who gets to make these decisions? These are some of the questions Sonia Boyce has pondered throughout her career, spanning for more than four decades. In Finland, these questions are also relevant – and young BIPOC artists are increasingly active in challenging the norms.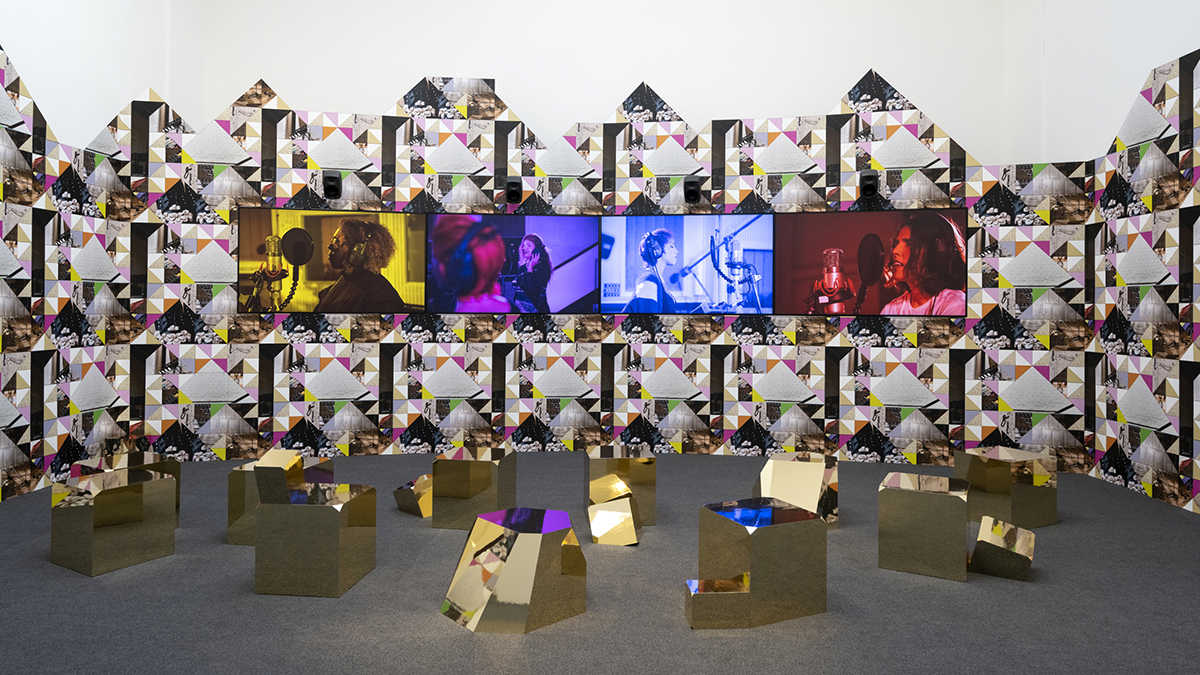 Uniarts Helsinki and the Saastamoinen Foundation are hosting Boyce´s visit in Helsinki in September. Sonia Boyce (b. 1962) is an award-winning, London-based British Afro-Caribbean artist whose work focuses on issues such as race, gender, improvisation and human encounters. She was one of the key figures associated with the British Black Arts Movement, which began in 1982. It was a political art movement, which raised race, gender and representation to the forefront of discussions – topics, which, up until then, had remained largely ignored.
What is the role of Sonia Boyce, the movement she represents and role models in general for today's artists and activists in Finland?
We looked into it and asked visual artist Sasha Huber and cultural producer Wisam Elfadl to be our experts. They both represent BIPOC artists working in the Finnish cultural field. The abbreviation BIPOC denotes black, indigenous and non-white and comes from the English words black, indigenous, and people of color.
Searchers of lost voices
The British Black Arts movement was monumental in shaping public discourse and opening up equal opportunities. Following cultural activist Naseem Khan's seminal report, titled The Arts Britain Ignores (1976), the British Arts Council recommended that arts institutions must allocate a minimum of 4 percent of their budgets to ethnic minorities or Black arts, which matched the percentage of the ethnic minority population in Britain at the time. However, little changes were actually made, and from 1980 to 1990, there were only eight solo exhibitions by Black women in mainstream galleries in the United Kingdom, for example.
Representation – and lack thereof – has featured heavily in Boyce's work throughout the years, and in many ways, she is a trailblazer: in 1987, she became the first Black British female artist whose works were acquired by Tate Britain. She is also the first Black woman to have been chosen by the British Council for the British Pavilion in the 59-year history of the Venice Biennale.
To add to a long list of notable achievements, her Venice Biennale exhibition, Feeling Her Way, won the Golden Lion prize this year. It is a continuation to Devotional, Boyce's long-term project dedicated to the often hidden or forgotten history of Black British female musicians and singers.
In her long career, Boyce has gained recognition and paved the way for others with her example.
Another artist who has built her career working on those often cast aside by history is Helsinki-based visual artist Sasha Huber. Her work primarily focuses on ancestral trauma, belonging, and unpacking and healing from the wounds of colonialism.
Her work is strongly rooted in her own heritage. Huber is Swiss-Haitian and born in Zurich, Switzerland, and her work often draws parallels between the past and present. Huber works with different media, but the wider themes of belonging and remembering carry on throughout her work.
Some of her most notable works include portraits of Rosa Emilia Clay, the first African to have been granted Finnish citizenship in 1899, created using a staple gun.
"At the beginning, I was creating portraits of men like Christopher Columbus, who had been responsible for atrocities across the Americas and Caribbean. But then, I realised I was using a lot of energy to create images of men who had done a lot of harm – and who had been portrayed in history repeatedly. So, instead, I decided to focus on those whose voices have been silenced, and those who have been excluded from the history we read in history books," she explains.
A staple gun is a conscious choice as a technique. For her, the staple gun is a weapon, and it gave her an outlet to shoot back at the devastating effects her maternal country had endured for centuries.
"Using a staple gun was a way of reacting to a history that had strongly to do with my Haitian heritage," Huber says.
From individual art to collective creation
Sonia Boyce's art anchors itself to collaborative work, and she has been working closely with other artists since the 1990s; often involving improvisation, playfulness, interaction and spontaneous performative actions. At the core of some of Boyce's work is a deep interest in human encounters, and her art is an ode to the intersections between history and people.
Boyce's performances are often shaped around what happens when participants – usually led by performers – allow themselves to veer into the unexpected. Feeling Her Way focuses on the vocal experimentation of five BIPOC female musicians. The work is an interweaving between collaboration, improvisation and dialogue – and, true to Boyce's form, raises important questions on who gets to make art.
Huber's way of working is, too, performative: meticulously, she staples each portrait, one staple at a time.
"I call my stapled artworks 'pain-things'. To me, it's almost like the stitching of, and tending to, a colonial wound. The healing process is ongoing, and it has been a way for me to listen to what comes from my ancestral heartbeat," Huber summarises.
Speaking from her studio in the neighbourhood of Kallio, Huber sits in front of one of her artworks: a portrait of Mary Edmonia Lewis, a sculptor of African American and Native American (Mississauga) descent, who emigrated to Rome in the mid-1800s.
"I first learned about Edmonia Lewis from musician Melissa Laveaux, who wrote a song about Edmonia. Edmonia was one of the first black artists in Rome," Huber explains.
Melissa Laveaux and Huber ended up collaborating together on a video, where Huber is creating a portrait of Mary Edmonia Lewis, while Laveaux's song is playing in the background.
"The portrait I made is mounted on an acoustic board; usually used to mute sound in space; which I feel amplifies the significance of the piece," Huber states, referring to the fact that, despite her success in the United States and Italy at the time, Lewis has been all but wiped out from history books, and is largely unknown in contemporary Italy.
"I worked on Lewis' portrait in a museum in Rome, where people were able to come see me while I worked. Virtually no one had heard of her. My work is about memory, remembering – and commemorating," Huber continues.
Performers of uncomfortable questions
Challenging prevailing power structures has been a recurring theme in Boyce's works. For nearly forty years, Boyce has worked in art schools and other academic institutions as a teacher and researcher. Currently, she is a Professor of Black Art and Design at University of the Arts London, and in addition, one of her research projects was made into a BBC documentary, titled Whoever Heard of a Black Artist? Britain's Hidden Art History (2018), which showcased artists of African and Asian descent who have been traditionally overlooked in Britain's art history.
In Finland, people have woken to the fact that the field of art is very homogenous. Many BIPOC artists have spoken about the overwhelming whiteness of Finnish arts and highlighted this in their work. For example, artist and choreographer Sonya Lindfors' performance, NOIR? (2013), represented a new era in Finnish performance art when it centred around blackness and Black identity. Subsequently, Lindfors' Noble Savage (2016) created a world where whiteness was considered 'the other' and blackness was the status quo.
Cultural producer Wisam Elfadl has worked in museums in Finland for 15 years, and she has observed the transformations happening in Finland's cultural scene with great interest.
"In general, I would describe Helsinki's art and culture scene as reactive rather than active. It seems that the big players in arts and culture change their strategies every 10 years or so, in order to reflect the social and cultural shifts happening around the globe. I am yet to see any tangible measures like public apologies – but there is a lot of movement and growing pressure at a grassroots level," she explains.
It's clear that change is coming, and an increasing amount of BIPOC people want to work and study in the field of art and culture. When it comes to monitoring ethnic diversity within the field, Elfadl believes that institutions should have transparent ways to monitor it.
"The monitoring and accountability when it comes to ethnic diversity should be as easily measurable as the calculation of a carbon footprint. I wish institutions were transparent with their values. I would like to see clear goals, and a plan on how they will implement changes, and follow-up measures that are easy to understand and identify. Institutions such as Kone Foundation and Cultural Centre Caisa are already providing interesting data about their work," she says.
However, simply giving someone a study place or job based on their "ethnicity" would be demeaning and insulting to their skills and professionalism, Elfadl notes.
"The changes that are already happening will hopefully create more opportunities for those who have, for whatever reason, felt excluded from Finland's art scene," she states.
Towards more equal structures
The topics and themes that both Huber and Boyce touch on are still relevant today. Every now and again, it becomes evident that questioning the prevailing norms can lead to backlash. In 2018, Sonia Boyce hit the headlines when she temporarily removed John William Waterhouse's 1896 painting, Hylas and the Nymphs, from Manchester Art Gallery. The act caused a furore (and an onslaught of abuse and online hate for Boyce).
Boyce had the painting taken down, and replaced it with a notice explaining that the temporary empty space had been left "to prompt conversations about how we display and interpret artworks in Manchester's public collection". As a response, members of the public stuck Post-It notes around the notice, giving their reaction to the removal. For Boyce, it was a way of sparking a conversation around the curatorial process: who decides which art gets displayed, and the ways in which museums make decisions about what visitors see and in what context.
Similar discussions are taking place in the Finnish art field of the 2020s. In many ways, it can be disheartening to think that the same questions Boyce has been posing since the 1980s are still relevant today. But presenting them opens up the possibility to shake up the current structures. There is an increasing number of trailblazers like Sonia Boyce who are paving the way to a brighter future.
Text: Ndéla Faye
Photos: Sonia Boyce, Sarah Weal, Sarah Parker
Keynote Lecture by Sonia Boyce 14 September
Boyce's visit in Helsinki is part of the fine arts internationalisation programme launched by the Academy of Fine Arts and the Saastamoinen Foundation in 2014, which, in addition to lectures, includes international mentoring and residency activities for master's students and alumni of the academy. During her visit, Boyce will give a Saastamoinen Foundation Keynote Lecture, which is open to the public.
The lecture will be held on Wednesday, 14 September 2022, at 18 at Dance House Helsinki, Kaapeliaukio 3. The lecture will be held in English.