Composition, master
Come and study in an internationally esteemed composition programme to pursue a career as a professional composer.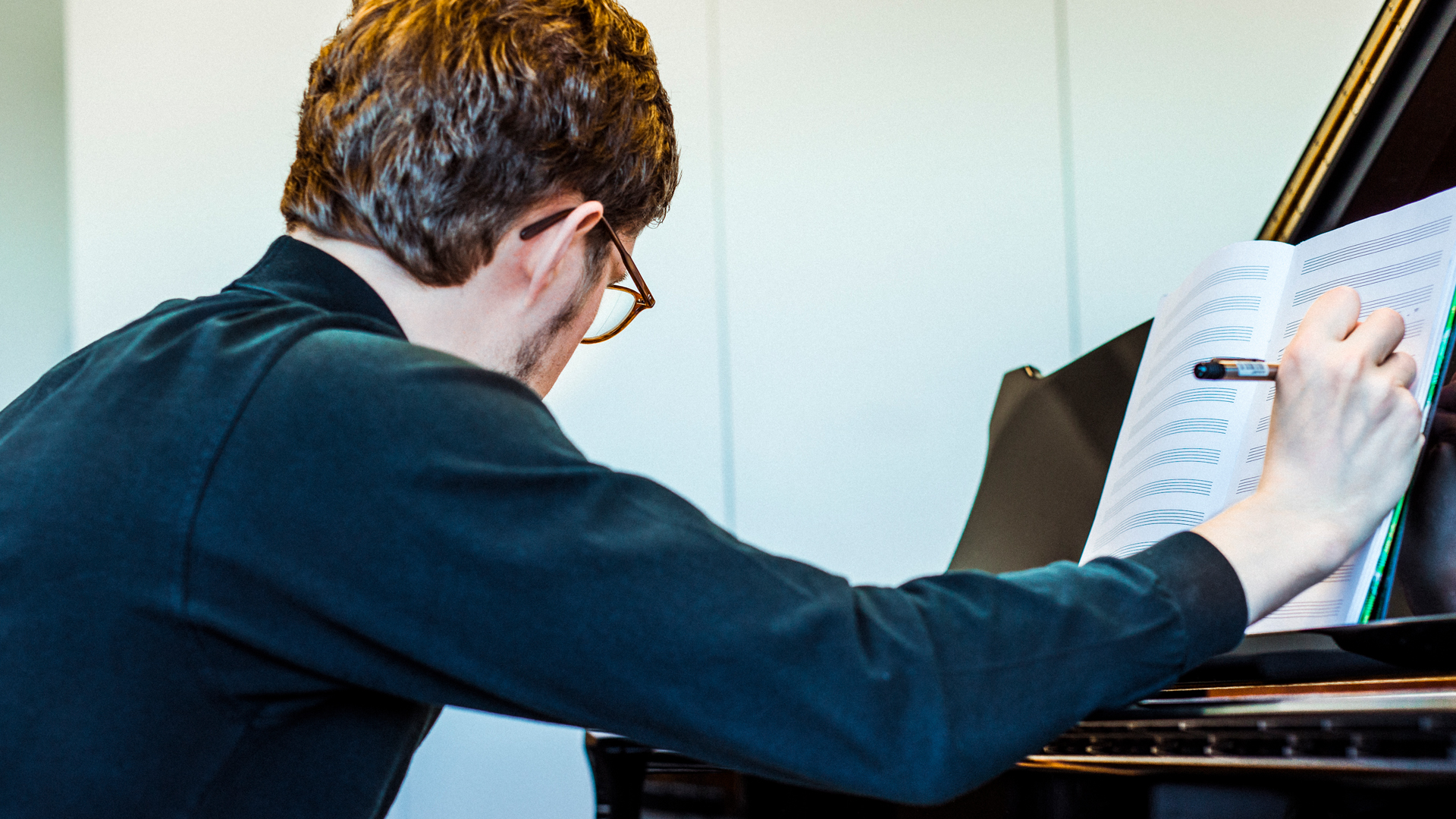 Why study here?
You will be able to study composition at one of the best performing arts universities inthe world. You will gain the competence to work in expert roles requiring a profound knowledge of music. The studies prepare you to engage in discussion within the music community and society at large. Graduates of the programme have diverse career opportunities. Besides working as a composer, common career paths include, among others, becoming a teacher, musician and writer.
Content and objective of the programme
Composition studies, harmony and voice leading, music analysis and instrumentation form the core of the Composition programme. As a master's student, you will focus on deepening your professional expertise and completing studies that support your personal identity as a composer.
You can also choose courses organised by the two other Uniarts Helsinki academies and complete joint studies that are available to all students.
New curriculum to be launched
Our curriculum is currently being updated. Teaching according to the new curriculum will start in autumn 2024. Please keep this in mind when browsing the current curriculum.
Teachers
Our teachers are some of the best experts in their respective fields. In addition to the permanent teaching staff, the programme welcomes top international professionals as guests on a regular basis.
Applying to the programme
Applicants who want to study composition and music theory as a major subject are evaluated in different admission groups. You can apply for both major subjects during the same year. We will require you to have better basic knowledge in music theory and aural skills than the other programmes at the Sibelius Academy as well as good knowledge of western music. Applicants who are pursuing composition as a major are also expected to have creative musical skills.
Uniarts Helsinki is one of the most sought-after places to study in Finland. Browse the admissions statistics from previous years.
Doctoral studies
You can complete a doctoral degree at Uniarts Helsinki as a third-cycle degree. After graduating with a master's degree, you'll have the option to apply for doctoral studies in music and specialise in artistic or applied doctoral studies.
Target degree and length of study
---
Master of Music (MMus)
2,5 years
Unit
---
Sibelius Academy
Application languages
---
English, Finnish, Swedish Read more about the language skill requirements
Tuition fee
---
Annual tuition fee €5,000 for students studying in English and who come from outside the EU and EEA countries.
Read more about the tuition fees
Application period
---
Next possible time to apply is in January 2023. Studies begin in August 2023.
Supervising teacher
---
Lecturer, music theory, Sävellys ja musiikinteoria, Open Campus
Part-time teacher, music theory, Sävellys ja musiikinteoria, Open Campus

+358505296492

minna.holkkola@uniarts.fi

Professor, composition, Sävellys ja musiikinteoria, Sibelius Academy

+358407104254

veli-matti.puumala@uniarts.fi
Ask about applying
---