Vision for visual art education 2030
The goal of the project is to establish a national vision concerning the state of visual art education in 2030.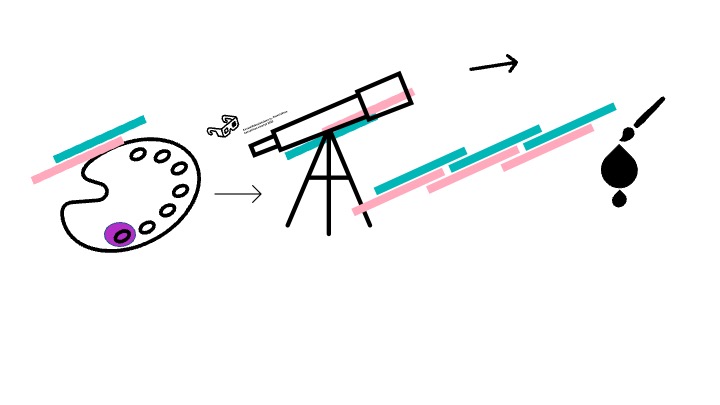 Introduction
Uniarts Helsinki's Academy of Fine Arts initiates the compilation of a vision for arts education in the field of visual art. The goal of the vision work is to strengthen a shared view of what development needs, objectives and measures are relevant to education in the field of visual arts. The work also supports regional and national cooperation between different operators.
The group of education providers in the field of visual art in Finland is wide and diverse, and their core missions range from early childhood education to degree-oriented education and research and from non-formal education to lifelong learning.
All Finnish operators who provide training and education in visual arts are invited to join the vision work. The vision will be compiled as a wide, dialogue-oriented and collaborative effort on various education levels and among various operators in the field.
The project launched in autumn 2021, and the work will include seminars, meetings, questionnaires and surveys. The finalised vision will be published at the end of 2022.
Vision work seminars in Autumn 2022
Core Group of the Vision Work for Visual art education
Heikki Heinonen
Visual art teacher (MA)
Helsinki Upper Secondary School of Visual Arts
Mirja Hiltunen
Professor of Art Education
University of Lapland
Docent
University of Oulu
Marika Holm
Lecturer in visual arts
Novia University
of Applied Sciences
Johanna Immeli
Visual art teacher
Mentor in special art activities
Kaarisillan Taide- ja Toimintakeskus
(arts and activity center)
Johanna Kivioja
Headmaster
Chair
Finnish Association
of Art Schools
Sirpa Kärkkäinen
Visual art teacher
Kuvataideopettajat
KUVIS ry
Noora Lehtovuori
Praxis Master Programme student
University of the Arts Student Union (ArtSU)
Sampo Malin
Sculptor
Sculpting teacher
The Artists' Association of Finland
Elina Merenmies
Painter
Visual artist
Headmaster
Free Art School
Eija Mustonen
Degree Programme Manager
Visual arts
LAB University
of Applied Sciences
Anniina Suominen
Associate Professor of
Art Pedagogy
Aalto ARTS
Johanna Vakkari
Vice dean for teaching
Academy of Fine Arts
Project name
---
Vision for visual art education 2030
Time
---
08/2021-12/2022