The Research Pavilion project
The Research Pavilion has been organised in Venice in 2015, 2017, and 2019, and in Helsinki in 2021.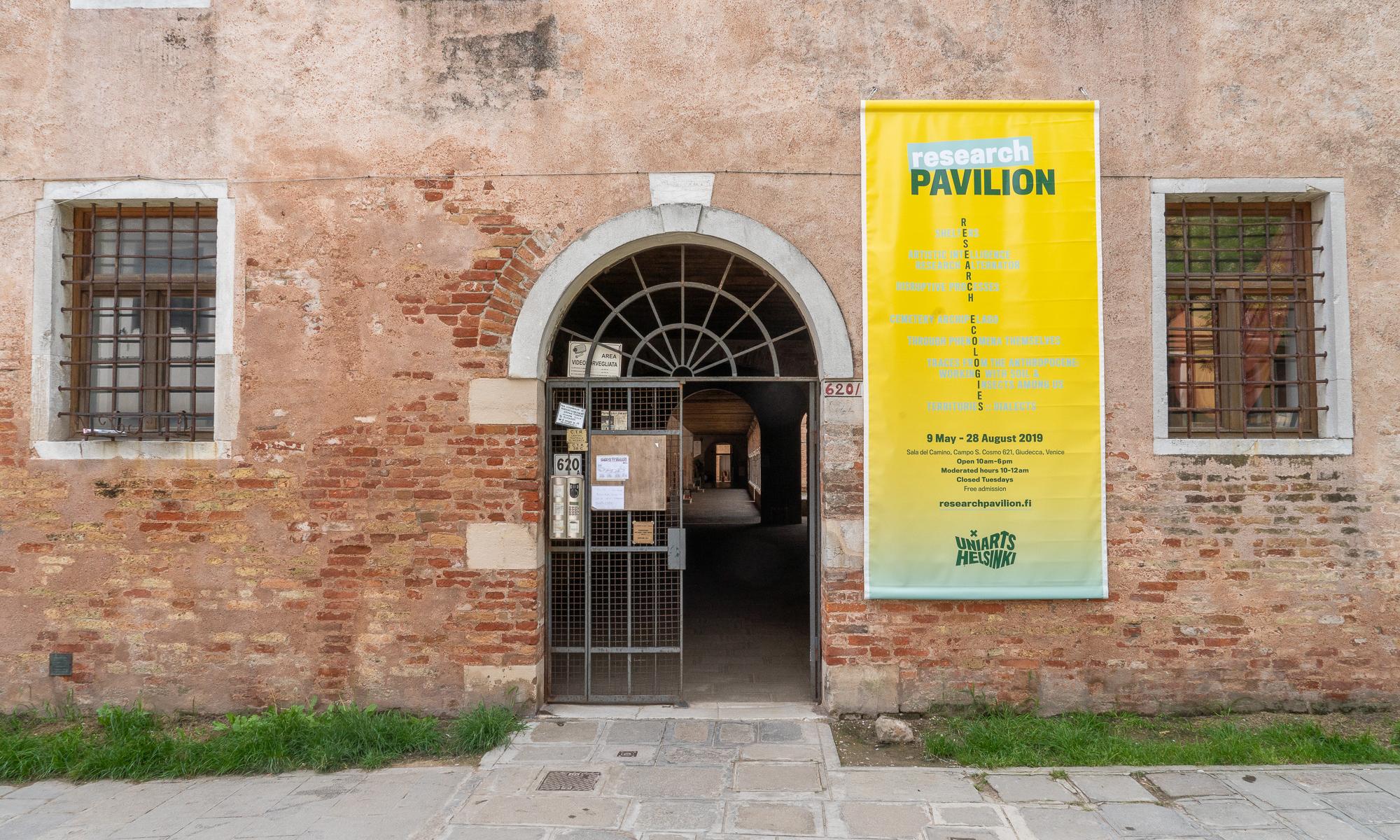 Introduction
The Research Pavilion, an ongoing project hosted by Uniarts Helsinki, highlights the points of view of artistic research in the context of eminent contemporary art events. The Research Pavilion has been organised in the context of the Venice Biennale in 2015, 2017 and 2019. In 2021, the venue is Helsinki.
During these years, Research Pavilion has cemented its position as the focal point in artistic research, drawing together artist researchers from around the world. It is a platform for new thinking, debate and cooperation arising from artistic research. Research Pavilion 2019 and 2021 are created in cooperation with the Louise and Göran Ehrnrooth Foundation.
Research Pavilion 2021: Helsinki
Research Pavilion #4 Helsinki takes place in the Hietsu Paviljonki—a local communal and cultural building—and its surroundings (popular Hietaniemi beach). Artist-researchers participating in the Research Pavilion will showcase their projects from 5 June to 28 August 2021. During the summer, the fourth Pavilion will be a hub of fine arts, concerts, performances, workshops and discussions, which are all characterised by an inquiring mindset.
Research Pavilion 2019: Research Ecologies
Research Pavilion 2019 website
Research Pavilion 2019 in Research Catalogue
Research Pavilion 2017: Utopia of Access
Research Pavilion 2017 website
Research Pavilion 2015: Experimentality
University of the Arts Helsinki organised a Research Pavilion on 7 May – 28 June 2015 in the context of the 56th Venice Biennale. The pavilion consisted of an outstanding international contemporary art exhibition and a platform for events that featured artistic research. The dynamic between artistic research and contemporary art was explored through the theme of experimentality. The artists in the exhibition were Tiong Ang & Alejandro Ramirez, Magnus Bärtås, Dirk Hoyer, Henna-Riikka Halonen, Simo Kellokumpu, Matts Leiderstam, Antti Nykyri, Maija Närhinen, Tuula Närhinen, Janis Rafa, Heli Rekula and Hito Steyerl.
The commissioner of the Research Pavilion was Professor Anita Seppä, PhD, and it was curated by DFA Jan Kaila, Advisor in Artistic Research at the Swedish Research Council, and Professor Henk Slager, PhD.
The pavilion was organised in collaboration with EARN (European Artistic Research Network), Valand Academy (University of Gothenburg), GradCAM (Graduate School of Creative Arts and Media, Dublin), MaHKU Utrecht Graduate School of Visual Art and Design, Università IUAV di Venezia, Journal for Artistic Research (JAR) and Frame Visual Art Finland.
Project name
---
Research Pavilion
Time
---
01/2015
Funder
---
The Louise and Göran Ehrnrooth Foundation (2019 and 2021)
Team
---
The 2021 edition is convened by Vice Rector Jaana Erkkilä-Hill.
Content Management: Mieko Kanno (music), Denise Ziegler (visual arts), Tero Nauha (performing arts).
Production: Anni Anttonen. Coordination: Michaela Bränn.