Fair Sculpture
Fair Sculpture encourages and helps empower youth, with a focus on youths who are less exposed to different kinds of art and culture.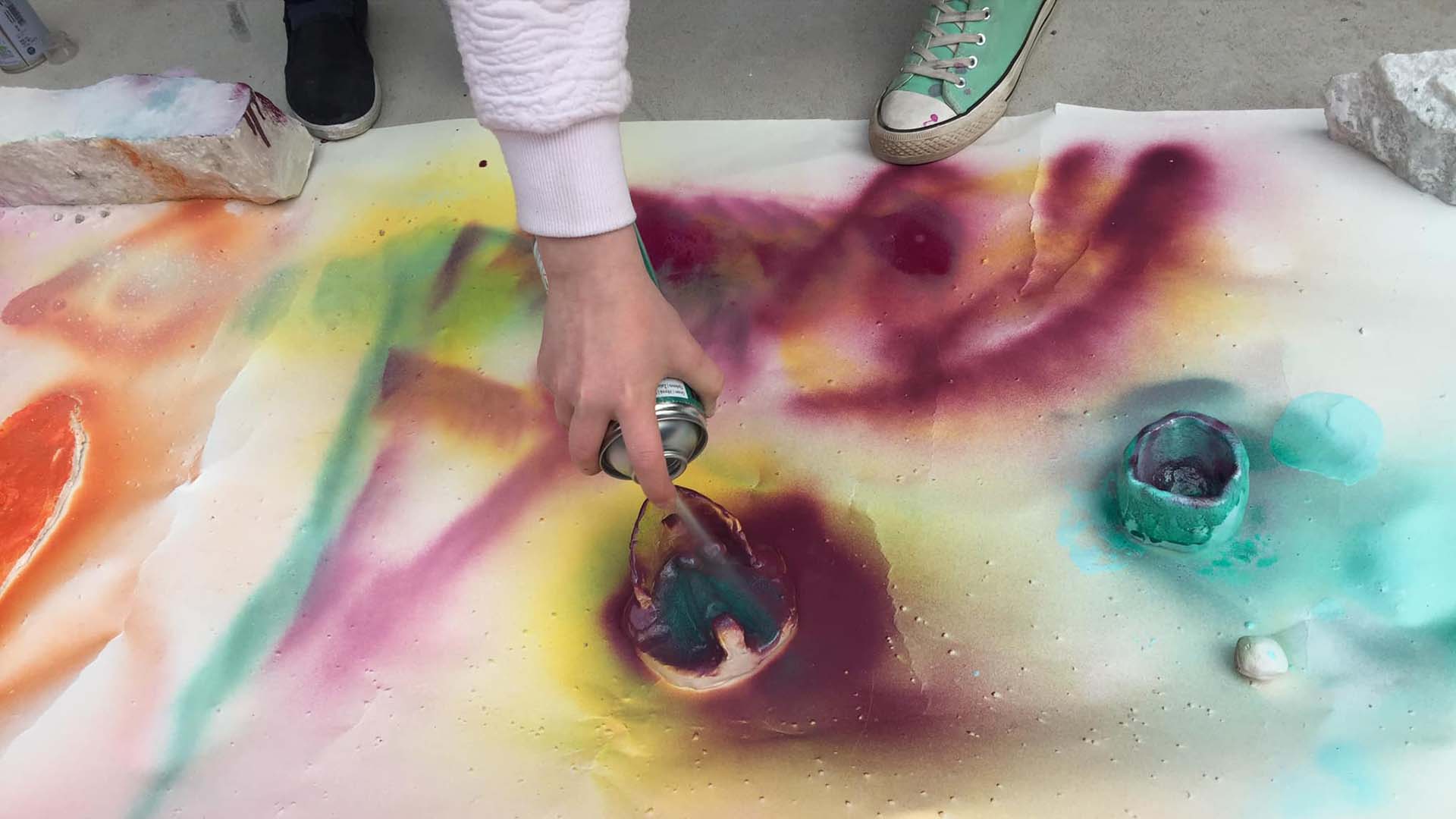 Project presentation
Fair Sculpture is an inter-generational and multidisciplinary artistic community project consisting of two branches, in which participation is free for participants. One branch is a weekly afternoon school for kids and youngsters in the facilities of the Academy of Fine Arts and the Theatre Academy in Helsinki (Sörnäinen Campus). The second (in the making) is a residency branch, where artists are invited to hold an art residency in a school outside of Helsinki, outside the Capitol area. Work there not as teachers but as artists. The project aims to empower kids and youngsters from different backgrounds. The focus is to give exposure to school children who do not normally have the opportunity to meet professional artists and encounter different kinds of cultural events as well as give the participating artists opportunity to create in a vivid learning environment.
From January 2022 until May, kids from Eastern Helsinki from Kontula Art School (KAS!) joined the Fair Sculpture project. They worked on a weekly base at Uniarts Sörnäinen Campus facilities. During the winter and spring 2022 they made their exciting trip by metro for 10 times and all together 8 kids from KAS! Tuesday group (age 9-16) had the chance to experience the new Mylly building, and its sculpture department spaces.
During the project, the kids tried out modeling clay and metal works. Later, the group was introduced to performing arts and tested out different performative methods and implementations. For their final show, the group prepared a wonderful dance accompanied by spray painting. The performance was presented for parents and family members on 3.5.2022 at the facilities of Theatre Academy and Sculpture department's inner yard.
Following phases
For the moment the Fair Sculpture working group tries to implement the second branch, residencies for Uniarts alumni at schools and prepares outside funding applications to be able to continue the project.
Funding
Both branches of Fair Sculpture are funded by the Talent Boost funds to run pilot-projects.
With the help of Talent Boost funding, Fair Sculpture was able to pay all teachers and other experts staff involved, metro tickets, materials and food and drinks. The project also got huge support by sculpture students, who for the weekly afternoon school gave space in the workshops so the kids and youngsters could work there.
Open Call: Fair Sculpture residency pilot programme
Open Call for Uniarts alumni currently based in Finland, who have graduated from TeaK´s LAPS programme or from KuvA's Sculpture study area. Two artists will each be chosen to hold a residency at the school in Joutsa for one month between January and April 2023. In the application form, the artist will be able to state their time preference. You can also apply if you are graduating right now in fall 2022 – you need to be an alumni when the residency starts in spring 2023.
Fair Sculpture residency pilot programme is an intergenerational and multidisciplinary artistic community project where artists are invited to hold an art residency in a school for one month. The selected artists will carry out their professional practice within the school environment. Openness to possibilities to implicitly and explicitly shared artistic practices and art as a profession in this school setting is appreciated. Spring 2023 features Joutsan yhtenäiskoulu in Joutsa, a village located in Central Finland. The project aims to empower kids and youngsters. The focus is to give exposure to school children who do not normally have the opportunity to meet professional artists and encounter different kinds of cultural events, as well as to give the participating artists an opportunity to create in a vivid learning environment. Through exposure and personal experiences with art, culture and artists, a child's worldview, and the possibilities of different forms of expression, future studies and profession are expanded.
The selected artists should be aware of the experimental format of this pilot project, including the need to show flexibility in regards of working spaces at the school. Selected artists will be provided with different options of working area at the school.
The residency artists are provided with accommodation (their own room in a shared home with one other human and Ilo, a jack russell terrier), materials (100 euros), travel (one round trip to Joutsa from within Finland, most affordable option by bus or train), and one month's salary contract with University of the Arts Helsinki (2200 euros).
The artist could make workshops, an artist talk or an event with the school children and local community, but the main focus is, that artists work as artists in the school. The exact form of the collaboration will be dependent on the artist and their practice. There will be a Fair Sculpture representative in Joutsa where the artist can seek assistance and advice when needed. At the end of the residency the artists are asked to make a documentation on what they have done at the school residency. They are also asked to give feedback on how such a residency format in their experience worked and in future could work.
The core goal of Fair Sculpture is that young people will be able, at a low threshold, to be in interaction with a professional artist, to see how they work, and experience the art they create. LAPS and Sculpture graduates have the opportunity to share their professional art practice with a new audience.
Fair Sculpture residency pilot programme is funded by Talent Boost and outcomes will be studied in Frank Brümmel´s doctoral artistic research project. The jury consists of Andy Best, Tero Nauha, Arlene Tucker, and a representative from the school.
Time table
Application opens: November 14th
Application deadline: December 5th at 23:59
Interviews for selected artists will happen between December 12th -16th.
Decisions will be published the next week
Residencies start in 2023
Please complete the application form and email it to Frank Brümmel at frank.brummel@uniarts.fi. The application deadline is December 5th at 23:59.
Fair Sculpture application form
First name:
Last name:
Preferred gender pronouns:
Contact info:
What are you investigating in your artwork? What would you like to focus on during your art residency?
What excites you about holding an art residency at a school?
Please share ideas on how you would engage the students, teachers, and the community through your art practice.
Are you a LAPS or Sculpture masters graduate? When did you graduate?
What are your residency preferences:

January 30-February 24
March 6-March 31
April 3-28

Which languages do you feel comfortable expressing yourself in?
As you will be working at a school with children, the successful applicant will be responsible for showing their "criminal records extract: Working with children" later in the process to the rector Ulpu Silvasti at Joutsan yhtenäiskoulu, according to their regulations.
Project name
---
Fair Sculpture
Time
---
01/2022
Funder
---
Talent Boost
Team
---
Pablo Alvarez artist, diversity agent
Oliver Backmann, sculpture technician
Andy Best, Professor in Sculpture, Uniarts Helsinki's Academy of Fine Arts
Frank Brümmel, Lecturer in Sculpture, doctoral student, Uniarts Helsinki's Academy of Fine Arts
Maija Fox, artist MA student, Uniarts Helsinki's Academy of Fine Arts
Fjolla Hoxha, artist MA student LAPS/ Uniarts Helsinki's Theatre Academy
Heidi Hänninen, artist, doctoral student, Uniarts Helsinki's Academy of Fine Arts
Tero Nauha, Professor Live Art and Performance Studies, Uniarts Helsinki's Theatre Academy
Arlene Tucker, artist, diversity agent
Vesa Rahikainen, sculpture technician
Students of Uniarts Academy of Fine Arts´ Sculpture subject area
Collaborators
---
Kontula Art School (KAS!)
Lead organisation
---
KuvA Sculpture, TeaK (LAPS) 
Contact
---
Frank Brümmel, frank.brummel@uniarts.fi