Work sustainably at Uniarts Helsinki
Read our tips for making sustainable decisions when working on campus, organising events and travelling!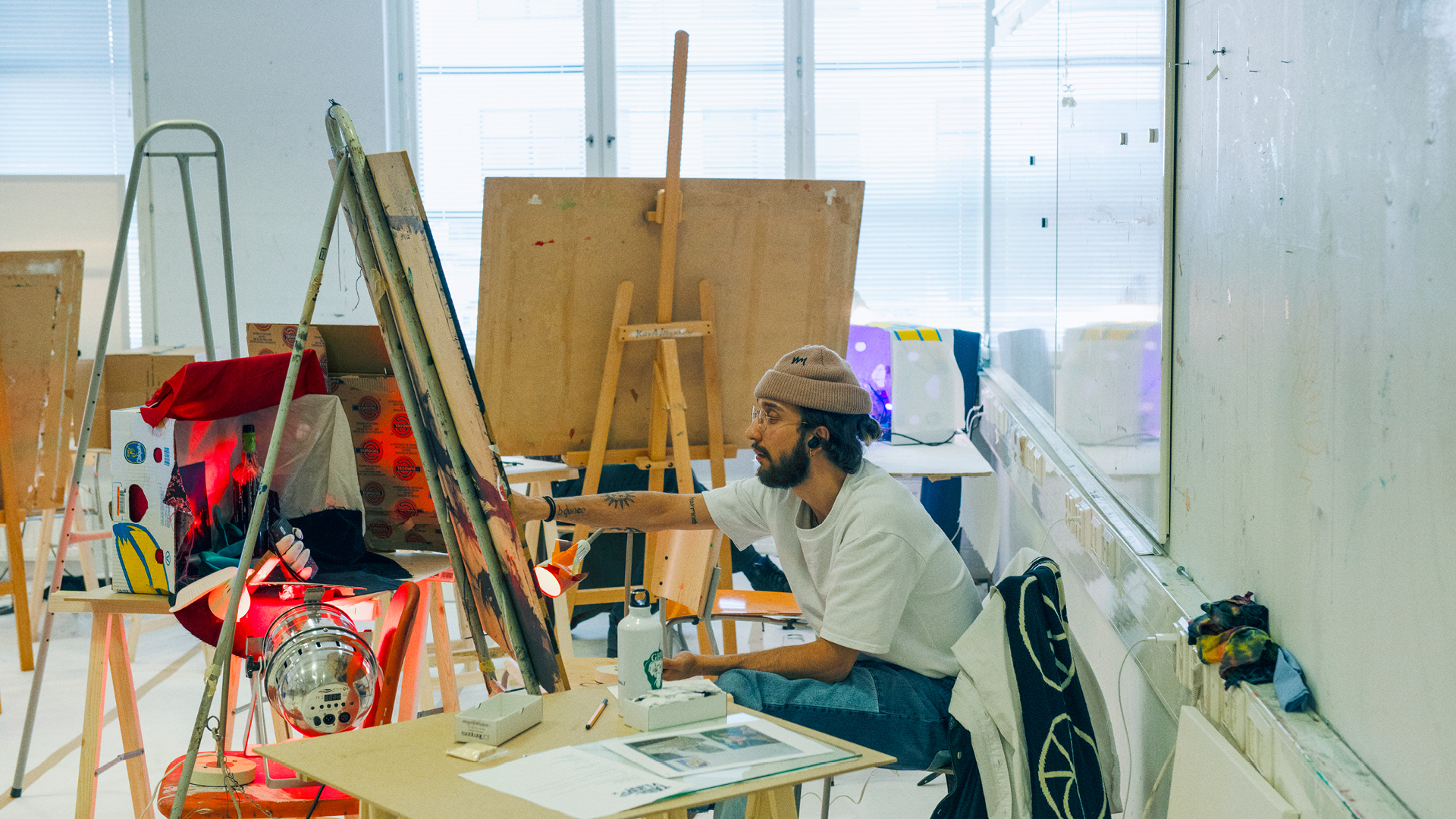 On campus
Favour public transport, cycling or walking to work and back.
If you can only commute to work by car, you can try to find out if you could share a ride to the campus with someone else at Uniarts Helsinki.
You can as much as halve the carbon footprint of your meal by selecting a non-meat option in the lunch restaurant. The most environmentally sustainable diet[1] consists especially of various seasonal and locally produced vegetables and Finnish wild fish.
To avoid food waste, order food for meetings according to the number of participants as accurately as possible, and ask the participants to give a notice of cancellations in advance so that you can inform the catering provider.
Try to reserve an appropriately sized facility for the meetings, and remember to cancel the room bookings in Peppi if the meeting is cancelled, so that someone else can use the space.
Turn off the lights when leaving the premises.
Turn off the equipment and also the standby modes in devices such as computers and monitors, when you are not using them.
Disconnect computers and phones from chargers and charging stations at the end of the day or when the battery is full.
The charger uses power even if the appliance is not connected. Unplug chargers for mobile phones and other small devices from the wall when not charging them.
Sort waste at recycling points according to the guidelines (the instructions and waste sorting points will be updated in the spring term 2022).
Think about what, why and for whom you are printing, or could you not print at all.
When organising events and meetings
Transport
Enable remote participation for performers and visitors by streaming the events and organising tools for hybrid participation: travel is the biggest emission source related to events.
Organise events in places that are easily accessible by public transport. Provide visitors with information on the use of public transport in the event location to reduce the need for taxi travel.
If you organise transport or accommodation for speakers, performers or guests, favour:
Land-based travel and sea transport instead of flights
Economy class flights instead of business class flights
Direct flights instead of flights with stopovers
Public transport instead of taxis
Hotels with an environmental certificate that can be easily accessed by public transport and by walking
Provide visitors with information on sustainable ways to travel to Helsinki. You can use, for example, HIAP's pages for sustainable travel.
Food and catering
Order the catering by following Uniarts Helsinki's environmental programme:
We serve only sustainably produced vegetarian food and responsibly caught Finnish fish in our meetings and events.
We also aim to favour products with a high-quality eco certification (Fair Trade, Rainforest Alliance).
When you order food catering, you can add the following guidelines in your order:
In accordance with our environmental programme, we favour solutions that are sustainable in terms of the environment, nature, animal rights and human health in the catering that we order. Thank you for providing catering to us within the following framework:

The basis for the food served is tasty, high-quality and nutritious vegetarian food.
Products of animal origin (incl. cow's milk products, eggs) are not used. An exception to this is Finnish fish categorised as "green" in the WWF Fish Guide.
Special diets that we inform beforehand will be taken into consideration flexibly and in dialogue with the customer
When possible, vegetables that are in season and local and organic products as well as products with eco certification (Fair Trade, Rainforest Alliance) are favoured. Information on the origin and climate and environmental impacts of the food are shared in connection with the catering.
Other guidelines concerning sustainable catering:
Ask participants about their special diets in advance and make them known in connection with the catering
To avoid food waste, order food for meetings according to the number of participants as accurately as possible and ask the participants to give a notice of cancellations in advance so that you can inform the catering provider.
Consider in advance what to do about leftovers in order to avoid food waste.
Recycling and reuse
Use either washable or biodegradable serving dishes, or serving dishes made of cardboard
Make sure that the recycling and sorting of waste is made as easy and clear as possible for the visitors and organisers
Favour reusable and storable decorations
Provide conference materials, such as programmes, electronically instead of their paper versions
Avoid giving unnecessary items (pens, pins, etc.) to conference visitors. Give also careful consideration to the distribution of fabric bags, as many people already own several of them, and fabric bags need to be used hundreds of times before their environmental damage is as low as that of a recycled plastic bag.
However, if you decide to give something, prefer quality items that can still be used after the conference (such as steel bottles or travel cups)
Use reusable name tags and make it as easy as possible for visitors to return them at the end of the conference with clear signs and multiple collection points
When travelling
At Uniarts Helsinki, sustainable travel practices mean the following:
Assess the need for the trip – are there good reasons or could the matter be handled remotely?
We will no longer fly to Oulu, cities south of Oulu in Finland or Tallinn.
We encourage staff to travel to nearby areas by land or water. Per diem allowance is paid for travel times in connection with sustainable but slower travelling for the first 24 hours.
Carbon offset of €50–€200 (depending on the distance to the destination) per one way will be added to the costs of the cost centre paying the trip when the flight is made with funding from Uniarts Helsinki starting from 1 January 2024.
Trips by land or water will be financially supported with a 100-euro travel grant per one-way ticket.