PedApproach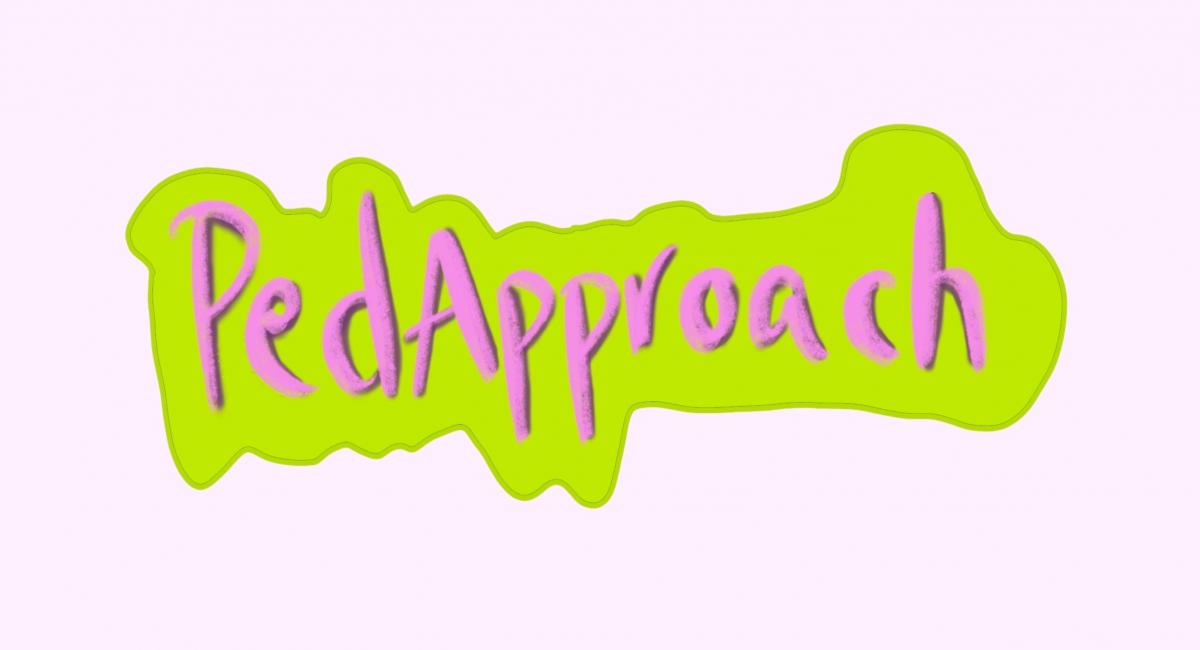 Talks, discussions and workshops – learn about the thesis processes of the master's degree students in Dance and Theatre Pedagogy.
Programme
Opening ceremony
Lounge at 9:30
Registration needed
Opening Ceremony is in Finnish
The official opening ceremony. Vichy bar, speeches and performances.
Register for the event beforehand.
Reettaleena Rauhala: Being, sensing, engaging – the body, the world, the unknown
Space 615
The work can be viewed on Wed 11.5. all day long
Reettaleena will be present on Wed 11.5. 10 a.m.-10:30 a.m. and 1:30 p.m.-2 p.m.
The language of the presentations and the materials in the space are in English
"Being, sensing, engaging – the body, the world, the unknown" is an invitation to spend time being, sensing, and engaging, in order to connect to the body, the world and the unknown. This is a practice put into words in the process of my Master's thesis research on what is it to raise artists, and how we do that. The research is based on the method of dreaming up an alternative to the current education in the art of dance. This installation invites you to pause and connect, as well as hopefully provides you time and space to dream of what could be.
Reettaleena Rauhala is a movement artist and facilitator based in Helsinki, Finland. Her dance/yoga practice and research are intertwined with poetry and moving image, recently inspired by questions of authenticity, home, dreams, and nature. The same questions prompt research in pedagogical, somatic research on the connections between the self and the body, self and others, and self and the world around us.
In the space, two installations meet and are intertwined into one. You are invited to listen, taste, watch, feel, and be, as well as consider some questions and dreams in response to them. There are some suggestions for being, sensing, and engaging placed in the space, but you may also opt for not taking them. Please make yourself comfortable in the space and feel free to use the pillows, lay on the carpet, and touch the materials available. Please be considerate of others, meeting them and yourself with care.
Wilhelmina Ojanen: Being with care: (a tapestry)
Space 615
The work can be viewed on Wed 11.5. all day long
Wilhelmiina will be present on Wed 11.5. 10 a.m.-10:30 a.m. and 1:30 p.m.-2 p.m.
The language of the presentations and the materials in the space are in English
"Being with care: (a tapestry)" is a woven hanging cloth created during the process of writing the thesis. Knitting and assembling this tapestry has been a way for me to practice care in the form of a "material doing" as well as a quietening down to listen and reflect on what arises from the process of writing. My master's thesis delves into the research question of "what does "being with care" mean in the time of ecosocial crisis and how can it be cultivated through dance pedagogy?"
This installation invites you to spend time with the theme of care, asking you:
How can you be with care? What does care mean for you?
Wilhelmina Ojanen is a Finnish-born, Chile-raised dance artist based in Helsinki. Wilhelmina's work as a choreographer and dance teacher delves into connection; studying poetically, through movement, our relations to one another and the world around us. In recent years, her work has been inspired by ecological discourse and environmental philosophies, considering notions of more-than-human worlds, care and hope.

In the space, two installations meet and intertwine. You are welcome to lay on the pillows, as well as delve into the questions, notes and books displayed in the space. Please make sure you feel comfortable in the space, in whatever way is best for you. You are free to touch the tapestry and other materials within the installation with care.
Essi Rönnkvist: Personal, private and intimate things in theatre education
Studio 3
Wed 11.5. at 10:30
The event is in Finnish
Theatre is much about working with yourself and this leads to the question of how these elements of personal, private and intimate have an effect on teaching theatre. Essi Rönnkvist concentrated on her thesis on these questions and is now giving a speech on her findings.
Helena Leminen: THE FLOP! A playful workshop around mistakes and failure
Studio 3
Wed 11.5. at 12
Registration needed
Workshop is in Finnish and in English
Duration: 60 min
THE FLOP! Is a playful clown workshop during which we pay attention to the exciting and terrifying moments of failing and making mistakes. The workshop is linked to Helena Leminen´s master thesis "Stupidus flops –a failure as a trampoline for a clown". To participate you don´t need any previous knowledge about clowning. However, a playful spirit is a wonderful asset!
During the workshop, we play games and do movement-based exercises. So, please wear comfortable clothes. At the end of the workshop, there is a possibility for a short conversation around the topic. Depending on the preferred languages of the participants, the workshop can be conducted both in Finnish and in English.
Helena Leminen is a clown, theatremaker and pedagogue. She is interested in shapeshifting and has a seriously playful and playfully serious attitude towards life. Leminen works with various communities and in different venues as a clown performer, theatre-maker and pedagogue. She has been exploring the crazy wisdom of the red nose clowns and other fools for the past 12 years. It has been a deeply touching and hilarious dive into a bottomless clowniverse. Intelligence is limited, stupidity is infinite!
Register for the event beforehand.
Jani Hämäläinen: I AM ENOUGH – my research proposal on teaching acting at the folk high school level
Studio 3
Wed 11.5. at 14
Event is in Finnish
Duration: 60 min
Hämäläinen talks about the premises of his thesis, the course he taught during his teaching practise 2 and the writing process of his thesis at the moment. In the center of the discussion event are the experiences of both studying acting at the folk high school level as well as the experiences of teaching acting at the same kind of schools that Hämäläinen has had during both of his teaching practices.
In the discussion event the audience members have an opportunity to ask questions.
Rämeikkö-kollektiivi: contraption a.k.a. hökötys
Studio 3
Wed 11.5. at 15:30
The event is in Finnish
Duration: 90 min
"A device or machine that looks awkward or old-fashioned, especially one that you do not know how to use."
– Cambridge dictionary
"A machine or device that appears strange or unnecessarily complicated, and often badly made or unsafe."
– Oxford Languages
contraption is an installation – an artificial and referential artistic construction – that includes elements of four artistic processes that took place at the old Lapinlahti psychiatric hospital area in spring 2022.
The studio is contrapted by Rämeikkö-collective
Visitors can come and go as they like.

Matti Timonen:"B E S T I A – eläin minussa" – kontrolloidusta kontrolloimattomaan liikkeeseen – työpaja
Studio 3
Wed 11.5. at 17
Registration needed
The workshop is in Finnish.
Duration: 45 min
This workshop is from controlled to uncontrolled movement. How can the movement be controlled and uncontrolled at the same time, is that possible? How does it feel, show and how does it affect to the whole body or some body part? What animal do you find in yourself and how do you express it? The workshop consists of my thesis "B E S T I A – animal in me" artistic part improvisation exercises.
Matti Timonen – Dance teacher, choreographer, worked in dance schools around Finland. He is interested in physicality, sound and movement and also combining those themes.
Instructions for participants: The workshop fits everyone. Does not need any previous experience of dance or improvisation.
Register for the event beforehand.
Maikki Uotila-Kraatz: Traces of Starfish – Enchanting Bird
Lounge
The exhibition is open throughout the event
A short presentation on Thu 12.5. at 9:30-10
"Traces of Starfish – Enchanting Bird" is a visual art exhibit compiled of art by the children of Vironniemi daycare centre. The works were inspired by dance classes taught by dance pedagogy master's student Maikki Uotila- Kraatz.
In the exhibit, children's embodied experiences, memories and traces of dancing interlace on paper with Uotila-Kraatz's master's thesis in which she attempts to trace a holistic and sustainable approach to children's dance education through the concepts of ecosomatics, trans-corporeality and intra-active pedagogy.
Maikki Uotila-Kraatz is a Finnish Canadian dancer, artist, and pedagogue. In her artistic pedagogical practice, she is interested in somatic and ecosomatic approaches to dance and dance education. She is touched by listening and respecting our embodied experiences and acknowledging our bodies as networks of connectivity and relationships. Uotila-Kraatz works as a dance teacher in various contexts and especially enjoys dancing with children and youth. This exhibit is open throughout the PedApproach event. You are welcome to experience it at any time during the event.
Moona Nevalainen: "Häive" – jaetun tekijyyden muovaama tanssielokuvaprosessi
Studio 3
Thu 12.5. at 10
The event is in Finnish
Duration: 45 min
Dance film "Häive" was created as a collective creation with young dancers from Sibelius-lukio (upper secondary school). Project gave the possibility for each participant to take part in the creative process and to give their input to the final work. The film invites the audience to see where the dreams, inspirations, and visions of this group lead to. This presentation will begin with screening of "Häive".
The screening is followed by panel discussion about the process. The discussion is in Finnish.
Moona Nevalainen is a dance teacher and a choreographer. She has worked with youth, both in private dance schools and as a leader of dance department in Vaskivuori upper secondary school.
Loviisa Grubert: If you find Loviisa, she will tell you a secret
Thur 12.5. at 10.45
Registration needed
Starting point Lounge
The event is in Finnish
Duration: max. 30 min
"If you find Loviisa, she will tell you a secret" is a participatory performance, in which Loviisa has got lost along with her thesis secrets. The participants are invited to a scavenger hunt to find Loviisa. The performance is a playful experiement and a continuation to the written thesis "Eräs kykloopinosa huudahti "makkaraksi!" – pohdintoja leikin ja teatterin välisestä suhteesta" (A piece of cyclops shouted "into sausage!" – thoughts on the realation on playing and theatre). The performance emphasizes the inseparable nature of making theatre and playing. The performance is a functional invitation to play and tries through practice make something visible from play which would be hard to do through only words. In this experiement the participants will recieve hints form Loviisa of her hiding place and by solving tasks get closer and closer to find her. What are the secrets then? It will be revealed only to those, who find her. As a part of the performance there will be a brader written introduction to the thesis itself.
Loviisa is an adult who plays, and a theater maker, theacher and a director who works on the amateur field of theatre in Finland. The most important thing to Loviisa is working together as a group, the joy and delight of theatre and practice of playing as a starting point to all theatre.
Practical directions: The performance will start from the Lounge in front of Studio 3 with directions how to participate and dividing the participants into groups. Participants are asked to move around Teatterikorkeakoulu, Kuva and the outdoor space close to the schools. Remember to only participate if you truly want to: you can´t force anyone to play without breaking it.
Register for the event beforehand.
Anna Taiponen: SLOWNESS, TIME AND EQUALITY AS ENABLERS OF ENCOUNTERING IN ART
Studio 3
Thu 12.5. at 11:30
Conversation is in Finnish
Anna Taiponen will talk about her master thesis. On that she has been focusing on encountering in teaching art and making artistic processes. Main themes in the thesis are empathy, embodiment and the relationship between body and feelings. How does these things affect us human beings while we are making art and teaching it? After the short presentation will be held conversation between art teachers, who in their conversation focus on the themes in the thesis.
Anna Taiponen as the facilitator, people encountering:
Professor of dance pedagogy Eeva Anttila
Anni Pellikka, TeM
Rosa-Maria Perä, TeM
Anna Taiponen is soon to be theatre pedagogue. During her 15-year-old career she has been working in many different places teaching theatre, directing and dramatising.
Core of Annas' work is encountering. During her studies in theatre pedagogy, she has been focusing on researching the meaning of encountering in artwork and teaching of art from different perspectives.
Satu Uimi: Reflections on the dimensions of trust in Art pedagogy
Studio 3
Thu 12.5. at 13:30
The event is in Finnish
Satu Uimi is a Finnish dance teacher, currently mostly focused on ballet and show dance.
As an artistic part of her thesis, she did the miniature ballet choreography Water II – Water in the Air. In the written part of the work, she focused on exploring her observations on the trust in the practice process of a work.
The presentation takes place 12.5. at 1:30 pm in Studio 3. It consists of a video recording of the Water II and a panel discussion. In the panel discussion, Uimi and dancers discuss about their experiences of the process. The language of the presentation is Finnish.
Vilma Salmi: Finding Art
Studio 3
Thu 12.5. at 15
The workshop is in Finnish
Duration: 45 min
Finding Art is a small-scale workshop, which is centered upon seeking poems, art instalments and other artworks from the spaces of Helsinki's Theater Academy and Academy of Fine Arts. The workshop is highly imaginative and aims to show everyday mundane things in a new light. The workshop's foundation is a master's thesis by Vilma Salmi.
The workshop begins in Studio3 with the introduction to the main themes of the thesis. The participants will then be given small tasks in the surrounding area. After the exercise, the group will gather for discussion and feedback.
Vilma Salmi is a graduating drama teacher (MA), who's interested in social interaction and getting inspired within the realms of theater. She has extensive work experience with directing and teaching diverse theater groups ranging of all ages. Her main interest in the pedagogical processes stems from creating a performance with the students, from a rough idea to a finished production
Panu Poutanen: To perform vulnerably
This discussion is based on the graduation thesis of theatre pegagogue student Panu Poutanen. He has studied the phenomenom of perfomance in acting. What is perfoming, what could be the reason for it and how could acting teacher relate to it.

As panelists we have Ville Sandqvist, Ullariikka Koskela, Jani Hämäläinen and Panu Poutanen

Panu Poutanen is 35-year-old actor and acting teacher, who works in Kouvola theatre and has mostly taught young and professional career aiming students since 2010. Apart from acting, teaching has been a dear but somewhat rare profession for him. In theatre Poutanen has done almost 50 productions as an actor and in front of the camera over a dozen of productions. Lenght approximately 45 minutes. The event is in finnish. Audience members will have chance to ask their questions and participate in the discussion.
Maiju Tarpila: Radio Ash
Lounge
Duration: approx. 20 minutes,
Listenable throughout the event
Take your own headphones and a smart device
Radio Ash is a glimpse of a radio show from 2060's from makers that do not yet exist, to listeners who may never be.

Echoes, crackling, composting instructions and resistance movements from the years to come.
The sound art piece has been created as part of the live-action roleplay (larp) series Kaski, where a group of twenty participants have been studying aspects eco-crisis for several years using larp. In her thesis that overlaps with Kaski, Maiju Tarpila examines the bodily imagination made possible by larp, the intertwining of fiction and truth, and the art-pedagogical practice of larp.

Tarpila is an artist-pedagogue, silly and severe, who works interdisciplinary and participant-centeredly with larp, theater and art-pedagogical practices of sustainable life. Tarpila works communally, from a deep ecology perspective and against unsolvable horizons.

Practical instructions for participants: To listen, you need your own headphones and a smart device. The spoken text in the piece is mostly in Finnish, but the piece does not solely rely on spoken language.

A link to the sound piece can be found in the lounge in front of Studio 3.
Riikka Karjalainen: Katsele rauhassa -zine
Lounge
Readable througout the event
Katsele rauhassa -zine* is a small magazine which consists of poems and drawings by Riikka Karjalainen. They have written the poems while looking at, for example, a wall and later drawn a picture based on what was written whilst looking.
The poems in the zine will be in Finnish but you can find an English translation of the writing exercise in the zine.
*Zines are small magazines, usually done in DIY-spirit. The topics vary from found shopping lists to poetry, hobbies etc…
Riikka Karjalainen is a lighting designer and soon-to-be theatre pedagogue. They work with theatre, dance and community art as a freelancer. They cherish equal and compassionate working practices.
Emmi Tanskanen: Syrjään paneutumien
Lounge
More information in Finnish webpage