Geopolitics and art in the Nordic-Baltic region
Focus seminar organised by the Nordic-Baltic Transdisciplinary Research-Creation Network.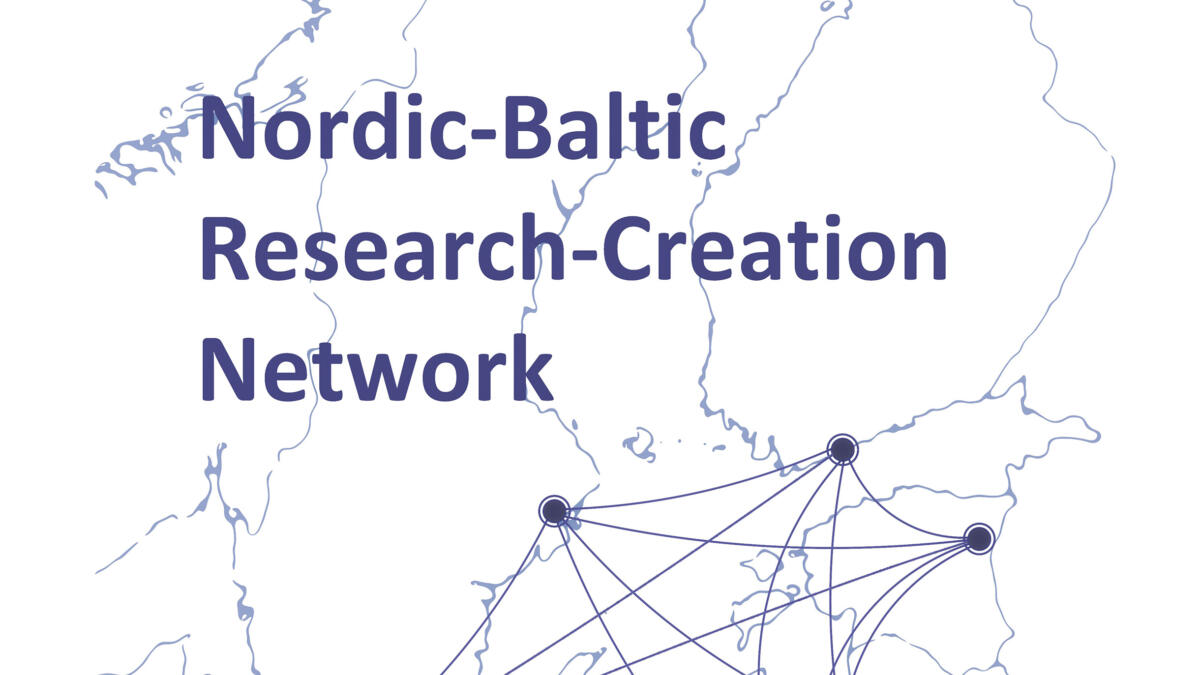 The Nordic-Baltic Transdisciplinary Research-Creation Network is an association of artists and researchers who foster cooperation between arts and academia in the Nordic-Baltic region by implementing a research-creation cluster, and disseminating its practices through a series of events, workshops, and publications. Regional cooperation and bridging arts and academia are the main modes of action.
The network is organising a seminar afternoon on 5.6.2023 within the Uniarts Helsinki Research Pavilion.
The seminar day focuses on geopolitics and art within the Nordic-Baltic context. With the war in raging Ukraine, it is urgent to re-examine artistic practices and cultural entities in the Nordic-Baltic region, directly affected by the conflict and the geopolitical shifts and divides it entails. The seminar afternoon sets out to map and discuss how the arts and art-related research are affected by the repercussions of the war, examining research processes, collaborations, divides, and future perspectives.
Programme
Three presentations each offering an original perspective to the thematic of Nordic-Baltic geopolitics and art:
Oleksandra Nenko, Dr.Sc., collegium member Turku Institute for Advanced Studies University of Turku, visiting researcher at Uniarts Helsinki.
Jaakko Ruuska, artist and researcher in the field of artistic research. His artistic practice is based on documentary filmmaking, media art and live art, with a line of work on (trans)frontier issues in Eastern Finland: Stitching Tracks as the Practice of Fleeing
Vytautas Michelkevicius, professor at Vilnius Academy of Arts, curator, art and media critic and researcher, writer and lecturer: Trans-epistemic Communities of Artistic Research in the Global North-East
A discussion follows the presentations, mediated by Otso Lähdeoja, with the aim to unfold themes that could feed the future activities of the Nordic-Baltic Research-Creation Network.
For the end of the seminar day, Sara Bédard-Goulet and Otso Lähdeoja will present the network, its current news and perspectives, as well as open the space for discussing the network's future actions.
The seminar will be immediately followed by the opening of the Research Pavilion, just next door!
How to get there
The address is Nordic Culture Point, Suomenlinna B 28.
To get to Suomenlinna, take a ferry from Helsinki market square "Kauppatori", circa 15min ferry ride. On the island, there is a 15min walk from the ferry to Nordic Culture Point and HIAP, which are in the same building.
The Nordic-Baltic Transdisciplinary Research-Creation Network is generously supported by the Nordisk Kulturfond.
Monday 5.6.2023
The event is part of Uniarts Helsinki's Research Pavilion. The event lasts from 12.30 to 15.00 at Nordic Culture Point, Suomenlinna Island, Helsinki. Open to all with free admission.