"Gender and musicianship" study days
The highly popular seminar days on gender and musicianship will continue – this time, in English and online in Zoom.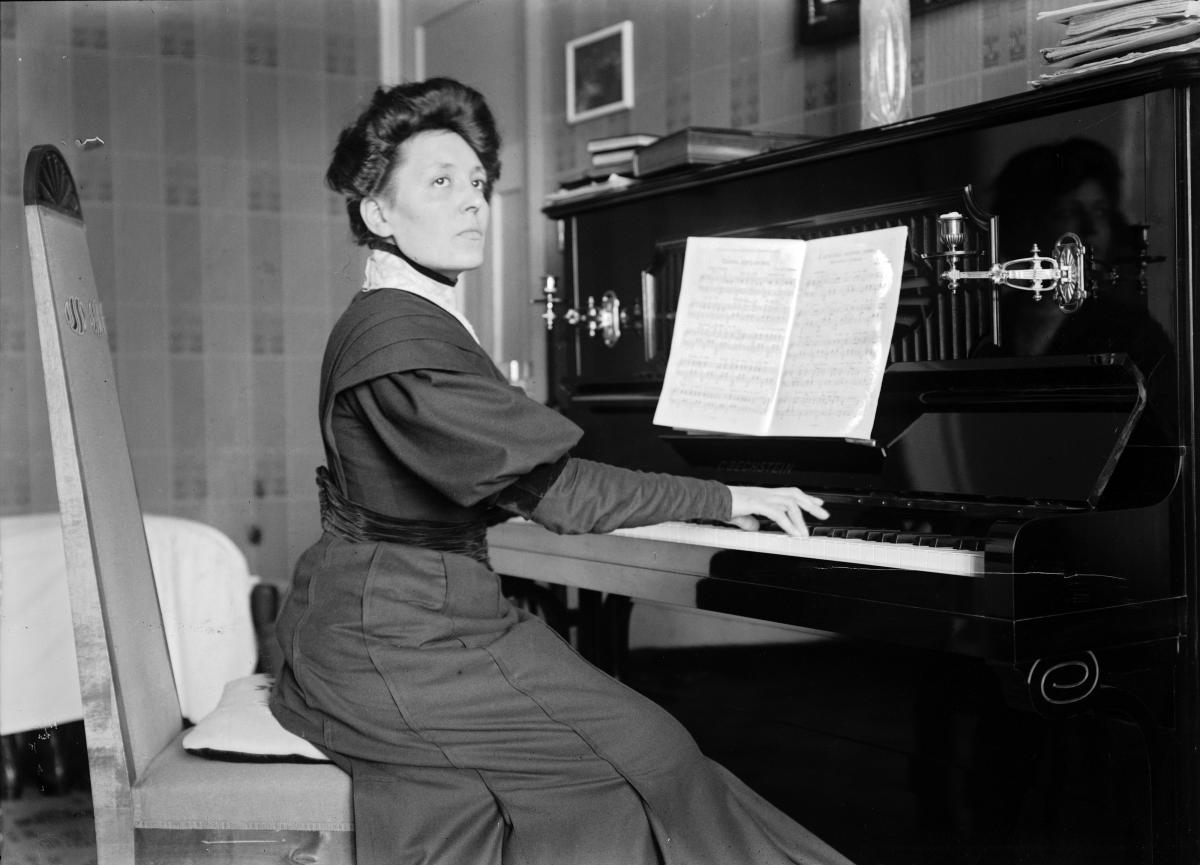 The highly popular seminar days on gender and musicianship, organised by University of the Arts Helsinki History Forum, doctoral schools DocMus, MuTri, and research association Suoni will continue again – this time, in English and online.

During the seminar days, we hope to discuss issues regarding gender and music-making, music production, and music research from a wide variety of perspectives. Dr Anna Bull (University of York) has kindly agreed to give a keynote lecture at the event.
Registration
This conference is open for everyone interested, and admission is free of charge. The deadline for registrations is January 16, 2022, 23:59 (GMT+2, Finnish winter time) The places will be filled in the order of registration.

Links to the assigned Zoom sessions will be shared with the registrated participants later.
Programme on Monday, January 24
10–10.25 Opening words by Emilie Gardberg (Sibelius Academy, dean)
10.25–12 Session 1: Redefining musicianship
Chair: Päivi Järviö
10.25–10.55 Saloranta, Elina: "The matter itself is between us alone and innocent"
10.55–11 Technical break
11–11.30 Chorell, Hanna: Mattering meanings – meanings matter. What is a soprano Winterreise?
11.30–12 Kleemola-Välimäki, Piia: Female Fiddlers in Southern Ostrobothnia
12–13 Lunch break
13–15.10 Session 2: Feminist methods and practices I: instrumentalists
Chair: Anu Vehviläinen
13–13.30 Iso-Oja, Essi: The Soul in the Breast of Love sighs – Works for Harp by Women Composers in the late eighteenth century Paris
13.30–13.35 Technical break
13.35–14.05 Ristilä, Jenna: Sex in Sonata Form – A Feminist Reading of Laura Netzel's Piano Sonata
14.05–14.35 See, Ning Hui: Concert Programming Strategies: Clara Wieck-Schumann's Piano Sonata in G minor (1841–42)
14.35–14.40 Technical break
14.40–15.10 Kivinen, Marika: Anti-Blackness and Resistance Through Performance
15.10–16 Break
16–18 Parallel sessions 3A & 3B
Session 3A: Instrumentalists and musical professions
Chair: Susanna Välimäki
16–16.30 Kuusi, Tuire: Gender differences in work of church musicians
16.30–17 Jovicevic, Jasna: Double Standards for Female Jazz Instrumentalists – Southeastern European Research
17–17.30 Wolloshin, Maureen: Late twentieth century British jazz: why the women didn't play
17.30–18 Guénault, Eleanor: Gender ratios in UK brass playing
Session 3B: Career trajectories in nineteenth- and twentieth-century music history
Chair: Saijaleena Rantanen
16–16.30 Piirainen, Anne & Zelnick, Stephanie: Obstacles and Open Doors: Female Clarinet Pioneers in the mid 20th Century. A brief comparison between opportunities and impediments to women on the instrument around the world.
16.30-17 Gouzi, Apolline & Macé, Arthur: "Not alms but fees": creating a labour market for women musicians in interwar France
17–17.30 Knibbs, Chloe: Ruins, Erosion and Sonic disintegration: Exploring the narratives of Grandval, Jaëll and Holmès
Programme on Tuesday, January 25
10–10.30 Session 4: Canons and repertoire: critical perspectives I
Chair: Tuire Kuusi
10–10.30 Santos Melgarejo, Adriana, Lluberas, Patricia Mendos & Aceves, Gabriela Sepúlveda: Fabricación, Aserradero and Fundición: Reactivating the compositions of Carmen Barradas (1888–1963)
10.30–11 Coffee break
11–12 Keynote lecture
Chair: Anne Kauppala
Anna Bull: Is classical music education a 'conducive context' for sexual harassment and misconduct?
12–13 Lunch break
13–14.30 Parallel sessions 5A & 5B
Session 5A: Gendered discrimination and patriarchal power structures
Chair: Anna Bull
13–13.30 Masterson, Alice: Femininity, Power, and the Framing of Amy Winehouse's Career
13.30–14 Ramstedt, Anna: "You Are Just So Used To Tolerate Anything" – Gendered and Sexual Misconduct, and Abuse of Power in the Classical Music Scene in Finland
14–14.30 Kvist, Wilhelm: Remoulding the Musical Museum: The Call for Social Justice and The Helsinki Philharmonic's Response to Demands for Gender Equality
Session 5B: Gendered practices in music education
Chair: Marja-Leena Juntunen
13–13.30 Bougard, Fauve: Gender, Hierarchy and Power in 19th-Century Music Education: The Conservatories of Brussels and Paris
13.30–14 Treacy, Danielle & Westerlund, Heidi: Gender exclusion and multicultural discourse: Activism through public pedagogy in Nepali music education
14–14.30 Partti, Heidi: Composing canons? Examining the professional habitus and mechanisms of exclusion in composition pedagogy
14.30–15 Coffee break
15–16.30 Parallel sessions 6A & 6B
Session 6A: Canons and repertoire: critical perspectives II
Chair: Liisamaija Hautsalo
15–15.30 Välimäki, Susanna: Composer Betzy Holmberg Deis (1860–1900): Feminist historical and biographical study
15.30–16 Smith, Wendy: Revealing the hidden history and legacy of pioneering electronic composer Janet Beat (b. 1937)
Sessio 6B: Feminist methods and practices II: contemporary perspectives
Chair: Heidi Partti
15–15.30 Jankowska, Linda & Young, Katherine: Co-composition in boundarymind as a feminist methodology
15.30–16 Bosnić, Maja: The importance of a quest for Hélène Cixous' Écriture feminine (women's writing) in contemporary music today
16–16.30 Cusack, Joanne: A Woman's Heart: Feminism, Women, and A Communal Voice
16.30–17.00 Final discussion
Keynote lecture by Anna Bull
Anna Bull: Is classical music education a 'conducive context' for sexual harassment and misconduct?
In this talk I will ask whether and how classical music education constitutes a 'conducive context' for sexual harassment and misconduct. Liz Kelly has theorised a conducive context as a site where 'institutionalised power and authority […] creates a sense of entitlement, to which there [is], limited external challenge'. She further argues that in 'conducive contexts', 'institutionalised gendered power relations can also be identified […] where men's status and authority, rather than inducing an ethic of care, can be used by abusive men to intimidate and silence'. Drawing on my own and others' research into classical music's institutions, cultures and education settings, I will explore the ways in which the 'conducive context' manifests in classical music education and outline challenges and ways forward for institutions in addressing this issue.
Dr Anna Bull is a Lecturer in Education and Social Justice at the University of York, and a founder and director of The 1752 Group, a research and campaign organisation addressing staff sexual misconduct in higher education. She is currently Principle Investigator on the ESRC-funded research project 'Examining Institutional Responses to Sexual Misconduct: Higher Education After #MeToo'. Her research interests include class and gender inequalities in classical music education; and staff sexual misconduct in higher education. Her monograph Class, Control, and Classical Music was published in 2019 with Oxford University Press and in 2020 was joint winner of the British Sociological Association Philip Abrams Award.
Call for papers
We welcome proposals for both traditional conference papers and short lecture-concerts (20-minute presentation + 10-minute discussion). There is a grand piano at the Chamber Music Hall, and it is possible to arrange for instrument loans through the Sibelius Academy, if need be. The presentations may focus on research projects and/or artistic practice, and they may discuss problems of gender and (in)equality from a historical perspective, or focus on the music industry today or in the future. Crucial themes include, but are not limited to:
Histori(ographi)es of gender, music-making, and composing
Gender, power hierarchies, and institutions in music industry today and in the past
Music industry, publicity, and gender
Feminist music research
Canons in music pedagogy, performance, and research
Proposals (max. 300 words) can be sent online until October 25, 2021. We will inform all applicants on the committee's decisions by November 10, 2021.
Organising committee
Prof. Anne Kauppala, University of the Arts History Forum
DMus Päivi Järviö, DocMus,Doctoral School, Sibelius Academy, University of the Arts Helsinki
DMus Anu Vehviläinen, DocMus Doctoral School, Sibelius Academy, University of the Arts Helsinki
DMus Saijaleena Rantanen, MuTri Doctoral School,Sibelius Academy, University of the Arts Helsinki
Nuppu Koivisto-Kaasik, PhD, postdoctoral researcher, University of the Arts History Forum
Johanna Rauhaniemi, Coordinator, University of the Arts History Forum

Practical information
The programme is marked in Finnish time (GMT+2).
We have two different Zoom links for each day (Zoom links A and B). The links will be sent to the e-mail address provided in the registration form after the registration deadline (January 16) as well as on both conference days.

For data security reasons, we ask you not to share the links with anyone. For the same reason, we have enabled a "waiting room" function in all our Zoom links and ask you to ensure that your full name is visible in your Zoom profile (you can adjust your profile settings by logging in at https://zoom.us/).
We recommend that you install the Zoom app in your device well in advance before the event. In theory, it is possible to use Zoom without registering and in browser mode, but the best way to ensure all necessary features work is to install the app. It is also a good idea to make sure that you have installed the latest Zoom updates beforehand (typically, the program automatically asks to install them once you open the app).
Each Finnish university should have a Zoom license that affiliated researchers can use to register and download the program. We recommend that you always use Zoom with the login details offered by your university: for more information, please contact the IT services of your university. For Uniarts students and staff, instructions for installing Zoom are available in Artsi.
Zoom etiquette: basics
When joining a meeting, please mute your microphone (by clicking the microphone icon on the lower left-hand corner in the Zoom window). We kindly ask you to keep your microphone muted whenever someone else has the floor.

Each session has an assigned chairperson responsible for moderating discussions and keeping to schedule, so that the presenters can focus on their presentations. In addition, each session has a separate Zoom host, who will help presenters, chairs, and attendees with technical issues, such as screen sharing and connection problems
If you wish to ask a question or present a comment, you can ask for the floor by using the chat function. Via the chat function, you can send messages both privately to individual participants and to the whole seminar group.
The private chat function is especially useful for sharing contact information and networking during coffee breaks. For this reason, the Zoom links will remain open during coffee and lunch breaks.
Typical problems and troubleshooting
Breaking / weak internet connection: if you are using wifi, try to plug your device straight into your internet router. Turning off your webcam (from the lower-left corner of the Zoom window) may also help with connection problems.
If Zoom is asking for an additional login when joining a meeting: click the "Login with SSOI" button (on the right) and you can log in by using the password and identifier offered by your university.
In case of technical issues, it is usually a good idea to re-start Zoom and/or your computer and check for any potential updates that need to be installed.
If you are using your university / company / other work login details for your Zoom account, we recommend contacting their IT support in case of any problems.
Support
If you have technical problems, the event coordinators (nuppu.koivisto@uniarts.fi & johanna.rauhaniemi@uniarts.fi) can be reached via e-mail and Zoom chat at all times and will do their best to help in tricky situations.
Safer space guidelines
We encourage academic discussion, but ask everyone to keep their comments constructive and respectful, thus contributing to a positive, encouraging, and safer atmosphere. Please find below a few ground rules to be mindful of:
Uniarts Helsinki is committed to promoting equity, equality, and anti-racism. Please bear this in mind when asking questions and giving comments. Harassment, misogyny, sexism, racism, ableism, homo- and transphobia, body shaming, ageism, or other forms of discrimination are not acceptable, and we will do our best to point out and react to harmful behaviour.
Respect everyone's physical and emotional boundaries, privacy, and pronouns. Do not make assumptions of anyone's gender, sexual orientation, nationality, religion, socioeconomic background, or any other personal matters.
It is important that we all remember and critically reflect upon our own privileges and take this into account when participating in the discussions. This means listening to others and respecting everyone's research topics and experiences. We also encourage everyone to be aware of the space we are used to taking in social situations, especially in terms of giving space to other voices than our own.
Recognise the boundaries of your knowledge, especially in areas that are not your expertise or which you do not have experience of, particularly in case of sensitive topics.
We are all constantly learning to become better and more empathic human beings, and we all sometimes make mistakes. If you are given critical feedback for problematic behaviour or harmful comments, we kindly ask you to take a moment to reflect upon the feedback and what you could learn from it. Please note that the session chairs and the Zoom hosts will remove you from the Zoom session, if you repeatedly act in a harmful way and/or do not take this feedback seriously.
We organisers value highly your feedback on how we could do better in the future – please do not hesitate to contact us with your comments and questions.
If you encounter problematic behaviour (e.g., in private chat messages), you can contact the committee at nuppu.koivisto@uniarts.fi, +358504779213 (phone) or in the Zoom chat, either during or after the conference. You can also send a private message in the Zoom chat to the host and/or the session chair.
These guidelines have been modelled after safer space policies created by the Feminist Culture House, The Museum of Impossible Forms, the UN association of Finland, and the Academy of Fine Arts' students among others.
Contact
Nuppu Koivisto-Kaasik
PhD, postdoctoral researcher
University of the Arts History Forum, Helsinki
nuppu.koivisto@uniarts.fi
Tel. +358504779213
Johanna Rauhaniemi
Coordinator
University of the Arts History Forum, Helsinki
johanna.rauhaniemi@uniarts.fi
The event is organised by University of the Arts Helsinki History Forum, Sibelius Academy`s DocMus Doctoral School of Classical Music and MuTri Doctoral School of Music Education, Jazz and Folk Music and research association Suoni.
At the University of the Arts Helsinki's events, you will find our students' performances, concerts, exhibitions and other events throughout the year.