Career networking event: Boost your future
The aim of the event is to boost career competencies and employability of international students and aspirants who want to work professionally in the creative industry.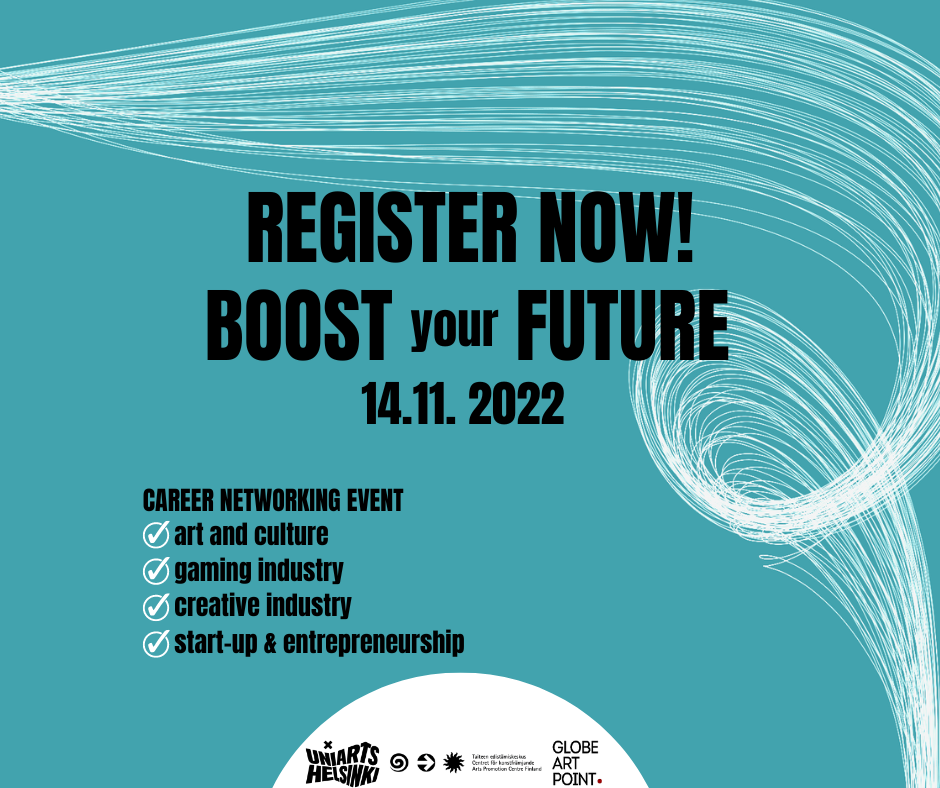 Uniarts Helsinki's TalentBoost project together with Globe Art Point and the Arts Promotion Centre Finland (Taike) are organising a career networking event in Taike's premises.
The event brings together jobseekers, employer exhibitors and leading institutions from the art and culture industry and in a relaxed environment enables them to get to know each other and exchange contacts. The programme will also include workshops and networking opportunities for all participants, free of change. The language of the event is English.
The event targets Uniarts Helsinki's students, foreign-born artists and foreign-born culture professionals, however, it is open to all job seekers interested in working in the creative industry.
During the event, the participating exhibitors will be showcasing their programmes, open positions and open calls to the event attendees. Therefore, do bring your resumes, portfolios or business cards for sharing and networking purposes.
Visitors attending the career networking event are also encouraged to talk to the exhibiting unions and associations. You can also inquire about their memberships and services. In addition, some of the participating unions and associations will be providing career counselling on a location. Bring your burning questions along!
What to expect
Low threshold networking opportunities
Unique platform for art and culture professionals to showcase their skills and abilities
Space to privately chat with exhibitors and inquire about their recruitment processes and open positions
Expert employment counselling
Improve job search skills
Learn how to create a Finnish style resume and cover letter for creative industries
Acquire skills in professional networking
Talk to professionals about salary recommendations, employment contract negotiations & checklists
Meet the biggest Finnish trade unions of art and culture
Up to date confirmed exhibitors
Associations and unions
Institutions
Companies and start-ups
Programmes