Uniarts Helsinki's Alumni of the Year 2020 are Nora Tapper, Alpo Aaltokoski and Kimmo Pohjonen
Every year, Uniarts Helsinki selects three Alumni of the Year, one from each academy. The title is awarded to alumni who have highlighted the unique value and role of art and artist education through their work in an exemplary manner. In the selection of the Alumni of the Year 2020, the theme was changemakers with a broad impact.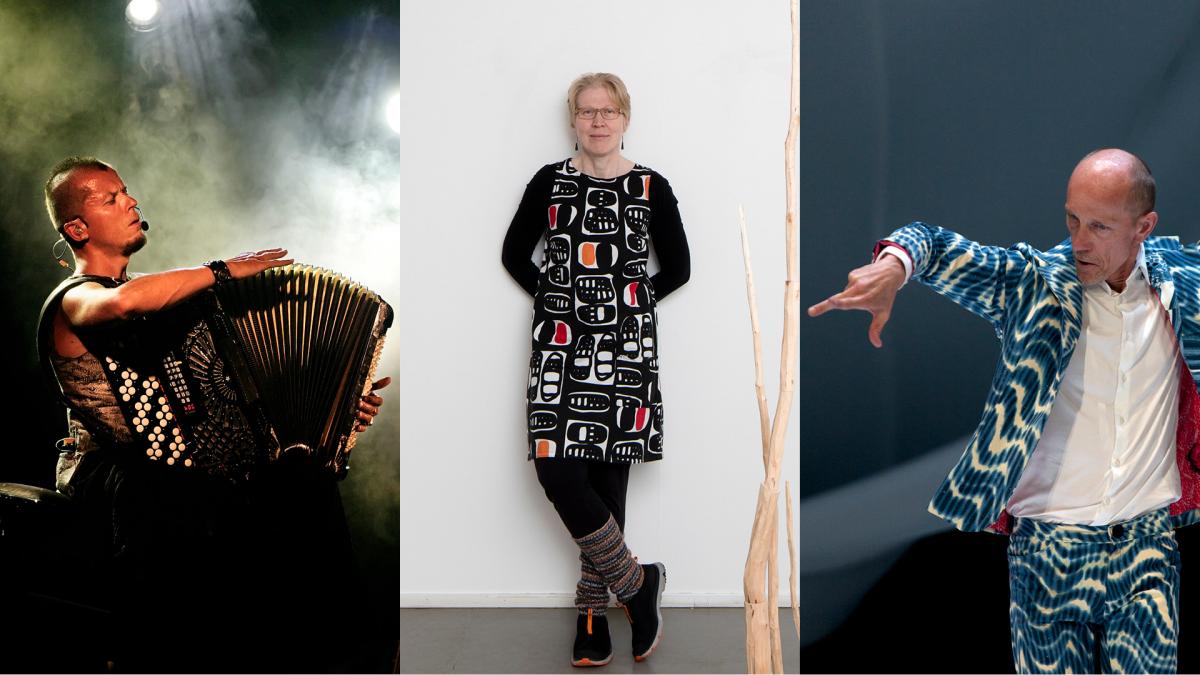 By selecting Alumni of the Year, Uniarts Helsinki aims to raise people's awareness of its alumni cooperation and the role of Uniarts Helsinki graduates in society and in the arts sector. The alumni are living examples of the Finnish arts education and Uniarts Helsinki's impact on society. The education that the university provides emphasises the bold renewal of the arts as well as the passing of artistic traditions onto next generations.
One of the selection criteria is an annually changing theme, which is inspired by Uniarts Helsinki's strategic focus areas and connects the selection to the public debate going on in society. This year, the selected Alumni of the Year are broadminded artists and changemakers.
"These three Alumni of the Year make the transformative power and potential of art visible in society. The future will truly challenge us, and it's quite interesting to reflect on how the role of an artist might evolve in society. A broad-ranging impact and an ability to change are now more necessary than ever before," says Uniarts Helsinki's Rector Jari Perkiömäki.
The Alumni of the Year were announced in the opening of Uniarts Helsinki's academic year on 3 September 2020. Each academy gave their own suggestions on alumni that represented their respective fields of arts, and the final selection was made by Rector Jari Perkiömäki.
Uniarts Helsinki's Alumni of the Year 2020
Alpo Aaltokoski is a choreographer, dance artist and pedagogue with an ability to renew himself. He is the artistic director of the Full Moon Dance Festival in Pyhäjärvi and Alpo Aaltokoski Company. Aaltokoski's dance productions often comment on themes such as solidarity and equality, for example. He graduated with a Master of Arts (Dance) degree in 1991 at the Theatre Academy, where he has also worked as a professor and teacher of choreography. During his artist professor grant, he set the Tanssin talo (Dance House Helsinki) building project in motion. He was awarded the Pro Finlandia Medal in 2013.​ Aaltokoski has been an active contributor in various dance-related organisations and positions of trust.
Kimmo Pohjonen is an accordion artist and composer with chameleon-like versatility despite his own recognisable style. He performs frequently on international stages, and he has conquered world music, jazz, electronic music and classical music festivals and rock clubs around the world. Pohjonen's way of playing the accordion is unique and transcends genres. The musical and aesthetic style of the way he expresses himself has evolved through dance. Pohjonen graduated with a Master of Music degree in the Faculty of Folk Music in 2003. He visits the Sibelius Academy as a teacher from time to time.
Nora Tapper is a sculptor, whose main materials include wood and ceramics. Space, three-dimensionality and light are important elements to her. She builds her own works of art, and working with her hands is a central part of her process. Tapper's sculptures are often large spatial works, carved human figures built from blocks of wood, or still lifes and landscapes assembled from wood and ceramics. Tapper graduated with a Master of Fine Arts degree at the Academy of Fine Arts in 1998. She has held numerous solo exhibitions and participated in group exhibitions in Finland and abroad. She has also completed commissions for public works.