Uniarts Helsinki receives a record number of applicants – a third of the admitted students are international
Uniarts Helsinki's entrance examinations were arranged mostly virtually, and the COVID-19 pandemic did not slow the pace of the university's internationalisation endeavours. A record-high number of this spring's applicants and admitted students have an international background.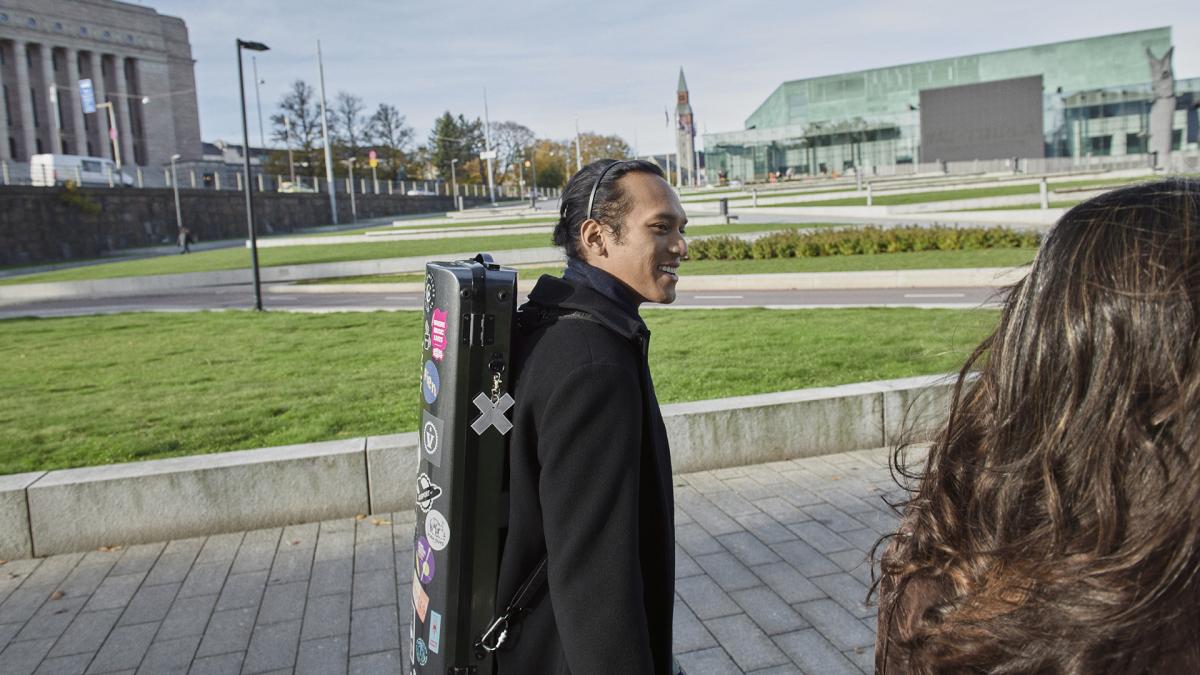 Uniarts Helsinki received a record-high number of applicants in the 2021 joint application procedure: The university received 4,679 applications from a total of 4,062 applicants. The number of applicants increased by ten per cent compared to 2020.
The share of international applicants (i.e. non-Finnish citizens) of all applicants was higher than ever before this year: 22 per cent. In 2017–2020, the number of international applicants has varied between 13 and 19 per cent. The source of these figures is the Finnish Studyinfo portal.
Uniarts Helsinki arranged a large number of its entrance examinations digitally due to the COVID-19 pandemic so that it could make sure that international students, too, could participate in the entrance examinations.
Countries that were most represented among applicants were Russia, Sweden, Spain, United States, China and Estonia.
Uniarts Helsinki admitted a total of 322 students to its three academies. A record percentage of the students, 31 per cent, have an international background. During the past four years, the share of international students of all admitted students has been 19–24 per cent.
Out of all students admitted to Uniarts Helsinki's Sibelius Academy this year, 36 per cent of the students have an international background. The percentage is 20 at Uniarts Helsinki's Academy of Fine Arts and 24 at Uniarts Helsinki's Theatre Academy.
"One of the strategic objectives of Uniarts Helsinki is to be characterised by its international appeal. Receiving this much interest from international applicants shows that Uniarts Helsinki is in the same league as the world's best educational institutions. Uniarts Helsinki's reputation is positively influenced by excellent ranking results, for example, including the ninth place of Uniarts Helsinki's Sibelius Academy in the global QS university ranking of performing arts schools in 2021," says Rector of Uniarts Helsinki Kaarlo Hildén.
The feedback from exchange students and Uniarts Helsinki's popularity as a study abroad option also speak volumes of Uniarts Helsinki's good reputation. Exchange students have given Uniarts Helsinki excellent reviews, and the number of students seeking exchange studies has increased year after year.
Both the number of applicants and the share of international applicants vary from year to year according to which application options are available in the joint application procedure. Some of the master's programmes, for example, only admit students every other year.
In the joint application procedure of spring 2021, it was possible to apply to almost all of the application options offered in English by Uniarts Helsinki. This spring, Uniarts Helsinki's Theatre Academy, for example, admitted students to five degree programmes where it is possible to study in English. This was reflected in the distinct increase in the share of international students also at the Theatre Academy.
The applicant numbers of 2021 do not yet include the number of applicants to master's programmes offered by Uniarts Helsinki's Academy of Fine Arts. That is why full-scale comparisons with the past years' application numbers are not yet possible. Master's programmes in fine arts will have admissions in autumn 2021.
A genuinely international learning environment
Uniarts Helsinki, and the Sibelius Academy especially, have engaged in determined internationalisation work for several years already.
"Today, Finnish universities are international study and work environments. International appeal, for the Sibelius Academy, is a guarantee of the quality of education: by recruiting the world's best students and experts, we are able to create a high-level learning environment that prepares both our Finnish and foreign students for the professional requirements of the international field," says Dean Emilie Gardberg in an article that delves into the increasingly international profile of Sibelius Academy students in further detail.