COVID restrictions at Uniarts Helsinki stay valid until 31 January
The number of COVID-19 cases continues to be high across the country. Even though vaccinations already give protection against severe forms of the disease, we at Uniarts Helsinki have decided to extend the validity of our current restrictions until 31 January 2022 to contain the spread of the disease.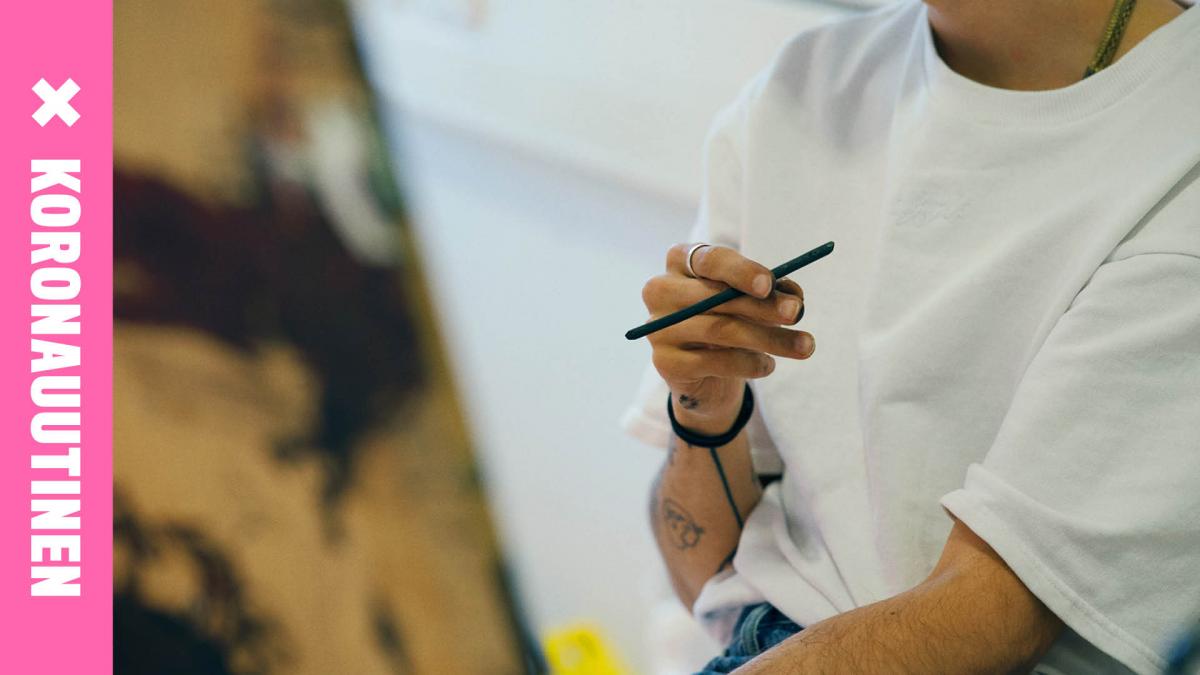 For teaching and learning to continue uninterrupted, it is essential that the restrictions imposed are taken seriously. It is particularly important that everyone comes to the university facilities wearing a face mask and only when they have no symptoms. In group situations, the use of FFP2 masks is recommended, and these masks are available for pick-up from campus info desks. Wearing a mask is an important protective measure against the omicron variant of coronavirus, which spreads easily.
According to our occupational doctor, the risk of coronavirus infection is not deemed higher in work situations at Uniarts Helsinki than in our society in general. In the future, we apply the same COVID-related principles to people who belong to high-risk groups and to adults who are in good general health, and they, too, are encouraged to get vaccinated. The importance of risk control measures related to work situations is emphasised even when the risk of infection is higher due to specific circumstances.
Impact of the restrictions on the university's activities
Studies, teaching and artistic activities
For the most part, teaching is organised remotely until 31 January, apart from contact teaching that is absolutely necessary to be organised on site.
At Uniarts Helsinki, a significant part of the teaching is necessary to be organised on site. Necessary on-site teaching is defined to be teaching that cannot be organised remotely without substantially compromising the key competence requirements.
The courses already published in the Study Guide are arranged as stated. If changes occur due to new restrictions, students of the specific course in question will be notified separately.
In principle, artistic activities related to teaching and research will be organised according to original plans but without audience until 31 January, in accordance with the regulations issued by the Regional State Administrative Agency. Only people whose presence is necessary for study or work purposes may be present at the events. COVID-19 passports cannot be used in public events as an alternative to imposing restrictions.
Exhibitions at the Academy of Fine Arts will be arranged as planned with consideration to social distancing and good hygiene. The maximum number of visitors in the galleries at the same time is 10 people at Project Room and 30 people at Kuva/Tila.  
If necessary, the academies and the Open Campus will provide more detailed information on restrictions concerning their own teaching.  
Other work
The remote work recommendation will continue until 31 January. Meetings and seminars must be organised remotely.
In principle, the current instructions on sick days and the recommendation on quarantine issued by the Finnish Institute for Health and Welfare are applied when it comes to absence from work due to exposure to coronavirus and infections.
Facilities
Uniarts Helsinki's facilities will stay open to enable crucial contact teaching and artistic activities and other work that require on-site attendance.
Travelling and hosting international guests
Uniarts Helsinki follows the travel restrictions issued by the Finnish Government. As regards work and study trips abroad, the key is to determine whether the trip is crucial and well-justified in terms of learning objectives. Deliberation of the necessity of domestic trips, too, is needed if the trip involves staying in an accommodation or transitioning via a place where the risk of infection can significantly increase.
We follow the recommendation issued by the Finnish Institute for Health and Welfare on getting fully vaccinated against COVID-19 before travelling abroad for work or studies. When planning the trip, the destination country's requirements concerning e.g. vaccinations, testing and quarantine must also be taken into account.
Welcoming foreign visitors is possible in accordance with the Finnish Border Guard's instructions. Instructions related to the entry into Finland (e.g. testing and quarantine) will be issued to the traveller on a case-by-case basis when they fill in their information on the Finentry website.
Face masks
Students and staff must wear face masks in the university facilities if there is no health reason that prevents it. FFP2 masks must be worn in group gatherings, and they can be picked up from info desks.
Use of face masks is also required during artistic rehearsals and practice and in other work situations.
Use of home test kits in teaching
The voluntary use of COVID-19 home test kits is possible in contact teaching that has been classified as crucial, and they can be acquired and shared for courses and artistic working groups in accordance with a plan made for the academies and the Open Campus in case it is not possible to maintain safe distances and to wear face masks with consideration to learning goals. The person who has received the test kit is personally responsible for carrying out the test, interpreting the result and taking possible necessary measures based on the test result.
Important things to consider concerning home test kits:
A positive home test result does not need to be verified in a laboratory if a person's symptoms are mild and do not warrant contact with healthcare. If a person has symptoms, they cannot come on campus even if the result of their home test kit is negative.
You should avoid contact with people outside your home for ten days on a voluntary basis. The time is calculated from the onset of symptoms.