Visiting professor in the Master's Programme in Writing highlights writers' personal expression methods in teaching
The "Working at Uniarts Helsinki" series presents employees who enable the growth of students and help them become highly skilled and broadminded artists and changemakers, thanks to their work in different roles within the university.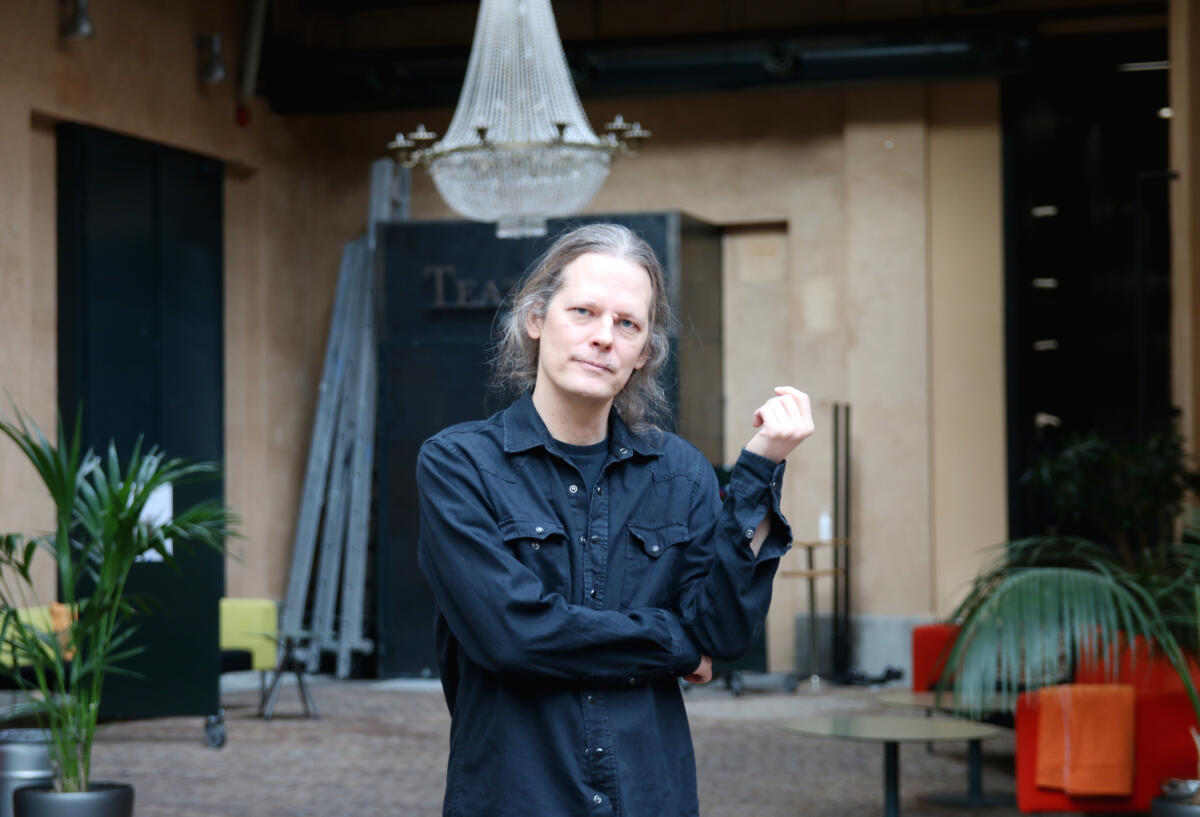 Who are you and what do you do at Uniarts Helsinki?
I'm Mikael Brygger, a poet and a teacher. At Uniarts Helsinki, I work as one of the four visiting professors in the Master's Programme in Writing. In my work, I strive to discover connections between writing and other fields of art.
The writing programme delves into writing as a field of art from various points of view. Even though I'm a poet, that's not the at the centre of my teaching, and instead, writing is free from genres and everybody can write using their personal expression methods.
How would you describe your typical workday?
I share one full-time professorship with four other people, so I work part-time. My typical workday includes teaching, teaching preparations and teacher meetings where our workplace community gathers to share experiences and brainstorm ideas. If I'm teaching on campus, my days also consist of random encounters with students and colleagues. Besides teaching, a lot of us also have our own projects.
The most important thing in my work, however, is mentoring. A personal project is part of the admission criteria when applying to the Master's Programme in Writing, so all students have their own work that they are piecing together. All of us visiting professors have at least one student who we mentor and whose thesis project we supervise.
How do you see your role as a teacher?
Let's imagine that we have a space with a round table where students and teachers gather. As a teacher, my most important duty is to offer something that gets the conversation going. It's wonderful how people from different social and artistic backgrounds gather around the same table and share their personal practice and thinking. This kind of discussion can unravel possible knots that exist. A tremendous amount of learning can happen around that table. So, the teacher is the feeder and the person who takes care of the space and the table itself.
How did you end up working for us?
In the beginning of the 2010s, I took part in a visual poetry workshop that was organised by a colleague of mine. In the workshop, I and a few of my colleagues were asked to come teach on a poetry course at the Academy of Fine Arts. During the course, I was charmed by the Academy of Fine Arts and its people. In 2013, when the Master's Programme in Writing was being planned, I led some writing exercises at the Theatre Academy in connection with a conference, and eventually got more and more teaching work.
What is the best part of your job?
The community: students, co-workers and alumni. Another best part is the start of a new course when you don't yet know the participants and you don't know what to expect from how the course will get going. The vulnerability of it all is exciting and fascinating.
What is your most recent art experience?
An exhibition by Antti Laitinen at the Wäinö Aaltonen Museum of Art (WAM). Laitinen is an alum of the Academy of Fine Arts, and his works remind the viewer of writing poetry. The materials he uses in his works are derived from the nature and forests. For a work titled Forest Square, he cut and assorted a 10 metre x 10 metre piece of forest into an installation on the floor of the WAM Museum. This work can be compared to the materiality of language and text, which can similarly be taken to pieces and displayed in a striking way. At the same time, it's also a lot more, though.
About Uniarts Helsinki
Uniarts Helsinki is an open meeting place for the arts – an ambitious university community for bold reformers and experts in tradition. We cultivate a unique environment that helps artists grow and strengthens the power of art as a driver of change. Uniarts Helsinki is among the leading performing arts universities in the world, and it is comprised of the Academy of Fine Arts, Sibelius Academy and Theatre Academy. We have about 2,000 students and about 700 full-time equivalent employees.
#workingatuniartshelsinki #weareuniartshelsinki