Uniarts Helsinki's Academy of Fine Arts is a treasure trove of opportunities for Natalie
Read an interview with Natalie Eliassen.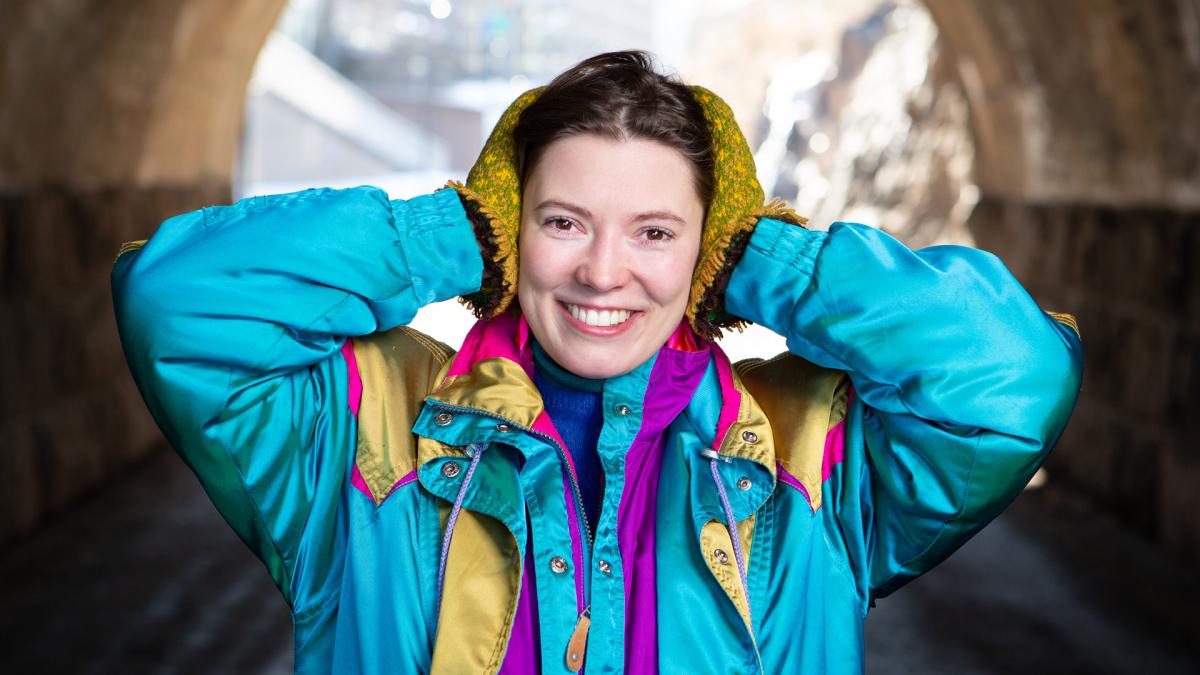 Norwegian Natalie Seifert Eliassen spent her Erasmus exchange year studying in the subject area of sculpture at Uniarts Helsinki's Academy of Fine Arts three years ago. She enjoyed her time in Finland so much that she is now a degree student at Uniarts Helsinki. She praises the university's multidisciplinary courses that bring together students from various study fields.
How did you end up as an exchange student at Uniarts Helsinki? What made you continue your master's studies here?
I did my bachelor's degree at Bergen Academy of Art in my home country Norway. In 2018, I was an exchange student in the subject area of sculpture at Uniarts Helsinki's Academy of Fine Arts. I wanted to widen my perspective and test different methods to learn at a high-quality academy quite close to Norway. It was one of my textile-art teachers in Bergen who recommended Helsinki to me. He had visited Uniarts Helsinki and said that the Finnish educational system is famous for being the best in the world.
I enjoyed the Academy of Fine Arts from the beginning because of the welcoming and helpful staff, the committed and passionate professors, and the easy access to equipment. I also enjoyed the interdisciplinary work between the three Academies that form Uniarts Helsinki. We were able to choose from a vast variety of courses and I took as many as possible. I loved the student community where it was easy to get to know each other. The students organised Tuesday dinners at the Academy and also dinners before evening lectures or art events at one of the school's galleries, the Exhibition Laboratory.
I was overwhelmed by how nice it felt to be a student at Uniarts Helsinki. All the people working there were respectful and tried their best to support the students. Everyone is equal here and the power structure is flat, not shaped like a pyramid.
These are the reasons why I started my MFA studies at the Academy of Fine Arts this January. I was hoping to continue my studies sooner, but I underestimated how long it would take to do the TOEFL English test you need to pass to apply here. So, I had to wait one more year. You have to book a TOEFL exam date weeks in advance, and then wait weeks for the results.
Which courses or projects have been the most memorable ones during your time in Finland?
During my exchange semester, my main subject was sculpture, but most of the courses I took were organised by the subject area of Time and Space Arts or the Sound Art and Sonic Arts study module. I was interested in everything about performance at that time. I also took different sound courses at the Sibelius Academy and some programming courses. It's excellent that multidisciplinary courses like "Introduction to Sound Art" exist, and that you can take them without previous experience. It's rare to have opportunities like the multidisciplinary courses across the academies of Uniarts Helsinki.
Another course that impacted me was a course between the subject areas of sculpture at the Academy of Fine Arts and dance at the Theatre Academy. The course ended with a public performance where the sculptor students made sculptures out of soft wet clay on stage, and the dancers improvised with the clay.
What has been the best part of your studies?
The best thing was that I learned about and started to make performance and sound art. I also met a lot of interesting and cool people.
What has been the most challenging part of your studies?
With the pandemic, I find it hard that most of the social events are cancelled. It's also actually hard to choose between courses when you have so many opportunities. It can be hard to give yourself a manageable workload. Students should try to find a balance between courses, their own art production, and other aspects of their lives.
For students who are going to live in Helsinki for more than one year, it is super important to book an appointment at the immigration office right after you know that you have been accepted to Uniarts Helsinki. It can take up to four months before they have time for you. And you will not get a student discount on public transport and other important stuff before you have a Finnish ID. If you are an exchange student, you can get a travel discount immediately.
What tips would you give future exchange students?
When I was an exchange student, I lived in an exchange student block provided by the Foundation for Student Housing in the Helsinki Region (HOAS). It was nice to befriend a lot of exchange students also from other universities. I recommend applying for student housing.
It's a good tip to invite students to a potluck dinner at the school kitchen to meet more students. I also recommend testing out a lot of different saunas around the city. Helsinki also has a lot of vintage second-hand stores. Before the pandemic, I enjoyed the club scene and watched a lot of cool contemporary dance performances in Helsinki.
If you get a chance to study at Uniarts Helsinki, it is an amazing opportunity. Everyone will find something here that matches their interests. It's an especially good place to be if you like collaborating with people across academic fields.

The European Commission is not responsible for the content of this publication.