Theatre pedagogy student: Content related to inclusion, diversity, and accessibility has been important
Interviewing master's student Loviisa Grubert.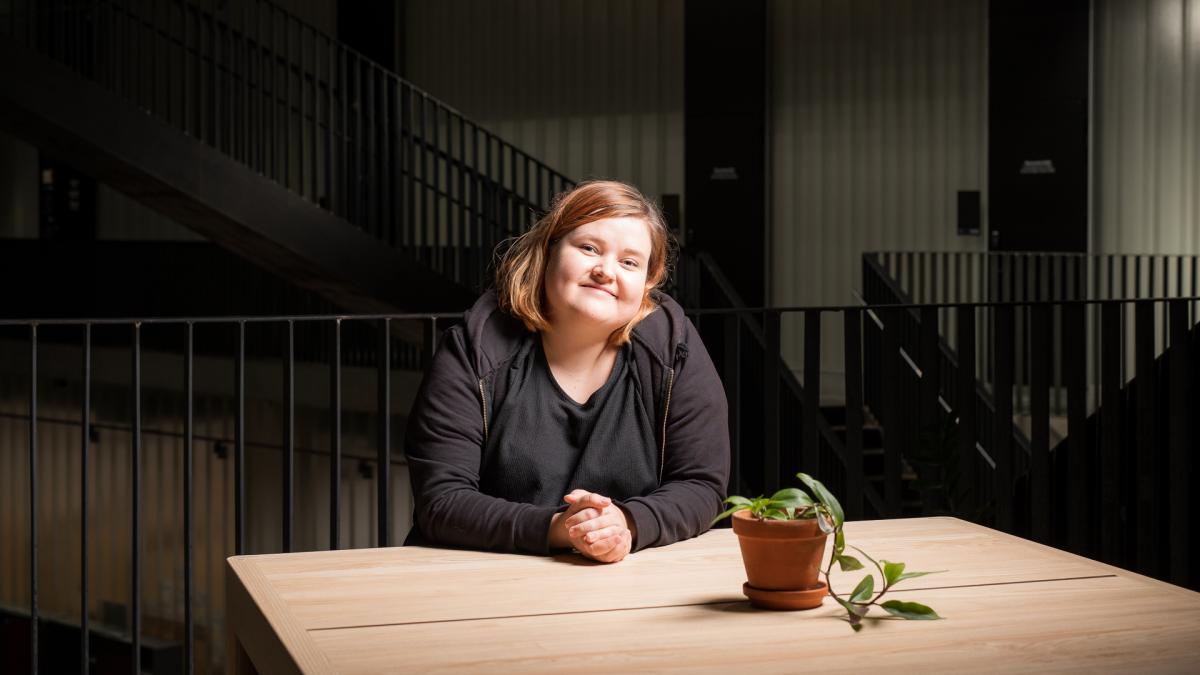 Who are you, and how did you end up studying at Uniarts Helsinki?
I am Loviisa, and I study theatre pedagogy. I am originally from Oulu, and I completed a drama instructor's degree at Turku University of Applied Sciences. After graduating, it became clear to me I want to proceed towards pedagogy and apply to Uniarts Helsinki's degree programme in theatre and dance pedagogy.
However, I did not apply here the same year I graduated from Turku because the deadline for submitting advance assignments fell on the same day as my thesis deadline. It took a couple of years before a new application period opened, and I worked a few years before applying.
In arts pedagogy, I am especially interested in the simultaneous existence of artistry and pedagogy – I do not see them as separate from each other.
What was your entrance examination like?
The entrance examination was held remotely due to Covid-19. Normally, I believe it would be quite different. When I took the exam, it included mostly written assignments, and there were plenty of advance assignments. For example, we had to plan an artistic-pedagogic event, contemplate the role of feedback in an artistic context, and describe our earlier works and projects.
A live entrance examination might have included something related to working in a group. However, I think it was wise not to organise such assignments, for example, on Zoom.
How did you prepare for the entrance examination?
I asked tips from a couple friends who studied here. In addition, I accessed the network database and read theses written in the dance and theatre pedagogy degree programme, which provided me an introduction to the field and its writing conventions. I also read the history of the degree programme, even though the information was not useful in the entrance examination.
I thought that academic writing was not one of my strengths, and I was very nervous about a written entrance examination. Thus, I was positively surprised that I was accepted and that I received confirmation that my writing skills were adequate.
What did you think about the advance assignments?
I took them very seriously – now that I think of it, maybe a bit too seriously.
In one assignment, we had to recognise and analyse the field's normative working methods and ways of thinking. I remember writing about the dichotomy between artists and teachers and its ridiculousness. For me, it was meaningful to discuss the issue and, at the same time, realise that other people are interested in the subject because the dichotomy is universally relevant in the arts pedagogy field.
What has studying been like?
Our group is small, so we have been able to attend contact teaching during the coronavirus pandemic. The contact teaching has been extremely meaningful because operating in a theatre requires many skills that cannot be wholly studied remotely.
The study content has met my expectations. For me, the content related to inclusion, diversity, and accessibility has been important. These are big themes, and high-quality lessons on different approaches to address them are necessary.
What has been most challenging in the studies?
I am still unsure of my writing skills, and I need to challenge myself to write more and become comfortable, especially now that the time for thesis writing is approaching and we have had some extensive writing assignments already.
The two-year master's studies are short, and teaching is fast paced. It would be nice, of course, to have more time for everything.
What advice would you give to future applicants?
I think that our teachers are competent, and we have great community spirit in the pedagogy programme. All teachers are receptive of diverging opinions, and at least in this regard, you should not hesitate to apply.
Additionally, you should not think about whether you are a qualified candidate too much. People apply to this degree programme from various backgrounds and circumstances. At first, I was worried that I was not qualified enough, but here I am.