Stu­dent views: You feel you are part of something great
If all people in the world were to take part in the Global Music program, racism would reduce dramatically.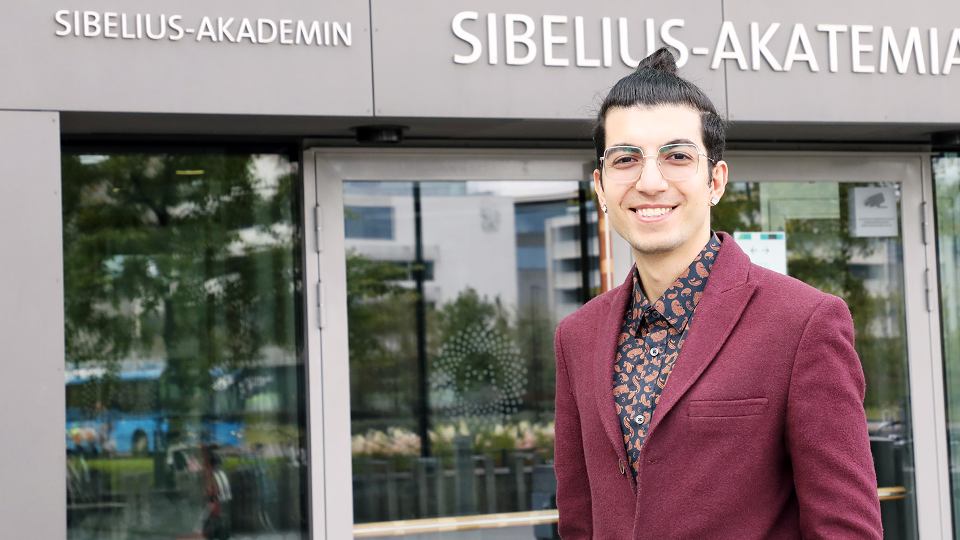 AHOORA HOSSEINI, Global Music, Kurdish of IRAN
The multicultural atmosphere of the Global Music programme at the Sibelius Academy has enabled Ahoora to develop and deepen his musical profile as a percussionist, singer and composer. Elements of jazz now fuse freely with Kurdish-Iranian traditions, and hip hop has become part of his musical identity.
"This is one of the best music schools in the world, yet the atmosphere is far from formal and dry. It is like a family from day one; you feel you are part of something great. There isn't a gap between students and teachers; instead you feel close to them like you're family. People are here to help you.
When I think about how I was before my studies, I realise the Global Music programme has been a real eye-opener for me. We are introduced to a diverse range of musical and cultural backgrounds. For example, it is not unusual to have 18 nationalities gathered together in one place to share and collaborate in a festival, and we all interact with respect. This feels special.
This experience has equipped me with a new awareness and wisdom. If everyone in the world was to take part in the Global Music programme, racism would reduce dramatically. The more you know about other cultures, the more you know about the world, and the more reasons you have to interact with people positively rather than negatively. You also learn to be a better human. After all, at our core we are all the same – just with different features."