Researcher Lauren O'Neal: "Choreographic thinking makes galleries and museums more dynamic, flexible and welcoming"
Lauren O´Neal, who will defend her doctoral research at the end of May at Uniarts Helsinki's Academy of Fine Arts, explores the intersections between visual and performing arts in her research. She incorporates choreographic thinking into exhibition curating processes and sees galleries as dynamic "situations" where the art experience, for both curator and audience, becomes deeper through active engagement. O´Neal frames her curatorial process through the lens of movement, experimentation, and conversation, for example.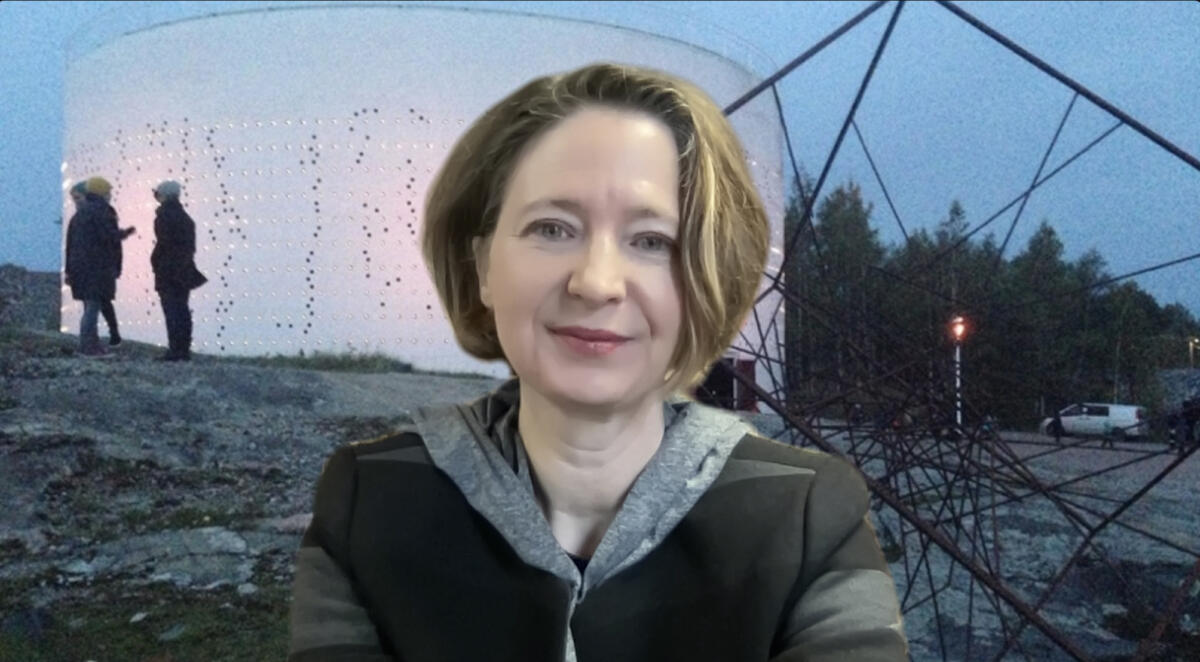 The Doctor of Fine Arts thesis project comprises an artistic and a written component. For her doctoral research, O´Neal carried out three curatorial projects at the Lamont Gallery in New Hampshire, USA from 2015 to 2020.
Tell about the process of your doctoral research: How did the research process begin? Were there many surprises on the way?
My research process began almost inadvertently. I was interested in the intersection between visual and performing arts, but I wasn't sure what direction the research would take. While I was trying to clarify my project at the start of the doctoral program, I was simultaneously busy with curating exhibitions, teaching, and participating in arts events, such as performing in Trisha Brown's Floor of the Forest at the Institute of Contemporary Art in Boston as part of the Dance/Draw exhibition. Finally, I came to understand that those activities were the research.
What made you interested in researching the intersection of choreographic thinking and curatorial practice?
Interdisciplinarity informs all of my work. The initial aim of the project was to find a way to theorize and refine my own practice, and to make room for my diverse disciplinary interests. A longer-term aspiration is to use choreographic thinking to reimagine galleries and museums so that they become spaces that are more dynamic, flexible, and welcoming. The work of philosopher Erin Manning, poet and artist Renee Gladman, and architectural theorist Keller Easterling, among others, served as guides throughout the journey.
How does the curating that is at the centre of your research differ from the traditional concept of curating?
Instead of being driven by art historical motivations, where the exhibition is a response or an answer, my curatorial process is characterized by asking questions. It uses movement, arrangement, and experimentation as generating forces, often inviting others in to contribute. The theme or content of the exhibition emerges through the process of making.
Most artists and curators will probably find my approach familiar: the result often takes the shape of an exhibition. What's different is the emphasis on practice-based research: I develop a theory and working method for choreographic thinking within the curatorial, and address related themes such as curatorial dramaturgy and prototyping, through the lens of my own projects.
Your curatorial project Being & Feeling (Alone, Together) was disrupted by the COVID-19 pandemic. How did your doctoral research help you navigate this unexpected situation?
I joke that my partner can see their research reflected in every situation. When the pandemic hit, I adopted this attitude and viewed the situation as a research opportunity. I had to find a way to navigate the situation also for practical reasons: I was responsible for leading an academic gallery despite the challenges of the pandemic—not just for myself, but for colleagues, students, participating artists, and our audience.
Thankfully, curating is never done in isolation. I was lucky to be part of a team of talented and creative collaborators (including several artists from Uniarts Helsinki) who were willing to say "Why not? Let's try it!", even when none of us knew what would happen. This cooperative spirit was what ultimately enabled the project to be realized.
You explained that you "make introductions, and invite possibilities, using the platform of the gallery space as laboratory, rehearsal room, studio, and stage." Do you see this as a future of galleries and curation?
Yes, absolutely. Many venues are doing this programmatically by offering more museum-based performances, participatory areas within galleries, and by proposing experiential or ephemeral events, such as dinner parties, fashion shows, and catalogues as curatorial platforms. The invitation to artists and audiences doesn't stop at the traditional exhibition. It does take courage to suspend your desire to predefine the outcomes of a curatorial project, though, especially in the face of precarious institutional support. In this sense, the hybrid "laboratory-studio-stage," already a vital model for artistic research, provided the commitment I needed to discover new territories.
What about your own future? Did the doctoral research open some new doors or thoughts?
Uniarts Helsinki has a generous view of what constitutes artistic research, but it still took me time to believe that what and how I wanted to research would be accepted. I started with an oversized ambition to include everything, but part of the task of doctoral research is to refine your focus, and to learn to recognize the multiplicity within the singular. My focus—curating—was spacious enough to include my growing interest in choreographic thinking.
Being affiliated with the artistic research community at Uniarts Helsinki has been critical: it gave me the time and the confidence to let my projects—and my research—develop authentically, even when my inquiries took unexpected detours. Doctoral study allowed me to devise new methodologies and find alternate ways of sharing my research. I look forward to using the insights I've gained within my studio, curatorial, and performance practices, and I always welcome collaborators. Stay tuned!
The public examination of Lauren O´Neal's doctoral research will take place on Friday, 26 May, at 12:15 in the auditorium of the Sörnäinen Campus at Uniarts Helsinki.