Meet the artist: Keval Shah
We asked Keval Shah, the father of the Soiva kieli concert series, what it is like to teach during this exceptional time and about his biggest dreams for year 2021.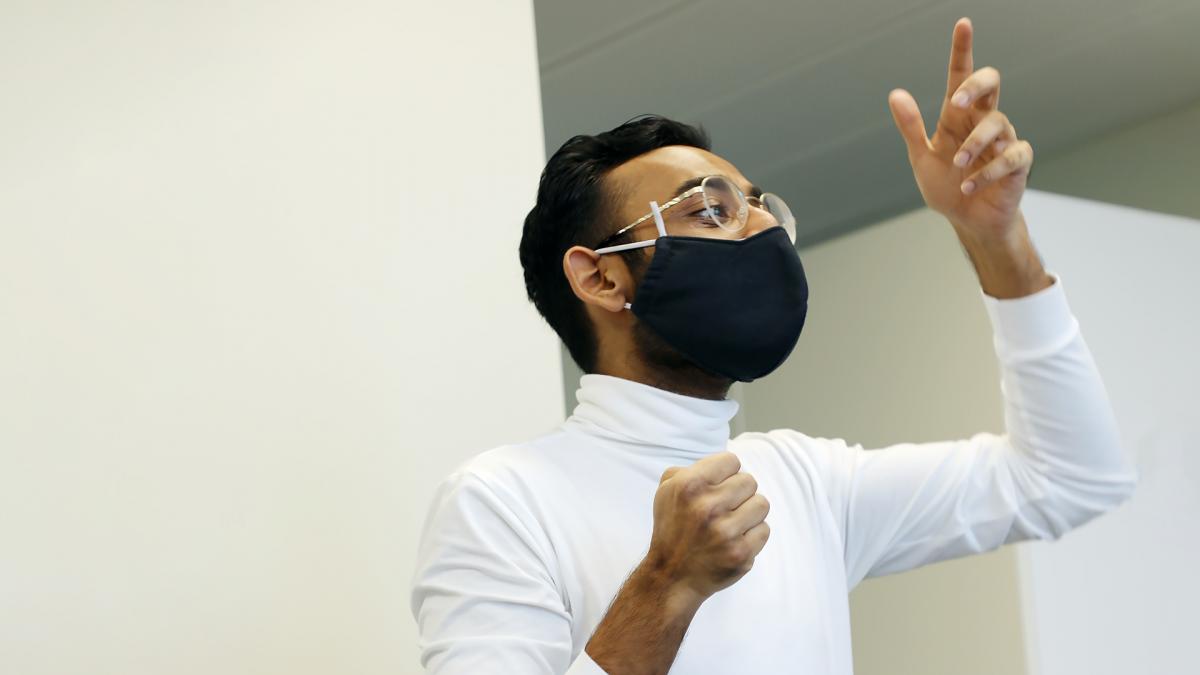 Soiva kieli is Sibelius Academy's new Lied recital series. Starting in spring 2021, each academic year Soiva kieli will present four public recitals, exploring a wide range of repertoire and themes, and including one semi-staged production. It is a platform for students to challenge and showcase their artistry in an exciting new initiative.
We asked Keval Shah, the father of the Soiva kieli concert series, what it is like to teach during this exceptional time and about his biggest dreams for year 2021.
Where did the idea about this concert series come from?
The idea for starting a new song recital series at SibA came from my own experiences as a student and teacher in London. We were very fortunate at the Royal Academy of Music to have a fantastic song recital series which gave students regular opportunities to establish strong duo partnerships, perform and develop as recital artists, including opportunities to perform in some of the country's leading festivals and concert halls. During my time teaching at the Academy, I then curated a second recital series, offering even more performance opportunities to students across the department. It is so crucial for students to have the chance to showcase their work and challenge their artistry as they prepare to emerge into the industry and there is no substitute for experience on the concert platform.
I knew when I came to SibA that I wanted our students to benefit from a similar opportunity, and I'm grateful to the whole department for sharing my enthusiasm for this initiative. I must credit here my colleagues Petteri Salomaa and Collin Hansen, who had the idea for the title 'Soiva kieli' which, although impossible to translate into English, captures something of the unique fusion of language, music and voices out of which songs are born.
What is it like to teach during this exceptional time?
Teaching at this time is obviously extremely challenging, but it's amazing how much good work can be achieved once we recalibrate our minds and adapt our teaching practices. I've been fortunate to prepare the duos for this opening Soiva kieli concert with normal contact teaching, and it has been extremely special to be able to reconnect with the students in this way. Seeing them respond so energetically to the sensation of live music-making has inspired me hugely, and has certainly helped to restore my faith on difficult days.
Working online with my students has been fruitful in other ways – being forced to step away from the physical act of singing and to focus instead to issues of language, style, interpretation and performance practice has been invaluable. There are so many skills and qualities required to be a singer and so, as much as we have all missed contact teaching, it's been a useful reminder of all the other types of work that need to be done alongside technical and musical development.
What makes Soiva kieli vocal music series special?
The Soiva kieli series is going to be special for a number of reasons. Firstly, the number of concerts in the series will allow us to invite all Master's students on the Vocal Arts programme to participate, ensuring that this opportunity is available equally to all of our advanced students.
Artistically, I am excited by the potential to explore how we present the song repertoire and to play with established conventions. As well as presenting recitals in the format we are most accustomed to, Martina Roos will be directing an annual semi-staged concert for the series, interspersing music with spoken word performance.
Looking ahead, we have plans to present concerts in more informal 'salon' style, recreating the environments in which much of this repertoire was first encountered. And, speaking of repertoire, I hope that Soiva kieli will be a platform for students to explore music of less well-known composers and composers who have been historically under-represented. There is an extraordinary wealth of music for voice and piano and I am excited to dive in with the students and see what we find…
What are your biggest dreams for the year 2021?
My biggest dreams for 2021 are for the pandemic situation to be brought under control across the world for the health of the global population, and so that we can start a recovery process. I hope that culture and the arts can once again become a part of people's daily lives, and that they are valued and made accessible across society. It has been a tremendously difficult time for artists and at times I have lost my love and passion for what I do. I hope to hold onto that passion in 2021, to be inspired by the work of my students, and to inspire them to step into the post-pandemic world with aspiration, imagination and confidence.