Meet our student duo: soprano Virva Puumala ja pianist Jussi Littunen
Last week, our vocal music students immersed themselves in Kaija Saariaho's songs in a masterclass lead by soprano Anu Komsi and pianist Pia Värri. Here is one student duo who participated in the masterclass, soprano Virva Puumala and pianist Jussi Littunen – sharing their thoughts on artistry, learning and dreams.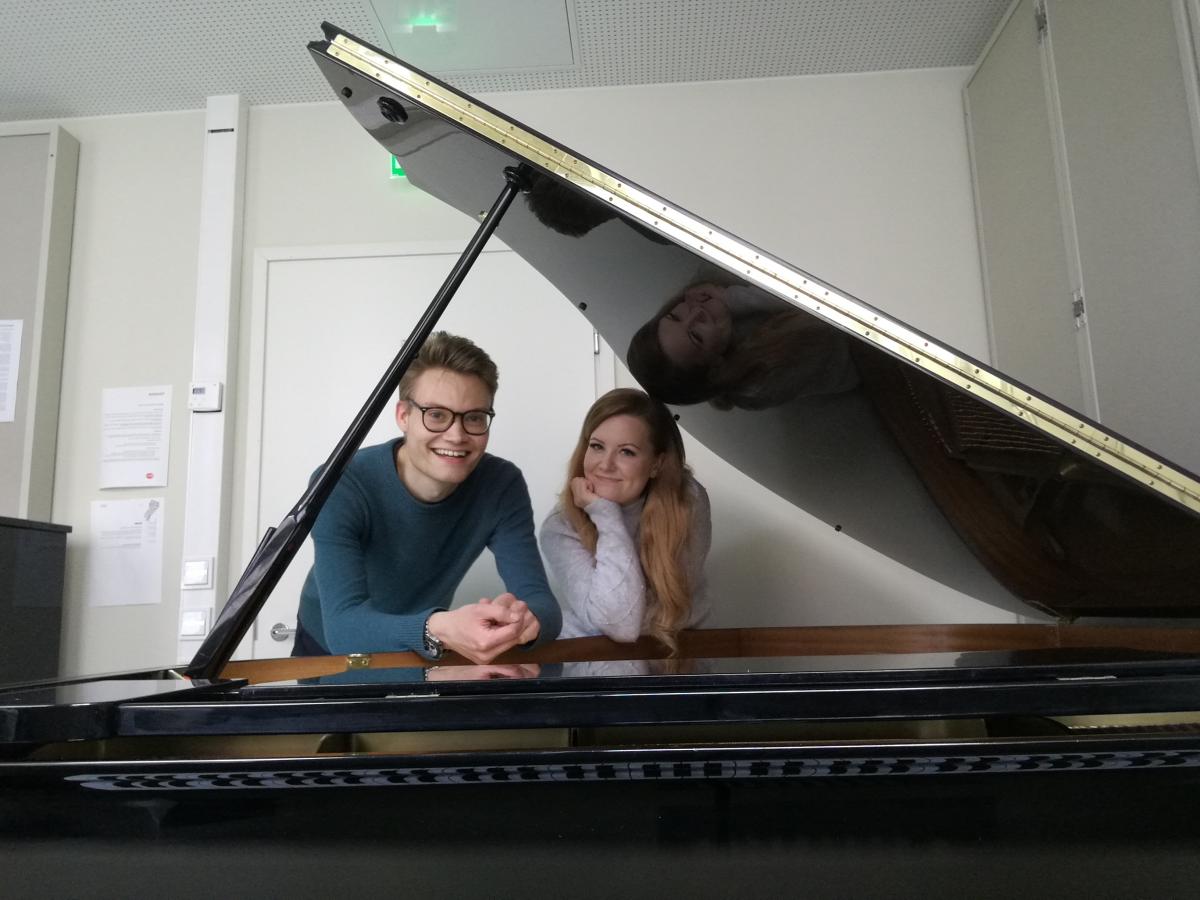 Describe your artist-self in five words
Virva Puumala: A path to your own innermost and feelings
Jussi Littunen: Curious, eager, social, sometimes lost, evolving
What motivated and inspired you to participate in the masterclass lead by soprano Anu Komsi and pianist Pia Värri?
Virva: Komsi and Värri's recognised expertise in Saariaho's music and contemporary music in general inspired me to apply for the course.
Jussi: It is really interesting to get to know and delve into Kaija Saariaho's songs under the guidance of teachers who are personally very familiar with the repertoire. It is also great that we are taught by both the singer and the pianist at the same time. This way, both students get a lot out of teaching.
What was the most important thing the course gave you at the moment?
Virva: The most important offering, of course, was to get interpretive perspectives on these Saarikoski songs; a tradition has not yet formed with them, as with Leino songs, for example.
Jussi: The course has, in a great way, opened up the relationship between the composer's notes and the performer's freedom of interpretation, which will certainly be useful with other modern repertoire later on. It is also really interesting to hear about the backgrounds of the songs and how Komsi and Värri themselves have approached these songs.
In your experience, what makes Sibelius Academy a unique environment for learning and honing one's skills and competencies?
Virva: Well, it is precisely these high-level teachers in the masterclasses, for example, that are truly unique and wonderful. You can learn from the very best people in the field who have succeeded internationally.
Jussi: There is a lot going on at the Sibelius Academy, and a fairly diverse group of instrumentalists and different artists study and teach here. It offers great opportunities for collaboration if you are active yourself. We also have good facilities for work and practice, and it feels like we can study at the center of music life in Helsinki.
What is your biggest dream?
Virva: The biggest dream, of course, would be to perform as a versatile musician in many different types of productions and concerts, and to enjoy the emotional power of music together with fellow musicians and listeners.
Jussi: Get to play with as many different musicians as possible, and of course perform to a live audience after a long break. Performances are ultimately the most instructive way to grow and develop as a musician. Even the best streaming cannot replace interaction with the audience.
* * *
Soprano Virva Puumala (b. 1990) is studying a master's degree in vocal music at the Sibelius Academy of the University of the Arts Helsinki under Soile Isokoski and Sirkka Parviainen. She won the Lappeenranta national singing competitions in 2019 and with pianist Juho Lepistö the first prize of the Helsinki Lied competition in 2018. In addition to lied, Puumala has interpreted opera and oratorios with several Finnish orchestras.
Pianist Jussi Littunen (b. 1994) is studying at the Sibelius Academy of the University of the Arts Helsinki with Ilmo Ranta. As a musician, Littunen strives for versatility and enjoys the stage better together with other musicians than alone. Cooperation with singers is especially close to his heart, and he has also tried to enrich his repertoire with the music of lesser-regarded Finnish composers. Jussi has performed in several places in Finland as a soloist, lied and chamber musician, orchestra player as well as in opera and operetta productions.