Markku Kaikkonen: The field of education holds a great deal of potential
Uniarts Helsinki's Alum of the Year selected from the Sibelius Academy is Markku Kaikkonen, director of the Music Centre Resonaari and principal of Resonaari's Music School.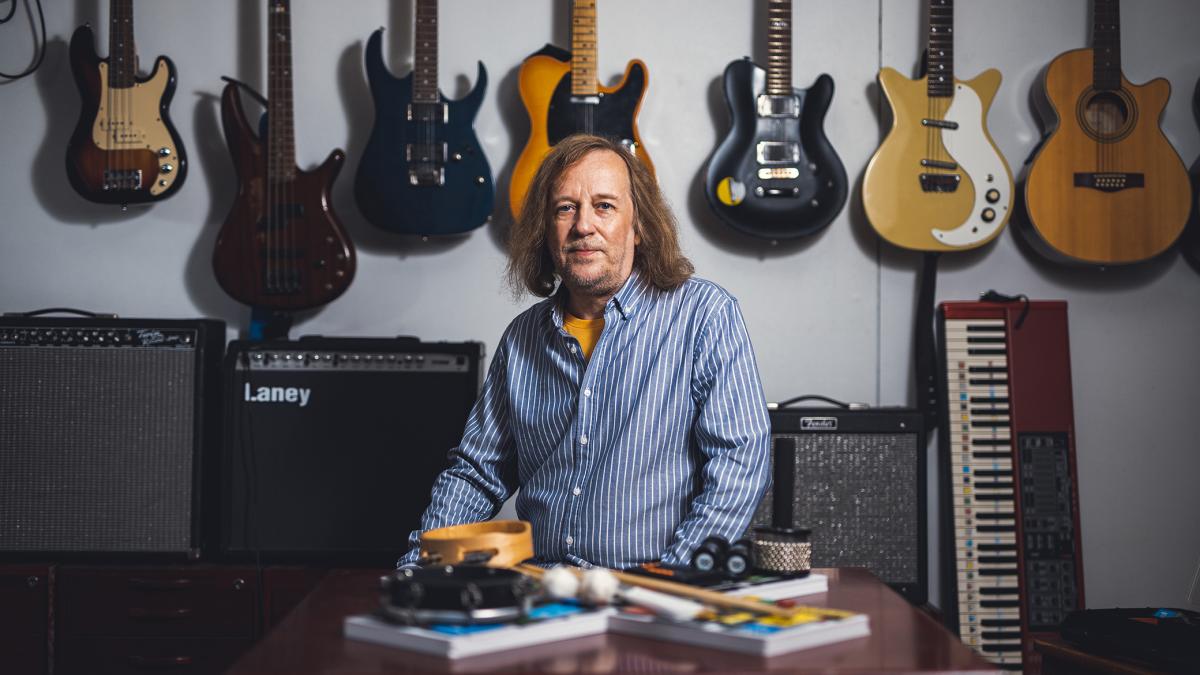 Markku Kaikkonen acknowledges that he has an educator's identity. At the same time, he also reminds people that the role of a teacher also involves being an artist, to a large extent.
"I have always thought that the work of a teacher and a pedagogue is incredibly creative. I view this work as an artistic process where two elements are merged into a living whole," he describes his thoughts.
In fact, Kaikkonen compares the work of a teacher to the work of a composer.
"This work is based on competence and a long line of traditions. But I also need to constantly create something new and discover new paths and methods that help people make music with me."
Markku Kaikkonen finds that his work as a pedagogue at Resonaari provides a marvellous playground for creativity.
"You get to test your own ideas with other people instantly. It's exciting to experience first-hand what kinds of things are possible and how different ideas work. My work is a community-oriented and rewarding way of creating art."
Interaction increases our understanding of art
In Markku Kaikkonen's case, the word vocation is apt, because teaching was exactly what he wanted to do. He also had a long history of training in a music institute and a love for music.
"I combined two words: education and music. The result was music education, and that's where I got the idea," he reminisces.
He finds that the biggest takeaway from his time at the Sibelius Academy was his extensive interaction with other fields of art. He encourages current students, too, to become familiar with other fields besides their own field of study.
"If you have been admitted to an arts institution, the wide extent of studies and interaction with other people is an immense resource. When we interact with others, our concept of art grows.
When we understand the world better, we deepen both our own artistry and our competence. It's a huge gift that at Uniarts Helsinki, students get to study even other subjects than just their chosen field. It's particularly enjoyable to see how it enriches one's art."
A music pedagogue's ethical promise
The Music School Resonaari has operated for 26 years. In his work, Markku Kaikkonen has had both the privilege and the obligation to develop special pedagogy in music and to act as a pioneer who opens people's eyes and ears for new kind of music education. He has coined the term "ethical promise of a music pedagogue".
"For me, the ethical promise of a music pedagogue means that when somebody comes to me, I promise to go on forward with the aim of developing that person's musicianship and finding ways to expand their skills. I don't build walls around me to regulate who gets to approach me and instead, I search for the pedagogical methods that lead to successful music making. I find that it's a positive challenge when I get to look for the best solutions that kick off the process of musical learning," Kaikkonen explains.
He thinks that work is much more interesting when the professional environment is diverse and involves various kinds of musicians.
"I've had this job for 25 years already, and I find it fascinating from a professional point of view. I have come to the realisation that it doesn't matter who the maker of music is. We just have to find the right paths that make it possible for everyone to play music. Some people may need more time for learning, but it's been wonderful seeing a person's potential and growth as a musician when they are supported and given the time they need."
Everybody plays – a positive revolution
At Resonaari, everyone plays music; that is the motto of the music school. In fact, Markku Kaikkonen always speaks of musicians, not students.
"When someone comes up to me, that person is a musician. We make music together and think of the best possible path and method that helps each person develop their knowledge, skills and musicianship."
Markku Kaikkonen admits that 20 years ago, nobody would have believed that this kind of a professional career could be possible.
"It's wonderful how the educational sector has started to understand that we need different kinds of operators in this field. We have a tremendous amount of potential – we just need to tap into it. Back in the day, people had to fight for equal access to education for girls and boys. We need to constantly reflect on ways to promote educational equality so that everyone has the opportunity to get involved in society, all with their different personal resources. I find that these equal opportunities bring great value to society."
Markku Kaikkonen hopes that all kinds of learners get the chance to participate even in fringe areas.
"Resonaari is a good example of a positive cultural revolution. I hope it will be reflected on the entire cultural sector. When there are different kinds of operators involved in the work, the atmosphere is electric. It enriches life."
***
The title of Alum of the Year is awarded each year to a few alumni of Uniarts Helsinki who have highlighted the unique value and role of art and artist education in an exemplary manner through their work.