Fundraising specialist supports young artists in their career transition
The "Working at Uniarts Helsinki" series presents employees who enable the growth of students and help them become highly skilled and broadminded artists and changemakers, thanks to their work in different roles within the university.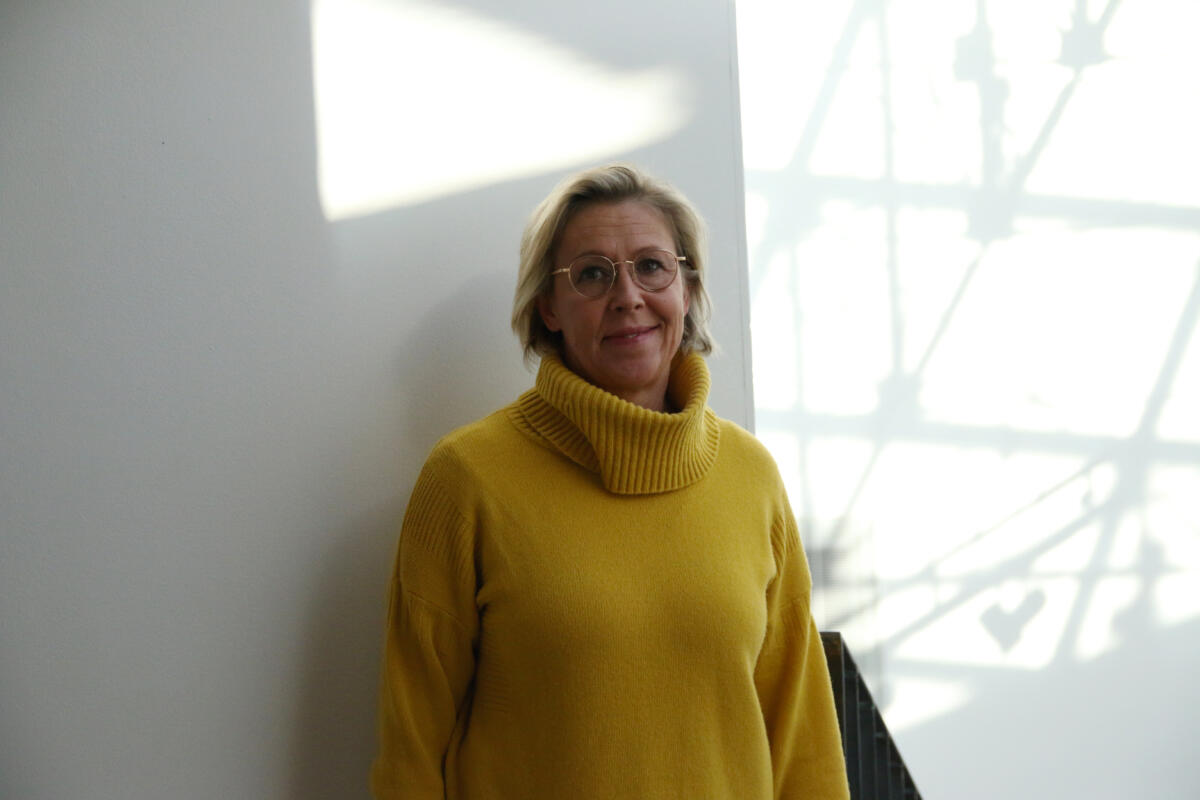 Who are you and what do you do at Uniarts Helsinki?
I'm Kaija Laitinen and I work as a fundraising specialist in the communications and external relations team. My job is to support the academies in acquiring funding to launch new study programmes, for example. I also plan and develop the fundraising of Uniarts Helsinki's two foundations in cooperation with the foundation officer. My duties include the compiling of funding applications, communications, organising of events and contact with donators.
How would you describe your typical workday?
My work is partially independent expert work and partially discussions and sparring with my own team and with staff of other units at Uniarts Helsinki. I work from home some part of the week, but I find it important to be on campus as often as possible. Meetings and discussions face-to-face are inspiring and often take matters effectively forward. Promotion of fund-raising requires discussions and planning work within Uniarts Helsinki, but also communication with the outside world concerning donations. Networking with internal and external stakeholders of Uniarts Helsinki is a central part of my work.
How did you end up working for us?
Before Uniarts Helsinki, I worked in fundraising duties for the organisation sector for a long time. I noticed that Uniarts Helsinki was recruiting a fundraising specialist for its external relations team and I became interested, because art and culture have always been meaningful for me and something that I would like to contribute to through my work.
What is the best part of your job?
The meaningfulness of work. I feel that my work is one of the factors that boost young artists' opportunities to advance in their careers and that ensure that we continue to have vibrant, autonomous art also in the future. Support for the education of Uniarts Helsinki also supports the Finnish art and culture and ensures that it remains flourishing and vibrant also in the future.
What is the best aspect of working at Uniarts Helsinki?
It's wonderful interacting with students and young people on campus. It makes me feel like I'm connected to the time that we're living in. Uniarts Helsinki also gives the opportunity to get closer to art-making and creativity. We have a lot of possibilities to go watch performances and concerts and visit exhibitions. This is a very community-oriented and inclusive workplace community, where new employees receive a warm welcome to the university.
How does fund-raising promote Uniarts Helsinki's activities?
Right now, our main aim is to raise people's awareness of the significance of bequests in supporting young artists' careers. Our goal is to find private persons who would like to start sponsoring art and help young people pursue art through grants and scholarships. As part of this work, we organised the first-ever bequest info evening where we gave information about the impact of donations to people who were interested in supporting art. Thanks to donated funds and funding from foundations, Uniarts Helsinki will be able to diversify its study selection and launch new education projects and international cooperation. All of this adds to the vitality of Uniarts Helsinki's activities and helps students discover their own paths as artists.
Which Uniarts Helsinki performance or exhibition did you visit most recently?
Most recently I saw the performance Message From Tyler – Memento mori, Kirsikkatarha, which was produced as a collaboration between the Theatre Academy and Q-teatteri. So much energy, lots of blood, sweat and mess – it was a full-on Theatre Academy experience! I liked the stage design, use of the space and lighting and the atmosphere they created. And the acting students were wonderfully fully-fledged and had professional control of the performance.
About Uniarts Helsinki
Uniarts Helsinki is an open meeting place for the arts – an ambitious university community for bold reformers and experts in tradition. We cultivate a unique environment that helps artists grow and strengthens the power of art as a driver of change. Uniarts Helsinki is among the leading performing arts universities in the world, and it is comprised of the Academy of Fine Arts, Sibelius Academy and Theatre Academy. We have about 2,000 students and about 700 full-time equivalent employees.
#workingatuniartshelsinki #weareuniartshelsinki