Fine Arts student: Finland is a perfect place to study nature-based art and silence
Read an interview with Alyssa Coffin.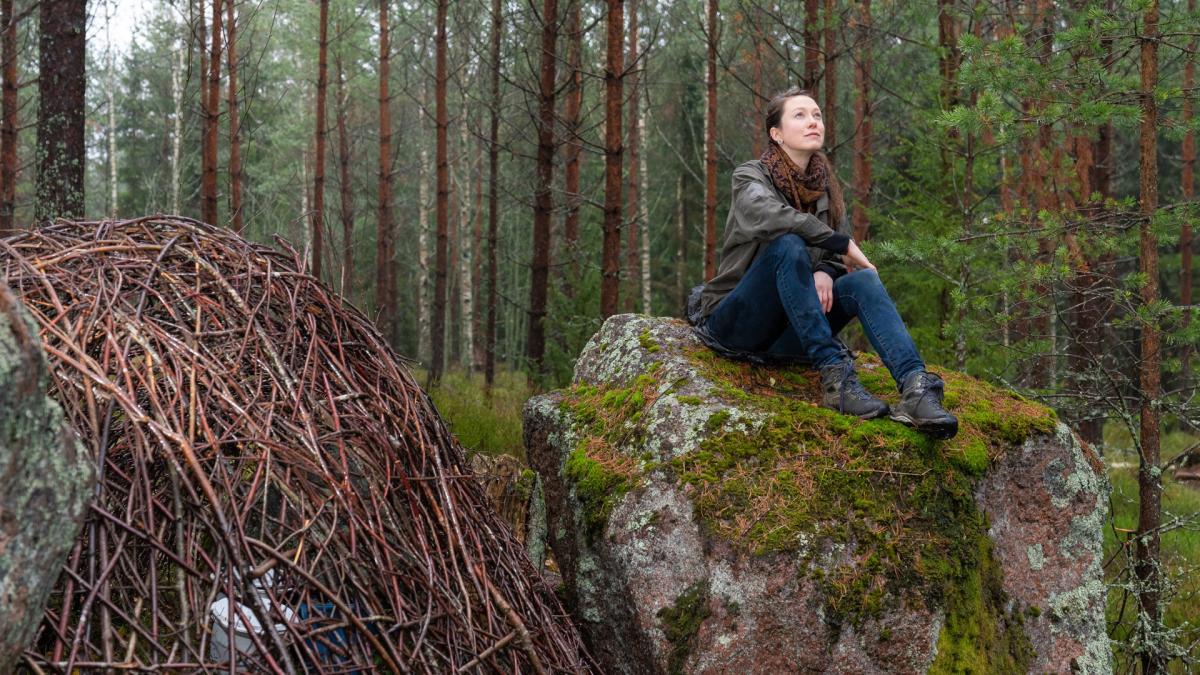 Alyssa Coffin is from the United States and she studies time and space arts at Uniarts Helsinki. It is a subject area in the Fine Arts studies at the Academy of Fine Arts.
Please tell us about yourself and how you ended up studying at Uniarts Helsinki?
I am from New England in the Northeastern United States. I had the idea to come to Finland after a colleague told me my nature-based art practice and research on silence would be well suited to the Finnish culture and landscape. Someone recommended Uniarts Helsinki's time and space arts subject area to me. I immediately knew this was where I was going. So many things along my process of prepping and applying confirmed my initial intuition, the final one being the surprise of a full scholarship.
I was looking for a similar academic mentality I had experienced earlier in Ireland: fluidly interdisciplinary, collaborative, community oriented, low hierarchy between students and professors, concerned more about quality of work than deadlines and production, and encouraging you to pursue your own interests. When I read the time and space program description and more about Uniarts Helsinki, I had the feeling that this academy aspired to similar values. My experiences have confirmed that beyond my expectations!
I am interested in shifting our cultural norms around how we perceive and experience time and space. My art practice is primarily site-responsive installation, participatory performance and written and spoken word. I document my art via video and photography.
Please tell us one thing you remember about your entrance examination.
When I had my zoom interview, I was shocked that there was no intimidating panel waiting to interrogate me with stony-faced questions. Instead, Daniel Peltz smiled at me and said something like "we can just have a relaxed and natural conversation." It was a refreshing contrast to my expectations and definitely influenced my ability to speak calmly and confidently. Most importantly, it confirmed my intuition about the mentality of the university.
What has been the best thing about studying at Uniarts Helsinki and living in Helsinki?
The best thing is that my life and art have become more integrated. I live with my closest friend who is also my studio mate and fellow time and space arts master's student. Robust conversations about art, and attending gatherings and performances are common spontaneous happenings. The second-best thing is getting to soak in the vitality that comes with vibrant city life while still having the quiet breath of pristine forest and the sea right next to my apartment. My soul is fed without having to choose between career opportunities and the places I feel most at home. Overall, I am continuously surprised by how quiet Helsinki is and how at peace I feel here.
What has been your most memorable study experience?
The most memorable has been this past summer taking a two-week KUNO course in Sweden called "Everything You Want Was Already Here." KUNO is a Nordic Nordplus network. The course was about abundance, lack, and making art in a rural context. It was a profound experience both socially and artistically. The course represented my ideal form of study: communal living in natural landscape, sharing rituals around eating wild food, interacting with locals of all ages, learning from many different professors and peers simultaneously, and sharing my own practice.
What has been the most challenging?
The first five months were the most challenging. When Helsinki was dark and cold and I spent all my free time fighting through layers of bureaucracy related to immigration.
What do you dream of doing after you graduate?
I dream of getting a grant and living somewhere in rural Finland doing research projects. Ideally, I will have a garden and a partner – canine or human. As much as I love my peers at the university, I miss having friends of different ages – hanging out with children and older folk.
What preconceptions did you have about Finland? What do you think about them now?
Many people prepared me for the social climate here and I have heard all the stereotypes about the Finns, such as not lifting their eyes from their shoes or being reluctant to speak up in class. As it goes, many have been true to my experience, but I have found many more experiences to break these stereotypes, like watching my Finnish classmate unabashedly dance her heart out or a stranger coming up to me to chat. I love these moments.