Choreography student: Don't try to be anything other than yourself
Interview with choreography master's students Maya Oliva and Sara Grotenfelt.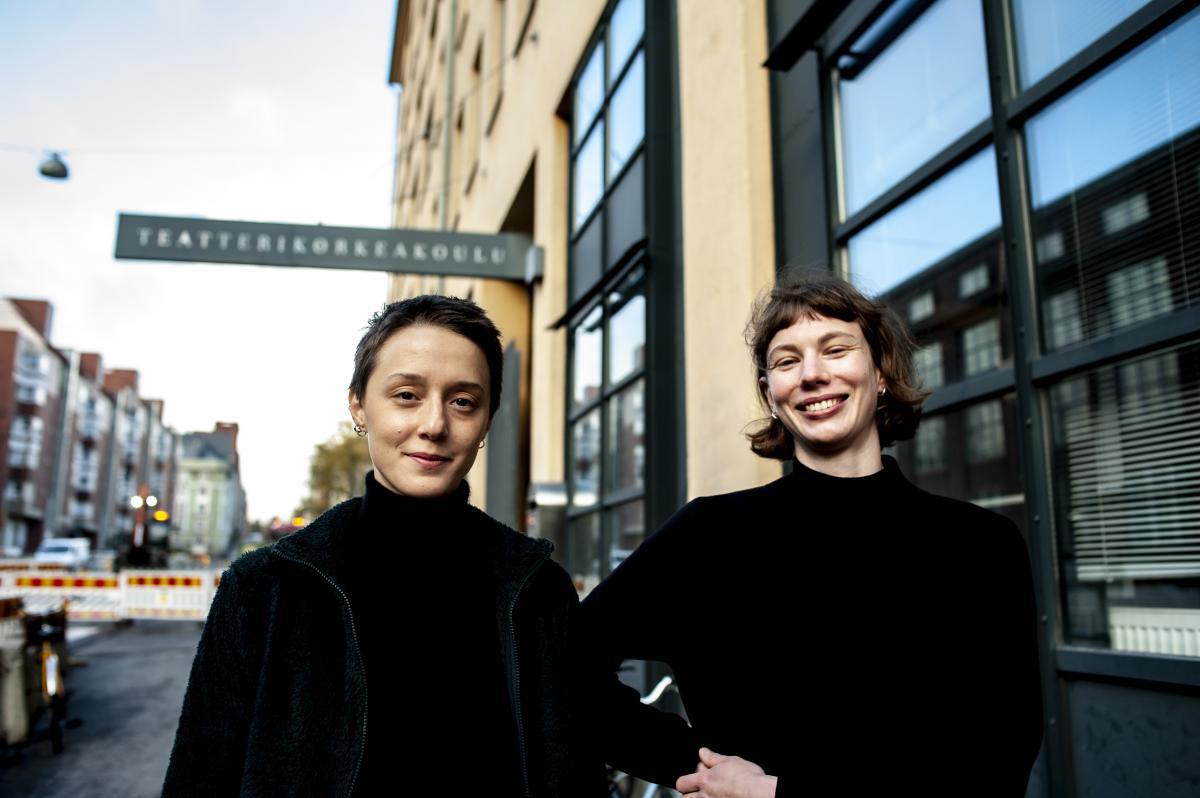 Where are you from and where did you study before this programme?
Sara: I am originally from Helsinki. I did my BA in Danish National School for Arts in Copenhagen, and I was an exchange student here for one semester during those studies.
Maya: I was born in Canada and raised in Italy. When I was 16 years, I started to travel to New York to take dance classes in different schools, since then I've been between there, Milano and Florence until I moved to Brussels, where I graduated at P.A.R.T.S. in 2016.
Why did you want to apply to this specific programme?
S: I wanted to develop choreographic thinking, take theoretical studies and make artistic projects, all of which the programme offers. I was interested in this programme because it's different to the really physical BA I did before it. I also thought it would be a good way to come back to Finland, to be in an institution which can help me settle in here again.
M: I had heard good things about it from my friend Karoliina Loimaala who I met in P.A.R.T.S. She studied in this programme between 2017-2020. At that point I was looking for residencies and working a lot at home, so I also needed a physical space to work and develop my practice, which is possible here. From the Nordic schools I preferred this one, because it has over 20 years of experience in artistic research. And I also came for Kirsi, the professor of the programme. She is really passionate and able to see how people can develop in their work.
How have the studies met your expectations?
S: My expectations have shown to be realistic. After Copenhagen I was confused about my artistic interests. Here I have had time to reflect upon them, and to understand my tendencies as a choreographer. What I especially like, is that I have learned to frame my work with language in a way that is relevant to me. Studies have been a bit more intense than I anticipated. Working alongside the studies has been challenging.
M: Yes, they have. Although, I assumed I would be able to do a lot of different courses and studies from different topics, but the programme is really full already in itself. I was also surprised how difficult it was for me to adapt to Finnish climate and culture. Besides the international exchange students, I was the first international degree student in the programme, since it opened for international students in 2019 admission. This means naturally that the transition and learning at the Theatre Academy is still going on. I have been talking to boards and given feedback from the international student's perspective and I believe we have learned a lot.
What tips would you give for applicants or people thinking of applying?
S: You should be able to read theoretical texts and reflect upon them in relation to your artistic practice, and to understand the context and history of dance. Try to get a sense of the programme before you decide to apply. This one is research oriented and prepares you for the PhD studies. If you decide it is for you, then just try to relax and don't try to be anything other than yourself.
M: I would definitely recommend international students to apply. And if you get accepted I would recommend, depending on where you are coming from, to come here earlier to adapt to the light and climate. Do the auditions for yourself, make what your write constructive for you and don't try to say what you think the jury wants to hear. Try to have a clear idea of how you position yourself as an artist, what you want to work on, and how it relates to the world and dance history. Also, ​again, rest well before the audition, maybe do something alone. It is going to be nice and intense four days.
Questions?
If you have any questions relating to studying or applying you can send Sara and Maya personal email at firstname.lastname@uniarts.fi.
For questions about applying, you can also contact our admissions services.