A visual artist's crusade for cheerful and touching architecture
Jan-Erik Andersson, a visual artist living in works of art, graduated with a Doctor of Fine Arts degree from the Academy of Fine Arts in 2008. He is one of Uniarts Helsinki's Alumni of the Year 2023.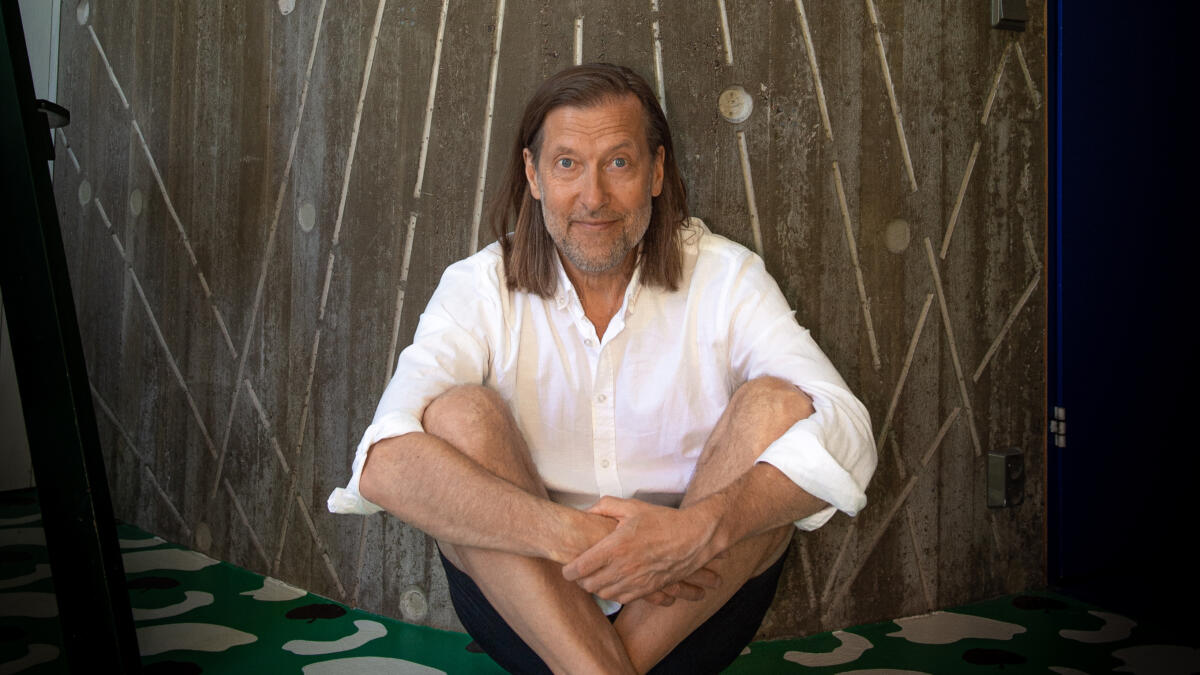 A lighting store glowing like fireflies in a pitch-black autumn evening. A Christmas tree. These are the first memories from Andersson's childhood in Turku of the 1960s when he felt touched by the surrounding space: it felt warm and made him happy.
"The architecture of my teenage years was pretty brutal. It lacked fantasy, narrative. I remember how I used to stop in front of the lighting store for a long time, because the light and different lighting fixtures warmed my heart. I also liked Christmastime, because that was when spaces were decorated."
Now, 60 years later, his childhood experiences of space are part of Andersson's most well-known work – Lehtitalo, Life on a Leaf – on the Hirvensalo Island in Turku. The house's exterior wall is adorned by an ornament that repeats a Christmas tree element. The living room of the house resembles a lighting store a bit: the ceiling of the room is dominated by dozens of different lighting fixtures. Andersson's personal experience-based relationship with architecture goes far beyond that, though, and so does his emotion-based experiencing of spaces.
"I've had a bad stutter and I've noticed that the qualities of spaces have a very big impact on it. You can't explain how they make an impact, but they do. The decors of rooms – tables, for example – are important because they have an effect on how we communicate. That's why I have made a lot of tables in my art."
Research is the artist's method
Andersson has designed the Life on a Leaf house in cooperation with architect Erkki Pitkäranta. The duo has designed also other plant-themed buildings, including an ecological cowshed shaped like a caraway seed in Teuva and a gardening school shaped like a gerbera in Janakkala.
The Life on a Leaf house is basically Andersson's Doctor of Fine Arts degree in physical form. In his Life on a Leaf thesis project, he discussed his house project and reflected on the relationships between art and architecture and a house and its environment. For example, Andersson posed the question whether it is possible to live in an image or a sculpture. Evidently, the answer is yes.
Andersson and his family lived in the Life on a Leaf house for several years before the building, which has been referred to as a so-called total work of art, turned into an international tourist attraction and an artist residency. Now, Andersson lives with his wife in a new work of art, the Spruce House (Kuusi-o in Finnish), that is being built next to Life on a Leaf. This building, shaped like a cell of a honeycomb, or hexagon, also involves arts research. It is Andersson's postdoc project.
"Before studying the arts, I studied natural sciences, and I'm a researcher at heart in the sense that I always have a need to go towards the new and the unknown."
How art changes society
The works designed by Andersson and Pitkäranta are situated on the borderlines of fine arts and architecture, resulting in bafflement and frustration over what they should be labelled as, both in the field of architecture and in fine arts. Andersson notes that architect Juhani Pallasmaa, who was the examiner of his doctorate and a professor of architecture at the Helsinki University of Technology, has said that the Life on a Leaf house has nothing to do with architecture. And yet, when the esteemed researcher George H. Marcus presented 25 masterpieces of modern architecture in his book Total Design, it featured not only works by Alvar Aalto and Eero Saarinen,but also a third Finnish masterpiece: Life on a Leaf.
"Personally, I'm not really interested in pigeonholing things, but from the perspective of research and societal influencing, these "what's what" questions are important. These works and buildings with Erkki are the product of a continuous dialogue and interaction. I'm convinced that our works entail a lot of visual art and a lot of architecture."
Something that speaks volumes of the meaning of Andersson's research work is also the fact that when the design process for Life on a Leaf began in the 1990s and the building permit application was filed with the City of Turku, it took years to receive the permit because the building was considered too artistic. Now that the Life on a Leaf has become a tourist attraction even in the international scene, obtaining the building permit for the Spruce House was quite an agile process. The building permit even stated that the new building to be constructed near the Life on a Leaf house must be "sufficiently artistic". That meant that building a run-of-the-mill house was not even an option.
"This is absolutely phenomenal and a great recognition for architecture where fantasy, stories and art can coexist and bring joy. Who knows, maybe in a hundred years the city centre of Turku will be located in Hirvensalo or there will at least be an entire district of houses that resonate with people's hearts here."
Read more about Andersson's Spruce House here.
Andersson's Spruce House is one of the exceptional architectural projects featured in the new season of Grand Designs Finland programme on the MTV3 channel.
***
The title of Alum of the Year is awarded each year to select alumni from Uniarts Helsinki's three academies who have highlighted the unique value and role of art and artist education in an exemplary manner through their work. The Alumni of 2023 are artist-researchers with societal impact.
More news on Uniarts Helsinki Alumni of the Year