"I wanted a big stage and a small audience," says the first doctoral graduate of the Finnish Theatre Academy Annette Arlander
Annette Arlander is a pioneer in artistic research in our country and the first doctoral graduate of the Theatre Academy. Arlander was invited to the Theatre Academy in 2001 to establish a master's programme in Live Art and performance studies, and she was the head of the programme until 2013. As an artist, Arlander has focused on "performing landscape" through the means of moving image and recorded speech, working at the intersection of performance art, video and environmental art. Arlander is one of Uniarts Helsinki's Alumni of the Year 2023.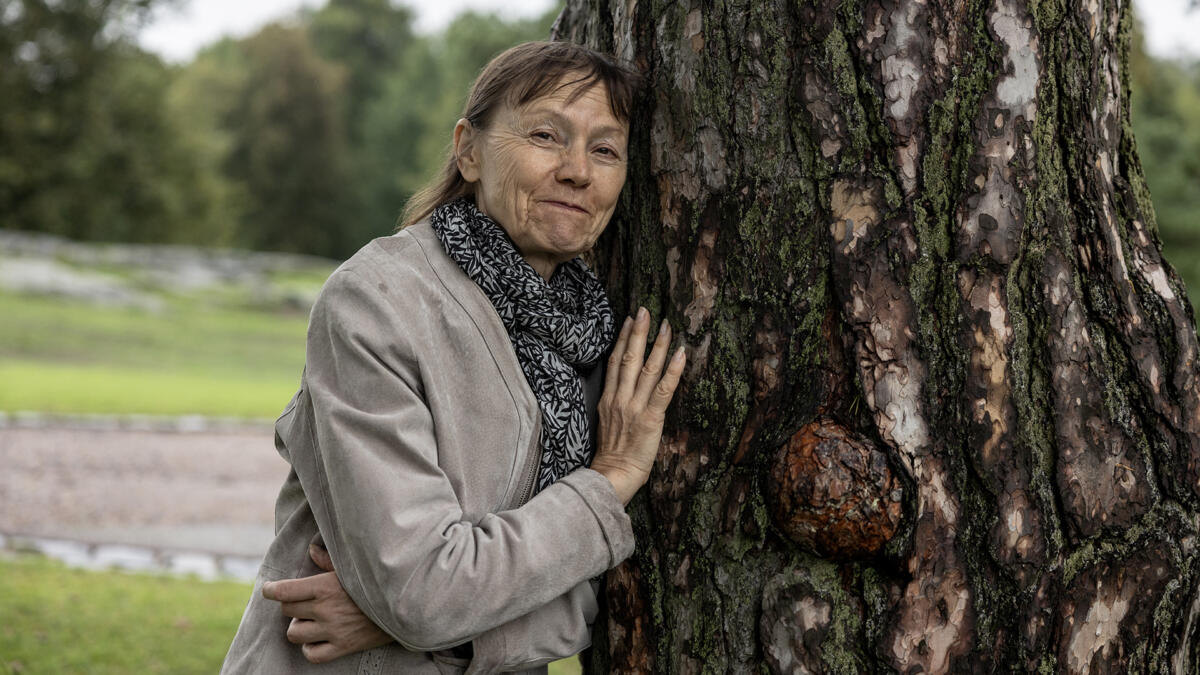 We got in touch with Arlander at an artist residency in Mazzano Romano, north of Rome. We sat down and had a discussion on art and research in the arts.
What has brought you to the Väinö Tanner Foundation's artist residency in Mazzano Romano?
I have a project called Pondering with Pines and a podcast called Talking with Trees, where I talk to this one specific pine growing in the Kaivopuisto Park in Helsinki. The Treja Valley here has beautiful forests, where I thought I would continue the project, but it turned out there are only broad-leaved trees here – no pines. So instead, I've dedicated my time to writing and gone through material that I've previously collected.
Why do you talk to trees?
In the beginning of the 2000s, I made a series called Puut puhuvat – Trees Talk, which featured headphones hanging from trees. I recorded short monologues where I spoke as a rowan tree or a birch. But then it started to feel like puppet theatre, and I felt that it wasn't fair towards the trees. Now when I talk to a tree, I don't talk on behalf of the tree and instead, I try to respect the tree and not demand an answer. Art researcher Lucy Lippard has said that art can make a thing special, significant. I want to make a tree significant.
Writer Amitav Ghosh, on the other hand, has said that it is the duty of all storytellers to restore agency to nonhumans. I believe that our ability to take other than human beings better into account is important also for our own survival. This has been an extremely interesting journey of exploration, because I'm constantly forced to admit how little I know of pines.
You've had a long career as a researcher in the arts and you've written several articles that have been featured in international publications of the field. At the moment, you're a member of the editorial board of the internationally esteemed JAR – Journal of Artistic Research, for example. Why does art need to be researched?
The roots of research in the arts run deep, and the history dates back to at least the period of the Renaissance. Giorgio Vasari (1511-1574), for example, did significant research in his book Lives of the Most Excellent Painters, Sculptors, and Architects here in Italy. Sure, there have also been artists doing research, think for instance of Leonardo Da Vinci.
But in the academic sense, artistic research, i.e. artists themselves doing research by making art or through their own work, is relatively new – and Finland is one of the trailblazer countries in this. Because art schools were given a university status in Finland quite early, they've been able to develop their own kind of research.
For me, research is based on art-making, which I then write about in a more analytical manner. Initially, I gravitated towards research because I wanted to make experimental art. I wanted a big stage and a small audience. Sometimes people claim that artistic research or academic practices shackle the artist, but I find that research also means freedom for the artist.
You're known in Finland as a pioneer in performance art. Why did you choose performance art as your mode of expression?
I want to emphasise that I've never been a genuine performance artist. I graduated as a theatre director, so in principle, I'm the observer – not the performer. In the 1980s, I was active in the performance art group Homo $, which later received a cult status. This was probably one of the reasons why I was asked to set up a master's programme in Performance Art and Theory (as it was first called in English) at the Theatre Academy.
Back then, the wish was to incorporate more theory into the teaching, but there was no master's programme in performance art in Finland, so we began by establishing one. What I love about performance art is that this artform has built-in the freedom to look for your personal mode of expression.
One of the criteria that played a special role when selecting the Alumni of the Year 2023 was having societal impact as an artist-researcher. How have you made an impact on society?
I recognise the artist-researcher in me, but I think that many of my colleagues have a much bigger impact on society than I do. I guess that if I've made an impact, it's by example and as a teacher. Of course, I hope that my texts would be of help and bring joy to anyone who discovers them at some point, just like my video works or podcasts.
On Harakka Island, for example, you can watch my Animal Years series using QR codes available on the filming locations of the performance pieces. I think of them all as "messages in a bottle" to the future.
What does the Alum of the Year award mean to you?
I'm extremely happy that I, as an artist-researcher, get to represent researchers. I'm also excited about how Uniarts Helsinki is now enabling the interplay between different forms of art: shifting from one to another, combining them and moving along their limits. For example, I've personally moved from theatre via performance art to media art. And I find especially important the various combinations of art-making and research.
* * *
The title of Alum of the Year is awarded each year to select alumni from Uniarts Helsinki's three academies who have highlighted the unique value and role of art and artist education in an exemplary manner through their work. The Alumni of 2023 are artist-researchers with a societal impact.
More news on Uniarts Helsinki Alumni of the Year
More news on Uniarts Helsinki Alumni of the Year