'What makes an artist? The sensitivity to see things others can't see,' says media artist Adel Abidin
Adel Abidi is a media artist who graduated with a Master of Fine Arts degree from the Academy of Fine Arts of Uniarts Helsinki in 2005. They are one of the Uniarts Helsinki's Alum of the Year in 2022.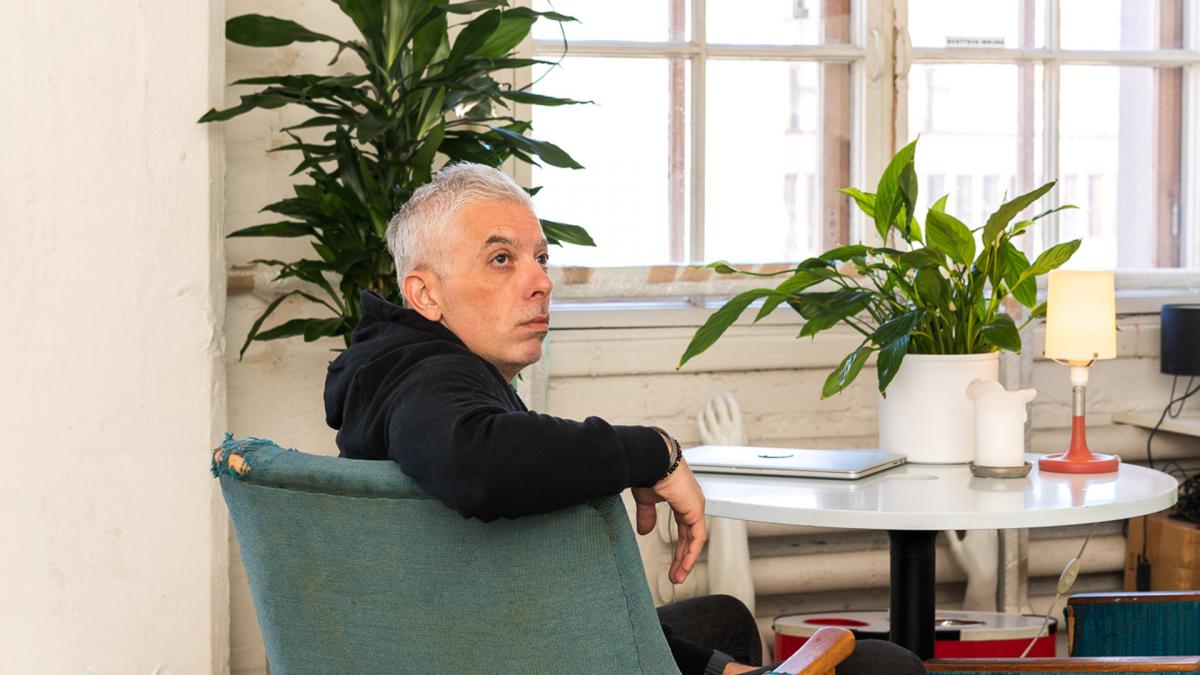 Adel Abidin represented Finland in the Venice Biennale in 2007. Since then, their work has been featured in major exhibitions worldwide. We met the artist in their office at the Cable Factory.
Adel Abidin, how did you become an artist?
'As a child, drawing was like a curse to me. I drew a lot. It was just fun. I never thought it'd be a profession. However, when I was young, I wanted to study art at the Academy of Fine Arts of my home town, Baghdad. But under Saddam's rule, it would've required joining the Baʿath Party. So, I became an economist. A really bad one. When the Academy of Fine Arts in Baghdad was opened to everyone in 1996, I was able to study visual arts. In 2002, I received the first major recognition as an artist when I won the Young Iraqi Artist competition.'
They say you're born an artist. What do you think makes an artist?
'I believe that the artist has sensitivity and the ability to see things that others don't see. This doesn't have to be any more amazing than the ability of the economist to see something in the numbers that not everyone can see. But sensitivity alone isn't enough to make an artist. You need perseverance to get your job done. And continuity. Being an artist is like walking a path, not a speed track.'
How did you go from painter to media artist?
'So, I started at the Academy of Fine Arts with painting studies, but then I got a total block, and I couldn't paint anything for like six months. At the end of that period, I started drawing and painting subtitles on television screens everywhere. Seppo Salminen, a lecturer at the Department of Time and Space, asked me why won't I start making videos? And that's what happened. I had to start from scratch, but I found myself within media arts and felt that it allowed me to communicate my ideas to others and have fun at the same time.'
What's your message to those who dream of studying fine arts?
'All's well, that ends well or "lopussa kiitos seisoo". That's one of my favourite Finnish phrases. Look, I've even written it here on the office wall. Do a lot, keep doing it and cherish your own voice.'
What do you love about making art?
'I love the brain orgasm I get when I come up with an idea for work, and when it's followed by a gut feeling – in Finnish we say "perstuntuma" – it's just the best. Then for the ego it's when people experience and comment on your work, and when you're part of the art community. It's easy to fall in love with, too.'
What do you have going on right now?
'A short film. It's almost finished.'
You're one of the Uniarts Helsinki's Alum of the Year in 2022. What does it mean to you?
'It's an acknowledgement that feels really good. I really liked the Academy of Fine Arts and my memories of it are genuinely dear. That I've been given this kind of honour and the opportunity to use my voice for art education is just wow, incredible.'
***
The selection of the Alum of the Year is an annual recognition for Uniarts Helsinki alumni who have been exemplary in strengthening the unique value and significance of art and arts education with their own actions.