Visiting professor Emmanuel Ceysson brings fresh insight from esteemed orchestras
"You need to be a good soloist, a team player and a skilled teacher to succeed in the working life", says Emmanuel Ceysson.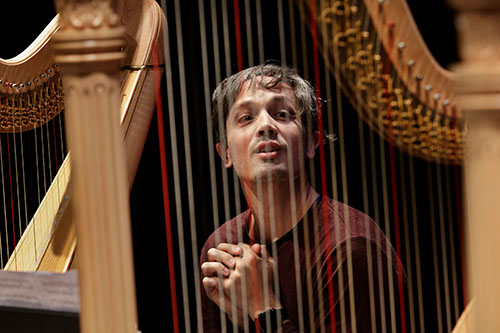 Emmanuel Ceysson is the newly appointed harpist for the Los Angeles Philharmonic. During his career he has also been the principal harpist with the Metropolitan Opera in New York and worked with the Opéra National de Paris orchestra. Ceysson is one of the Visiting Professors at the Sibelius Academy in 2019-2022. He first joined the faculty in 2019 and this autumn, he is teaching the harp students in two sessions: one online and the other live in Helsinki, where he will also give a concert.
"The Sibelius Academy has good opportunities to play and practice, a great location and an active harp professor, so the basis is already fantastic. Also, the possibilities for musical experiences with the orchestras working in the same building are exceptional."
During his visits, Ceysson will approach diverse aspects of harp playing and professionalism. He will teach students representing young beginners as well as professional students coming from all parts of Finland. During his first visit, he taught skills needed for orchestra auditions and pursuing a career in an orchestra.
Three pillars to good musicianship
According to Ceysson, a good musician has the technical skills and the intellect to express their musical ideas. He says you need three basic pillars to exist and succeed as a musician. You have to be a good soloist: know your instrument and learn how to be on your own on stage. You also need to learn to play with others, be it in a chamber music ensemble or in an orchestra.
"The harp is an orchestral instrument and it can, in a way, imitate the whole orchestra. It is also kind of a niche instrument and it is still not very well-known. There are also practically no harpists that make their career only as soloists. Therefore, as a professional harpist, you need to have experience in orchestra playing, as well."
The third pillar is to be able to teach. Teaching to Ceysson means communicating your skills to other people; adapting to the other person, being aware of what you are doing and, at the same time, taking the other person into account.
"As a teacher, your goal is to guide the students forward and not have them make the same mistakes that you have made. The aim should always be to be a good musician – in a comprehensive way."
Being a Visiting Professor allows Ceysson to commit to Uniarts Helsinki's Sibelius Academy for several years. This offers the teacher the opportunity to get a longer-term perspective on an individual student's development. Ceysson says it is a very good development process for the Sibelius Academy that the faculty's own harp teacher is present and follows the teaching of an international visitor.
"I think that our exchange of thoughts is beneficial in itself. The harp and the harpists were in the shadows for a long time, but today, in the era of social media, we are constantly drawn to the spotlight. But I think that if you want to be a good musician, you have to keep yourself a little bit away from the media limelight. In the end, for me, fame doesn't matter. What matters is that you are true to yourself as a musician and true to your audiences.
Watch some impressions from Ceysson's first visit to the Sibelius Academy