Live art becomes more approachable if you let go of the demand to understand it, believes artist Anna Cadia
Live and performance art is a way of looking at the world. It is a field the general public is (mostly) unaware of, and it will be broadly displayed at Vantaa Art Museum Artsi when the 20th anniversary exhibition of the Live Art and Performance Studies (LAPS) programme of Uniarts Helsinki's Theatre Academy opens on 11 November.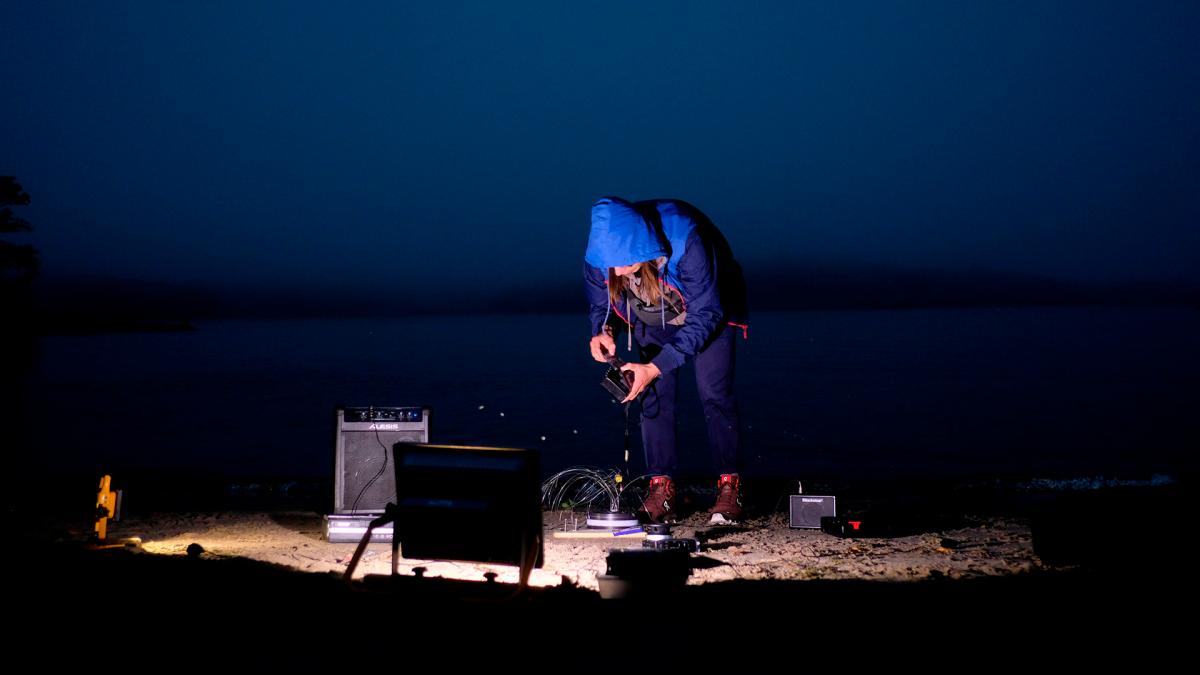 "I will be performing tonight", says Jamie MacDonald, as we meet on one Friday in August. The performance will take place in a small museum in Kontula, an eastern Helsinki suburb. In the performance, MacDonald will perform, in an Italian accent, a monologue by his artist friend Egle Oddon.
For a long time, I have wondered where to see performance art in Helsinki. MacDonald says that performances or live art events are organised around the city every week. The events may be hard to find if you do not follow the operators in the field.
If you want to experience a larger number of performance art pieces in one go, head to Vantaa Art Museum Artsi's exhibition The Posture of Impermanence (Huokoinen ele in Finnish) that opens on 11 November. The exhibition celebrates the 20th anniversary of the LAPS master's programme of Uniarts Helsinki's Theatre Academy.
The exhibition provides an overview of the performance and live art's history in Finland. It also presents what is happening currently in the field of live art. The exhibition presents professional artists and emerging students in the field.
"The exhibition will include discussions, performance events, video works, and workshops for schoolchildren. In addition, the exhibition will show Antti Ahonen's photographs of various performance art events from the past 20 years", says Tero Nauha, professor of the LAPS programme.
Vantaa Art Museum Artsi was chosen as the exhibition space partly because it does a lot of audience engagement work, and the museum is known as a live art and street art museum. Nauha says they did not want to make the exhibition too academic, and the organisers hope that local residents will find the exhibition.
MacDonald, who has become known as a stand-up comedian, will also participate in the exhibition. He has graduated from the LAPS programme, and this autumn, he will return to Uniarts Helsinki's Theatre Academy to work on his doctoral dissertation.
At Artsi, MacDonald will hold a tour in which he combines stand-up and comedic monologues. MacDonald held a similar tour at the Helsinki Art Museum HAM's Gilbert & George exhibition in 2018.
"It definitely was very interesting. We will see what happens this time!"
Another alum of the LAPS programme, long-term radio journalist and DJ Anna Cadia, will also start doctoral studies at the Theatre Academy this autumn. Cadia will participate in the exhibition with a work titled Letters to Paul. It is dedicated to queer theorist Paul B. Preciado who is best known for his work Testo Junkie (2008). Cadia says she is planning a serial work. The letters can be anything – videos, sound, and images.
"Preciado's writing style is personal and intimate but, at the same, theoretical and profound. As I read, I often feel like he is writing directly to me. That is why I wanted to create a work in which I discuss with Preciado. I even call him Paul."
Cadia says the work is a performative work of art without a concrete stage.
"I have considered TikTok, Instagram, and Reddit as possible platforms. I am fascinated by a social space that is very private but public at the same time."
Towards diversity
Traditionally, performance art has a reputation as a difficult and incomprehensible field of art. Sometimes artists have not even wanted the general public to understand what it is about. I may not be the only one to whom performance art brings to mind extreme works like the Serbian artist Marina Abramović's well-known performance Rhythm 0 (1974), in which the audience was invited to do to her body whatever they wished. During the six-hour performance, the artist's throat was slashed, blood was sucked from her, and a gun was pointed at her head.
However, live art is usually much more small-scale than what the most well-known works of art imply. Nauha says that live art artists mostly use DIY methods without support from large art institutions.
Live art has changed a lot since Abramović's performance as well as during the past 20 years.
"Performance and live art can be challenging and even radical, but usually it is not intentionally confrontational or aggressive. The audience or audiences are better taken into account these days", Nauha says.
A safe space is created between the audience and artist.
"It is a big change. When I started creating live art at the beginning of the 1990s, there often was no sign of a safe space. Some performances were excessively aggressive", professor Nauha says.
MacDonald agrees.
"I have noticed a big change in the field in terms of the performances' ethics. Earlier, the audience was exposed to just about anything, in order to create a genuine reaction. Today, the audience's consent is taken into consideration. Just because you show up to a performance doesn't mean you consent to anything and everything, and that's a more recent trend", says MacDonald.
According to Nauha, the audience's role, in general, is well considered in live art. The viewer may also be more informed about what to expect from the performance. The audience may be a more marginal group, as it often is in performance art. Even then, artists often think through the audience's role thoroughly.
"If the viewer feels weird, it might mean that the artist has taken the audience as a given. On the other hand, strange things surely happen even today. The role of art, in general, is to question conventions and norms."
The world in a different light
According to professor Nauha, art is often counted as live art when it combines, for example, contemporary theatre, dance, and possibly fine arts. Performance art, as a concept, is older and its roots are strongly in fine arts and conceptual art.
"I see live art not as a question of what it is, but as a question of how things are done."
Live art still is very critical of institutions and society. The focus is on how to look at things from a new angle.
According to Nauha, a live art artist often starts from a question related to their identity. It can be a question of culture, racialisation, or gendering.
"This question is then taken to pieces quite analytically. The body, the relationship between people, and the place are essential elements in live art", Nauha says.
MacDonald says that he has created a lot of performance art before his stand-up career. Similar to other fields of art and in society in general, performance art has made more space for different voices, and contemporary canons are being dismantled and rewritten.
"The field of performance art has become more diverse. I have noticed that the field is very committed to dealing with gender diversity, dismantling post-colonialist representations, and working on environmental issues. It is inspiring."
Originally, Cadia was fascinated by live art because it communicates in a language that she understands and wants to use for expressing herself. A fragmentary way of doing that prevailed in live art at the beginning of the 2000s made a great impression on her at the time. A performance did not need to have a beginning, middle, or ending.
"Live art deals with non-verbal narrative. It can tell about things in this world that otherwise would not be reached. When talking about variations of gender or utopian worlds, for example, live art is a field that helps to go beyond the demand for rationality", Cadia says.
She hopes that through her works, people could conclude that they do not need to understand to grasp the work's message.
"Communication can be based on something else than understanding."
Live art is dialogue
What should you understand about performance art? What if you do not understand anything about the work you are watching? Is it possible to make anything out of it?
"What should people understand about art in the first place? Maybe it is not about understanding, but about dialogue. The demand for understanding is easily very excluding; it is a binary assumption. Live art is about understanding each other with our bodies", Cadia says.
MacDonald says he finally learned to enjoy dance when he was watching a dance performance in Berlin and forgot to try to understand what the work was about.
"Suddenly, the performance became clear to me. It happened when I stopped trying to understand the work and surrendered myself to it."
"Performance art is similar in many ways. Many works of art fail because the audience is too nervous as they are trying to understand what the works are about. Myself, I enjoy Polish-Finnish artist Tomasz Szrama's performances a lot even though I do not understand what they are about. It is not essential."
MacDonald says that Szrama's performances often come back to him as images long after the performance has taken place.
"I just sit back and welcome the images, and let my brain rest."
Live art communicates emotions and experiences in a totally unique language that is different from other art forms. Perhaps when watching a performance, it is better to forget all the conventions by which we perceive the world, to openly turn towards the work, and above all, try to forget the attempt to understand.
Writer: Susanna Karhapää
The Posture of Impermanence (Huokoinen ele) exhibition at Vantaa Art Museum Artsi (Myyrmäkitalo, Paalutori 3) from 11 November 2021.

Autumn 2021 will mark the 20th anniversary of the Live Art and Performance Studies (LAPS) master's programme at Uniarts Helsinki's Theatre Academy. We are celebrating the anniversary in the form of an exhibition, a publication and a concluding party. Read more: uniarts.fi/laps-20-anniversary