Hanna Johansson, the new Dean of the Academy of Fine Arts, emphasises the significance of ecological approaches to today's art
According to Hanna Johansson, the education of autonomous art is one of the absolute strengths of the Academy of Fine Arts. At the same time, art is always defined by certain conditions, among them the ecological crisis.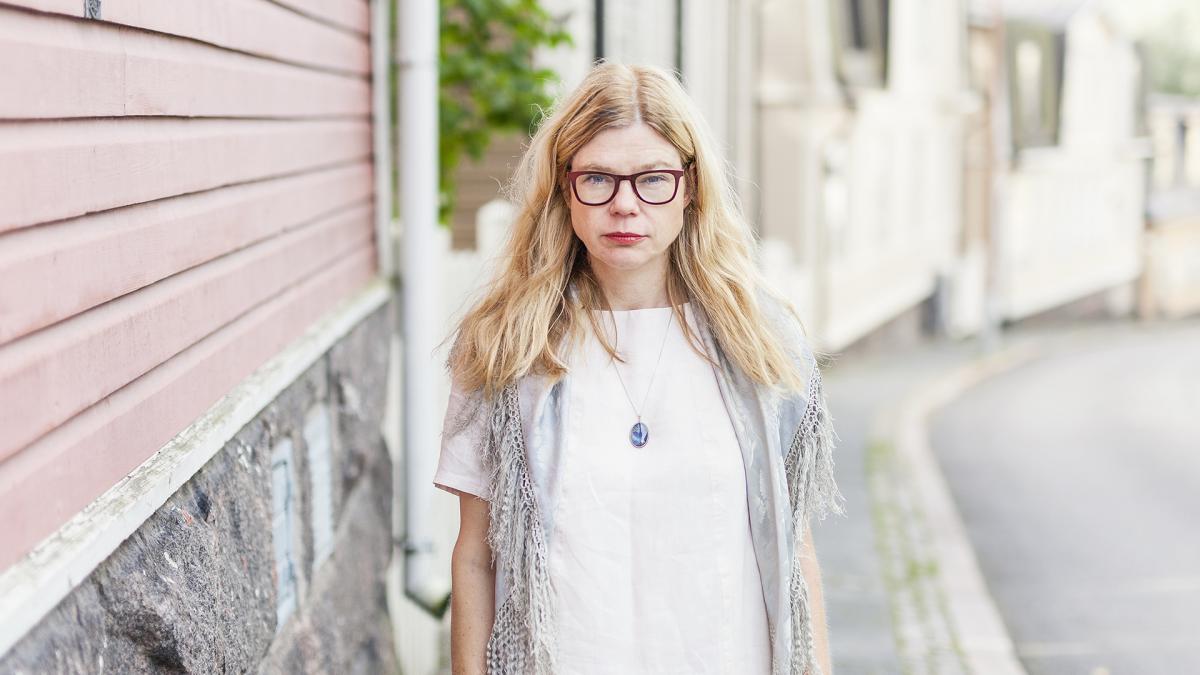 Hanna Johansson'sfirst memories of the Academy of Fine Arts take her back to the early 1980s.
"I was in high school, and my boyfriend of the time applied to study at the Academy. The entrance examination was a powerful experience for me as a young woman, and I can still remember all the excitement related to it and to Ateneum as a building", says Johansson.
The Ateneum hosted the Academy of Fine Arts until 1985.
Johansson's boyfriend was accepted to study at the Academy of Fine Arts, and over the years many of Johansson's close friends have also undertaken studies at the Academy.
Now, Johansson has been appointed the new Dean of the Academy of Fine Arts.
Johansson's own path led her to the University of Helsinki, where she majored in art history and wrote her doctoral thesis on earth and environmental art. Nevertheless, her connection to the Academy of Fine Arts remained strong.
"The Academy was a place that was important to me – it was always close to my heart. There were so many opportunities at the Academy, and I always enjoyed visiting it."
When Johansson was a student, she became interested in contemporary art research, experimental art, and new forms of art. She quickly noticed that the most interesting discussions on these topics took place at the Academy of Fine Arts.
On the other hand, at a science university, academic research with its "density of information and argumentation" was in a league of its own.
"At the Academy of Fine Arts, the density is created by art itself. The way people at the Academy talk about art has always resonated with me in a way that feels very natural."
In her career, Johansson has moved fluidly from a science university to an art university and back again. Before she accepted the Dean's position, she worked as Professor in Contemporary Art Research.
Focus on the education of fine arts
According to Johansson, the Academy of Fine Arts must continue to reinforce and support its doctoral programme and artistic research, but it is also important to bear in mind that the focus of the Academy's activities is on the education of fine arts.
"We should not concentrate entirely on doctoral degrees. Rather, we must ensure that the best artists in the world continue to come to the Academy to provide instruction for our students – artists that do not necessarily have anything to do with research. The Academy of Fine Arts should be a genuinely inspiring place that functions as a platform for artistic thinking", says Johansson.
Johansson believes that the appeal of the Academy of Fine Arts will be even greater next year when the construction of the new premises at Uniarts Helsinki's Sörnäinen campus is completed.
Another significant improvement according to Johansson is that the Academy will finally have its own gallery space within its premises, which makes it possible to introduce the entire artistic process better than before. You can ask, for example, when a work is ready to be shown in public, and the works can also be changed and worked on during an exhibition, says Johansson.
"I'm not suggesting that these are new inventions, of course. Similar things have been done since the 1960s and the 1970s, which can be argued to represent a ground-breaking, experimental period in art", says Johansson, an art historian and contemporary art researcher.
The ecological crisis is evident in contemporary art
But if the art produced in the 1960s and the 1970s was marked by experimentation and the crossing of boundaries, what would the defining features of twenty-first-century art be according to Johansson?
For now, this must remain a matter of speculation, says Johansson, but the ecological crisis is certainly something that inevitably affects contemporary art. The ecological perspective can perhaps be seen in the way artists have returned to more minimalistic forms of expression, the increased focus on materiality, and an interest in the origin of different materials and the ways they relate to each other.
There are also some big questions concerning the global art scene.
"I just attended the opening of the exhibition of the American super-artist Doug Aitken in Kiasma. I found myself thinking about how important it is that we have exhibitions that remind us of different forms of visual thinking and things that may be unfamiliar to us. In our age, we are faced with the challenge of how to remain receptive to new ideas and working methods without constantly flying around the world."
In addition to ecological questions, twenty-first-century art is also marked by a variety of digital innovations, such as altered and virtual reality. A few years ago, the Academy of Fine Arts founded a post for a Lecturer in Art and Technology. Johansson regards this as an important decision, as it is very unlikely that the role of digital solutions and technologies in art will diminish in the future.
"I also want to believe that communities and other kinds of constellations that are self-organising on an institutional level, and which try to break free from a neoliberal, capitalistic production structure, will become more important than before. This may be a fantasy, but I think there is some cause for optimism."
Art's responsibility
According to Johansson, art must also assume its share of responsibility of current phenomena, for instance, in questions related to climate change and the ecological crisis.
We cannot dodge responsibility by arguing that art is such a small field and that the ecological burden caused by artists is insignificant when compared to many other fields.
"Art has enormous symbolic value. We cannot change the physical world by our activities at Uniarts Helsinki or the Academy of Fine Arts, but we do have the opportunity to affect people's mental patterns. Uniarts Helsinki should be among the first to work proactively towards a more responsible future."
The societal role of art is often understood too narrowly, says Johansson, referring to the recent public discussions on political and argumentative art.
"Artists can engage with societal questions through their art in a multitude of ways. In art, political aspects are not necessarily brought explicitly to the fore. Rather, they may remain implicit, and in this way affect the hidden structures and ways of thinking that our day-to-day politics are based on, for example."
"Art will always affect change in the surrounding society. From this perspective, an artwork is always fundamentally political, just like all our actions are in some sense political, while also representing other things at the same time."
Johansson also emphasises the point that art is never truly free.
"There are certain planetary preconditions that define painting and other forms of art. Even an abstract painter is not free, as they are tied in numerous ways to different structures pertaining to society, economy, materials and the history of exhibition practices. There may even become a time when you can no longer produce acrylic paintings", says Johansson.
Before concluding the interview with the Dean of the Academy of Fine Arts, the following question must be asked: what kind of art has recently left a particularly strong impression on you?
"There are so many fantastic artists that I cannot name an individual work or artist. Good art is something that keeps on giving when you pause to engage with it."
Silja Ylitalo