Art in the midst of art – the art competition for the new building in Sörnäinen is announced
A new building for the University of the Arts Helsinki is under construction in Sörnäinen, combining old, listed industrial buildings with the best of contemporary architecture. An open competition is now being announced to source public works of art for the building.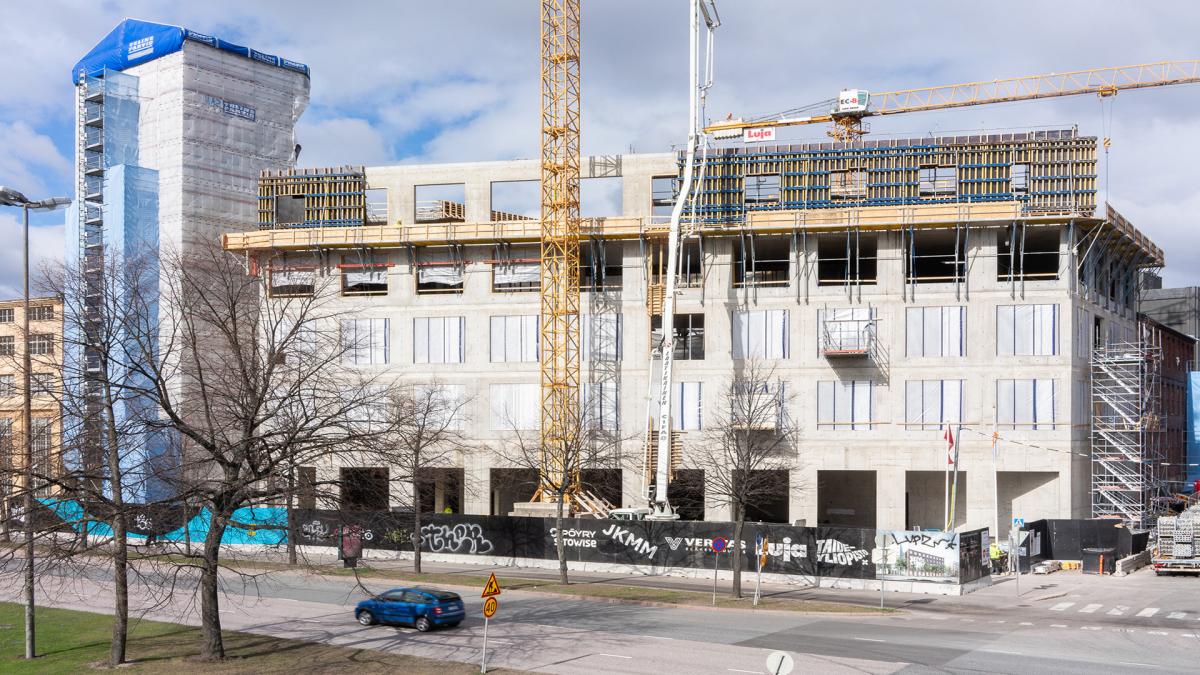 The topping-up of the new University of the Arts Helsinki building along Sörnäisten rantatie road was celebrated this week, and at the same a competition, organised in collaboration with the State Art Commission, for works of art to be located inside and outside the new building is launched. The competition is open for entries from 12 June until 15 September 2020. The total prize sum is EUR 20,000.
The competition is looking for art that will live in the midst of artistic endeavour. The new multidisciplinary campus in Sörnäinen brings together students of visual arts, dance and theatre on a tangible level, and the campus is also a space where different artistic practices and values are constantly challenged. "This might mean that the works are open and evolving in one way or another. We also hope to receive entries with immaterial or time-restricted content", says Johanna Vakkari, dean of Uniarts Helsinki's Academy of Fine Arts.
The competitors are free to propose works placed, for example, on the fifth-floor roof garden of the new building, the urban oasis, where future art students will be able to work, study and relax and organise events. The roof garden will offer stunning views around the area.
The redbrick facade of the newbuild is also a potential backdrop for a work of art. The design of the facade presents a modern interpretation of a traditional industrial building, and the minimalist architecture leaves plenty of space for art created within its walls. Other suggested locations for the works of art are presented in the competition programme.
To be completed in 2021, the new building will form part of Uniarts Helsinki's Sörnäinen campus, which will be home to visual arts, theatre and dance studies. The campus will consist of a new building used primarily by the Academy of Fine Arts and the existing property housing the Theatre Academy. The other campus of the University of the Arts in located in Töölö and concentrates in music.
The new building in Sörnäinen is designed by the award-winning JKMM Architects, known for the Finland Pavilion at Shanghai Expo 2010, the OP building in Vallila, and Amos Rex art museum. The developer is Lujatalo and the property is owned by Veritas.
Read also
Competition programme on the State Art Commission website